Freshly is a meal delivery service which delivers chef-cooked meals ready to eat after just a few minutes in the microwave. Read our full in-depth Freshly review for all the details on taste, menu options, and plan options.
Individual frozen meals

It costs $11.49 per meal
Meal kit services are so convenient, it's true. Freshly tries to take things a bit further with their service and cut out the inconvenience of cooking. You order their service the same way as other meal kit reviews, only with Freshly you just have to pop the meal in the microwave for a few minutes. Viola! A delicious home cooked meal, without the inconvenience of actually having to cook or dirty a ton of pots and pans!
…Or so you'd think.
While these meals are undoubtedly quick and easy, they fall short on flavor and texture. However, they're definitely edible and by far are not the worse thing we've ever eaten (or cooked). However, the price point leaves something to be desired — the price for convenience.
However, if you don't mind doing a little seasoning yourself and you're looking for a service where you don't have to cook, Freshly may be right for you. Keep reading for all the details.
Anyone looking for the most convenient meal kit service possible.

Celiacs. Every meal is gluten free.
People on a budget.

People who value flavor as the most important part of a meal.
Most meal kits work quite a bit differently from Freshly. You order both types of services online, but with other kits, you get a box full of ingredients, a recipe card and you get to work making your delicious dinners.
However, with Freshly, you're delivered microwavable meals. This cuts out the need to shop, the need to prep meals and the need to cook. Furthermore, when you cut all those things out, you end up with time save and way less dirty dishes than with the traditional meal kit services.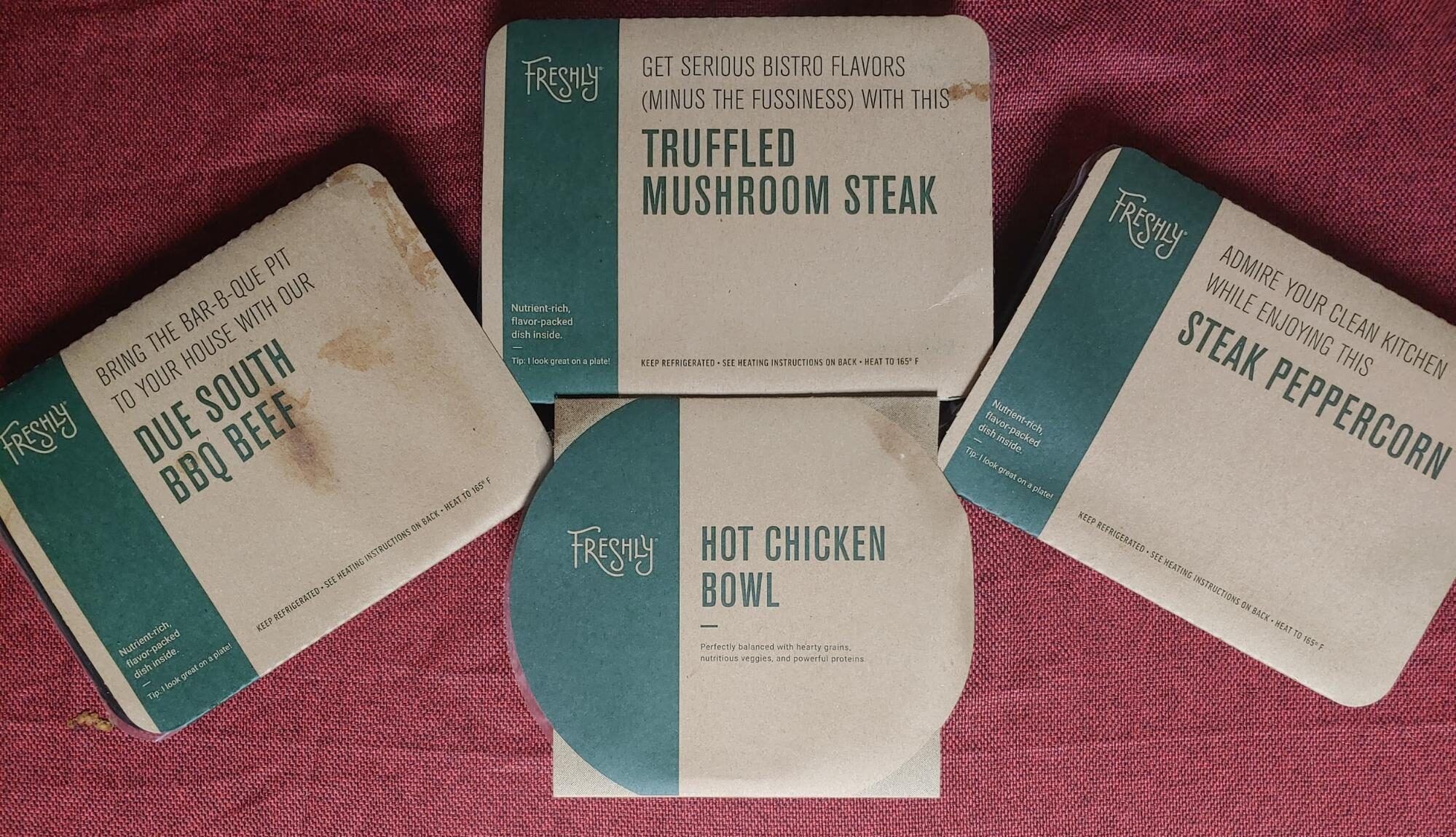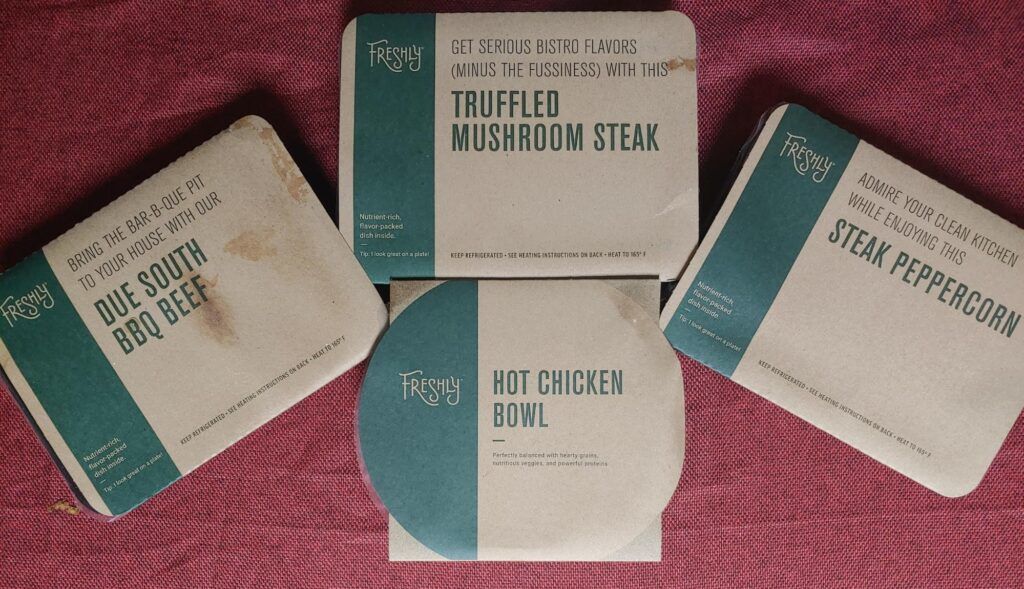 As previously stated, Freshly meals are heat and eat. The meals come in hard plastic trays, with a plastic film cover, slid into a cardboard sleeve. There's no ingredients to prep, there's no pots and pans to dirty, there's barely even time spent heating the meal.
All you have to do is go online and sign up. Then in about a week or so, you'll have your first box of meals delivered right to your door. That's about as easy as it gets.
Plans and Costs
Unfortunately, with that convenience comes a bit of a hefty price tag. While microwavable meals at the grocery store typically cost between $1 to $8, Freshly meals start at $8.49, but the less meals you order, the more it'll cost you.
We went with the 4 meal plan and each of our meals cost $11.49, before even paying shipping. As you can see, that's quite a bit higher than high end heat and eat meals that you can purchase at the grocery store.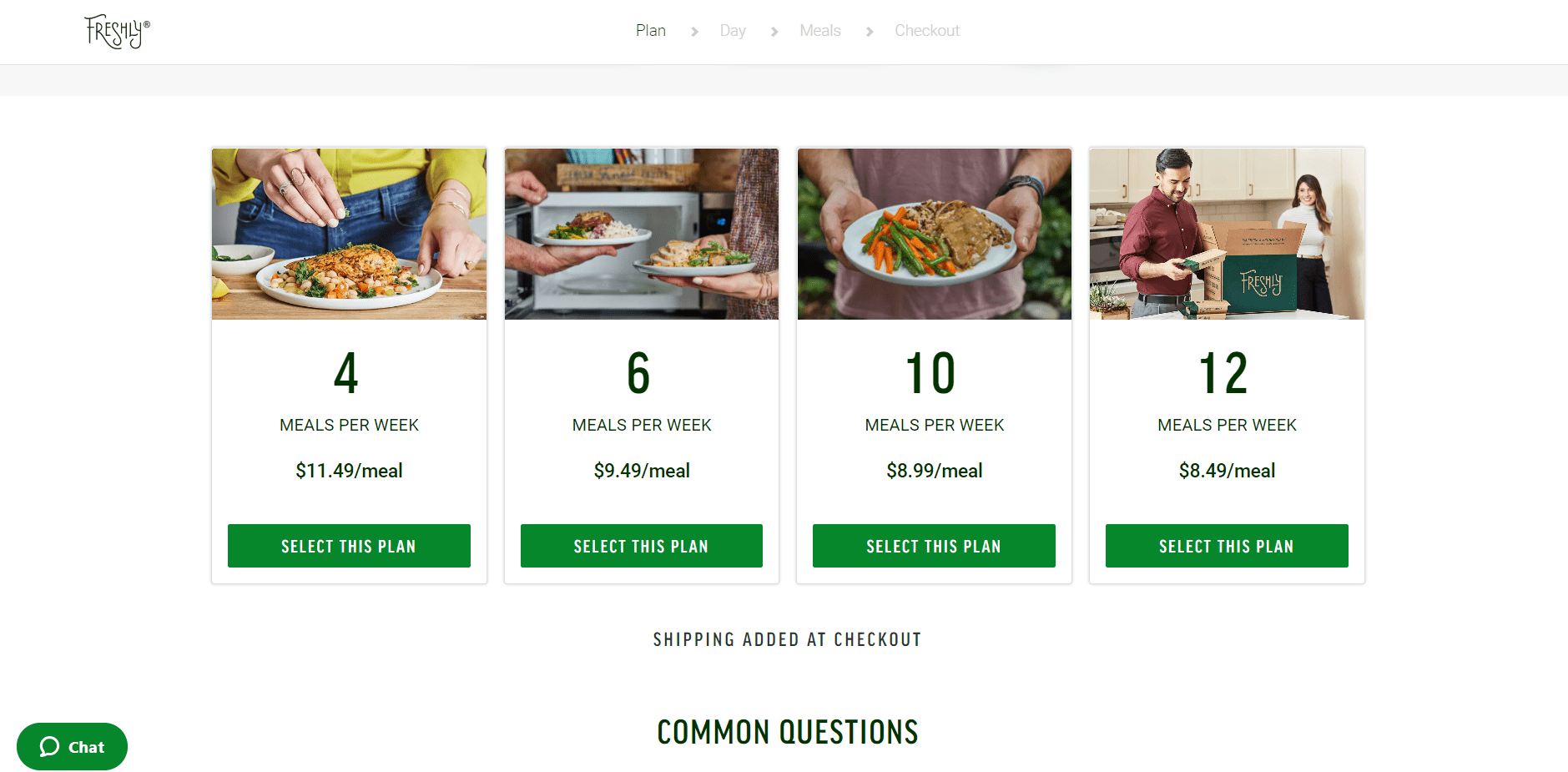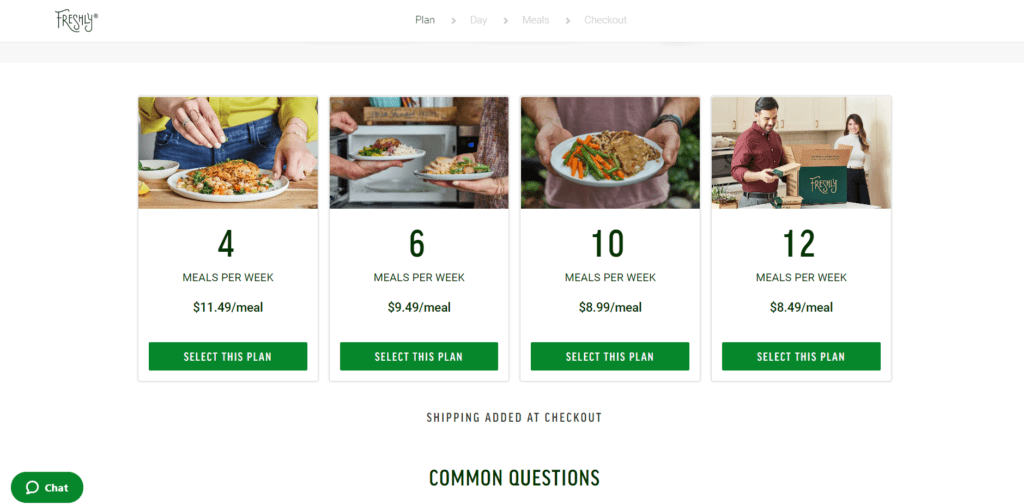 Here's a quick breakdown of their meal plans and pricing, so you know exactly what you'll be spending if you order Freshly.
4 meals a week is $45.96 + $5.99 shipping = $51.95 (Price per meal: $11.49)

6 meals a week is $56.94 + $5.99 shipping = $62.93 (Price per meal: $9.49)

10 meals a week is $89.90 + $9.99 shipping = $99.89 (Price per meal: $8.99)

12 meals a week is $101.88 + $11.99 shipping = $113.87 (Price per meal: $8.49)
Like with other meal kit services, the order process takes place online or on the app. Yes, that's right, as another added layer of convenience, Freshly offers an app where you can manage everything related to your subscription. We'll get into that once we cover the online order process.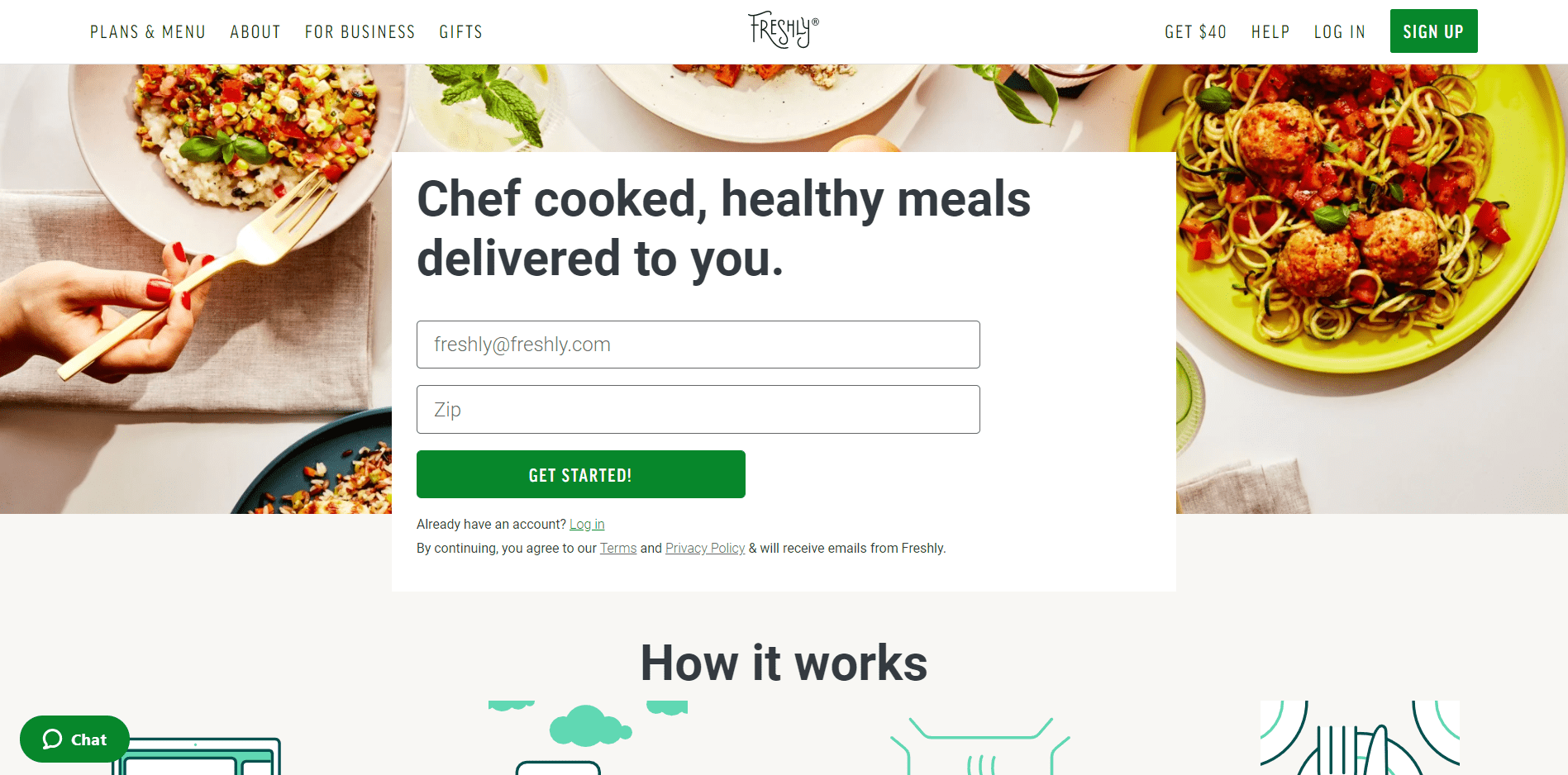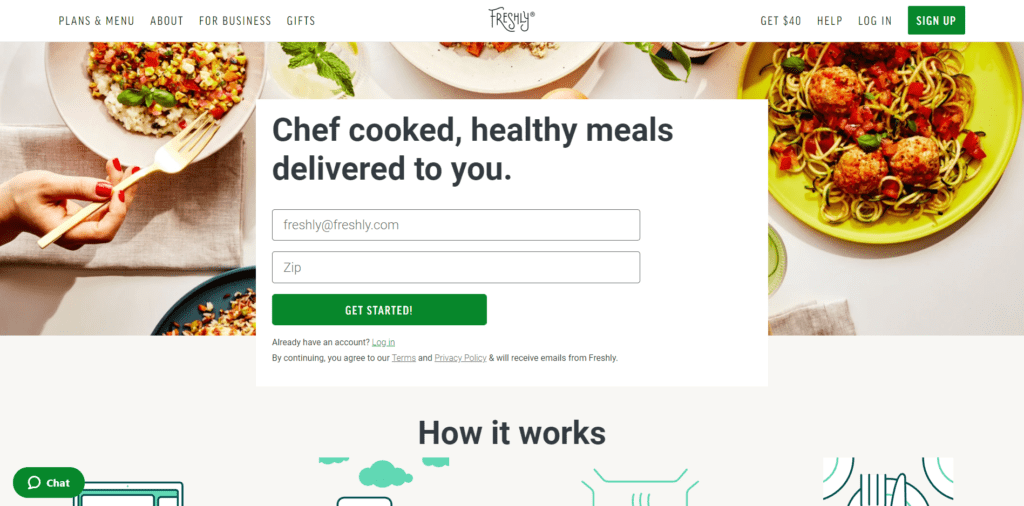 So, to get your subscription started, you go to Freshly.com and input your email and zip code. Next, you pick your plan. Keep in mind that with Freshly, each meal only serves one person, unlike other meal kits whose meals serve two or more people.
After you select your plan, you select your delivery day. For us, the soonest delivery available was about 10 days after we placed our order.
Finally, you get to do the fun part, selecting your meals for the week from their menu. It should be noted that if you don't go in and pick your meals for every delivery, you may end up receiving the same meals from your previous week. With other services, if you don't pick your meals every week, they'll pick random ones for you and deliver those.
Thankfully, Freshly makes it super easy to customize your order every week. If you don't end up making it to the computer to do this, you can always use the mobile app. With the mobile app, you can:
Update your upcoming delivery, or skip a week.

Track your food delivery, so you know when to expect your meals at your door.

Quickly change your delivery address.

Browse meals, customize your order, and see what's new.

Find out everything you need to know about the meals, like ingredients and nutritional information.

Set up dietary preferences.

Quickly contact the customer care team via live chat, email or by phone should you need anything else.
Before we get into the specifics of our meals and experience, let's discuss the delivery process.
Similar to other meal kit services, our order was delivered in a heavily insulated box with very large ice packs to keep everything fresh.
It should be noted that you receive microwavable meals that are fresh, never frozen. They have a fridge life of about 5 days, but you can freeze them before the use by date if you need.
Our delivery was on time and everything was in excellent condition. We were simply able to unbox it and put the meals right in the fridge. The convenience of this kit is definitely the best selling point they have to offer.
It's true that Freshly is uber convenient and if you're tight on time, it's not the worst option out there. It's also true that you'll have a nutrient dense meal on the table in about 5 minutes, so if you value nutrition, it's actually a great option. However, there are a few reasons this kit is a little less than ideal.
Ingredients
While Freshly doesn't use organic ingredients, they do avoid chemical preservatives, processed sugars and artificial ingredients.
Unfortunately though, these high quality ingredients lose a bit of their charm after three minutes in the microwave. The ingredients time in the microwave renders everything mushy and underwhelming. There's no char on the meal, there's no crunch to the vegetables and the sauces seem to end up a congealed mess. All in all, it's pretty disappointing.
Conversely, Freshly's website does say you can reheat the meals in the oven, which may improve texture. However, this isn't realistic for two reasons.
One, a major draw to this service is the quickness and easiness of the meals, which would be a bit thwarted by having to reheat in the oven.
Two, they neglect to actually put any oven reheating instructions on the box, so how are we to accomplish this, anyway?
It should be noted though, the lower quality of the ingredients of the meals when reheated isn't exactly Freshly's fault. It comes with the territory when you're microwaving a meal.
Cooking
Let's talk more specifically about the reheating process. It's very simple. You slide the meal out of the cardboard and vent the plastic film. Then you microwave each meal for around three to three and a half minutes. After that, all you have to do is let the meal stand for about two minutes, serve and enjoy.
While the texture isn't totally perfect, parts of the meals are pretty tasty. Though, the vegetables could have used a little salt, which is easily fixable. However, the main parts of the meals we had were well seasoned and the sauces, while congealed, were delicious. Definitely not the worst thing we've ever eaten, by far.
Moral of the story for the taste category, use salt, pepper and hot sauce, as needed. The flavor of these meals is okay, but could definitely be taken to the next level.
Let's get into the finer points of the specific meals we received. For each meal, we'll talk about the ingredients, texture and taste so you know exactly what to expect if you order Freshly. Plus, we'll include a picture of what the meal is supposed to look like, just for reference.
Due South BBQ Beef
Ingredients:
This meal features tender pulled beef, slathered in BBQ sauce with collard greens braised with apple cider vinegar, onion and salty flecks of turkey bacon mixed in and brown-rice macaroni, pureed butternut and shredded cheddar on the side.
Texture:
This was a meal that actually reheated well. The parts of this meal are inherently "squishy" to begin with so the microwaving process didn't take away anything.
Taste:
Interestingly, this meal was also the tastiest. The BBQ sauce wasn't overly sweet, probably because it doesn't contain high fructose corn syrup. Plus, the salty turkey bacon mixed in balanced incredibly well with the slightly sweet sauce. Additionally, who doesn't

love

mac and cheese.

All in all, this is a meal that would definitely be worth eating again.
Hot Chicken Bowl
Ingredients:
This meal has grilled chicken breast served over a base of quinoa with sauteed bell peppers, broccoli and sweet corn. All dressed with a creamy cayenne hot sauce for flavor and heat … so they say, more on that in the taste section.
Texture:
Microwaving the chicken made it sad. It was quite dry. Plus, the quinoa ended up dry with an al dente quality. However, the vegetables and sauce did lend a little bit of moisture, so that helps.
Taste:
The quinoa was absolutely flavorless, as quinoa tends to be (pro tip for making it at home: use broth instead of water).

This hot sauce wasn't at all hot. The use of your own hot sauce can fix this and help with the flavorless-ness of the quinoa.
Steak Peppercorn
Ingredients:
This meal features tender flat iron grilled steak on a bed of mashed red skin-on potatoes and a side of French green beans mixed with sauteed carrots, tossed with garlic oil, lemon and herbs. All topped with a creamy peppercorn sauce made from yogurt and porcini mushrooms.
Texture:
The steak was actually a lovely medium rare, by look, but was a smidge on the dry side as well.

The mashed potato, creamy peppercorn sauce was completely congealed. If you picked up the steak with a fork, the whole mass in that part of the container came with it.
Taste:
The congealed mess was actually tasty. The peppercorn sauce and potatoes, mixed with a bite of steak was a flavorful bite.

These veggies were well seasoned too. I would have loved a touch more garlic oil or butter, but they'd be worth eating again.
Truffled Mushroom Steak
Ingredients:
This meal has seared slices of lean steak, paired with a "deeply flavorful, show-stopping" sauce of oyster and button mushrooms, herbs and a sprinkle of black truffle salt. All served over a hearty three-grain saute of quinoa, spinach, chopped chives, and wild and brown rice. Served with harvest broccoli and rainbow carrots seasoned with garlic, olive oil and dill on the side.
Texture:
This was not my favorite meal when it comes to texture either. Rice does

not

microwave well. Between the meat and mushrooms and mixed vegetables, it was just a mess of smushy and grainy.
Taste:
The mushroom sauce was not deeply flavorful and show-stopping. At least not in the way Freshly probably hoped it would be. It just wasn't good.

The vegetables weren't as bad, but could have used a sprinkle of salt.
Honestly, Freshly isn't the worst. Most of the meals we received tasted good. They could easily be improved with just a dash of salt and pepper, so really no harm, no foul there. Plus, the textural issues with Freshly meals was expected, as is the standard outcome for microwavable meals.
You cannot just slap on a luxury price tag and expect the meals to reheat like they're fresh out of the oven. And that's really where the issue lies with Freshly, for us. For what you actually receive, they're just really expensive. There are other meal kits in the same price range that are much more flavorful and just come out better.
If you're willing to pay that price tag for microwavable meals though, by all means, do so. Some of the meals are tasty and they're nutritionally minded, as well. Plus, they're quick and easy, which is a very strong selling point.
Just keep your expectations realistic.
Are all of my meals delivered on the same day?
Yup, all the meals in your order will be delivered together on your chosen day of delivery. Be sure to refrigerate the meals upon arrival, though you can freeze a few to extend the shelf life. They recommend enjoying them fresh, but check out their freezing instructions here.
How are my meals packaged?
The meals come in Go-Green plastic containers that are microwave-safe, don't release BPA when heated, and are made with a 30% cleaner process than other plastic manufacturing. They seal the meals tightly in a light plastic coating to ensure your meals arrive home safely.
Both the container and plastic can be recycled, along with the cardboard sleeve and other paper products. The gel packs can be tossed in the trash or frozen for reuse – Just be sure to do so upon arrival.
Do you offer dishes for breakfast, lunch, and dinner?
Freshly meals are perfect for lunch and dinner but they don't have breakfast, snacks, or customization right now. The meals on the menu are the ones they deliver.
Are your meals low in carbs, calories, fat, and sodium?
The meals they offer cover a range of nutritional values. They even have a feature that sorts by nutritional values which can be found in the top left corner while editing orders in your Deliveries, but you can click on any dish on our menu to view a full nutritional breakdown along with the ingredients used.
If you have any goals or questions, feel free to chat with the Wellness Experts to see how they can be a good fit.
Please note: The Freshly Wellness Experts are not healthcare providers and are unable to provide any medical advice. It's recommended to consult your physician or nutritionist if you have any specific health concerns.
Still not sure this is the right meal kit for you? Check out some of our other in-depth reviews: