Green Chef says they're the most sustainable meal kit and they offer a number of plans tailored to dietary restrictions. But do they live up to their claim and, more importantly, how does it taste? Read our full Green Chef review for all the details!
We chose two servings per meal, with three meals per week.
It costs $11.99 per serving for the plan we chose (Balanced Living).
Green Chef is most definitely worth trying if you can afford it. While this particular service is a little pricey, we loved that they use organic ingredients, we love that they are gluten-free certified, we loved that they accommodate vegans and people who follow the paleo or keto diets. All and all, they're very inclusive of individuals with stricter dietary needs.
Our qualms aren't taste related. The food tastes excellent. Keep reading to find out what could have been better, but what also makes Green Chef worth trying.
Who is [Meal Kit] Best For?
Vegans
Keto dieters
Paleo dieters
Gluten free/celiac individuals
People on a budget
People looking to eat healthy and lose weight
Green Chef In-Depth Review
Green Chef's claim is that you'll get healthy and flavorful organic meal kits delivered straight to your doorstep. You'll receive natural ingredients in every meal delivery that perfectly fit your diet and lifestyle.
We agree that if you have tight dietary restrictions that Green Chef is an excellent option that'll accommodate your needs without you having to sacrifice flavor.
Green Chef is the classic meal delivery kit. You go online, place your order and a box will arrive at your door. The box will have everything you need to cook the dinners you chose.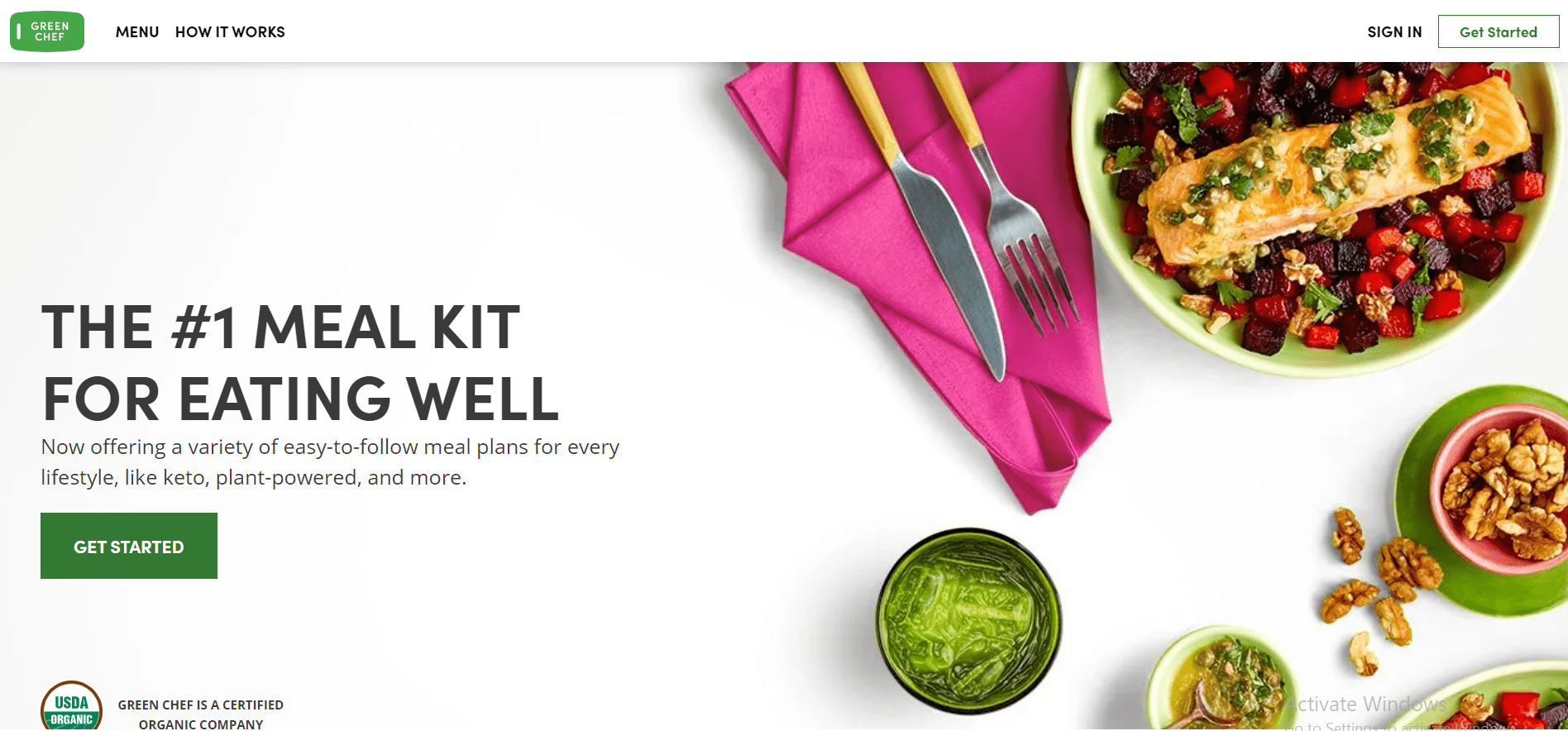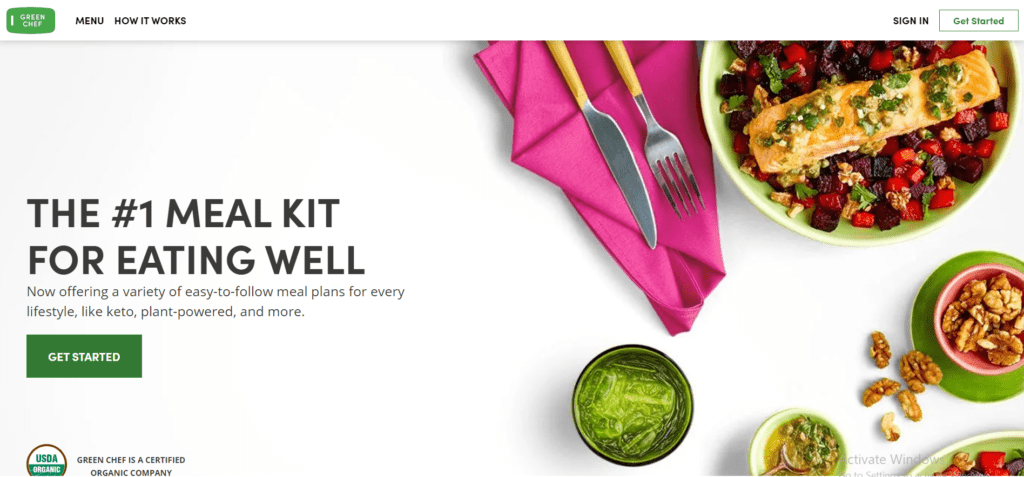 You have to bring your own salt and pepper to the table. However, you'll receive fresh, sustainable ingredients that are pre-measure and usually pre-prepped, including sauces and marinades.
The recipes are easy to follow and are chef curated. They take just about 30 minutes to cook too, since a lot of the ingredients come prepped.
Before we get into pricing, let's talk about the types of meal plans you can choose from. They have four plans: Balanced Living, Plant-Powered, Paleo and Keto.
The Balanced Living plan includes meat, seafood and vegetarian recipes. This would be the plan for someone with no dietary restrictions. This plan doesn't accommodate gluten free individuals.
The Plant-Powered plan offers both vegetarian and vegan recipes. This plan doesn't accommodate gluten free individuals.
The Paleo plan is for people who follow the paleo diet. If you're not familiar, paleo is a diet composed primarily of meat, vegetables, nuts and seeds. It typically excludes dairy, legumes and grains. This is one of the plans that follows under their gluten free certification.
The Keto plan is supposed to be for people following the keto diet, which is a very strict low or no carb diet. The widely accepted number of carbs you are supposed to eat on keto is 20 net carbs per day. Because of this, we don't think Green Chef's Keto plan is actually suitable for someone following that diet as their "keto" recipes contain up to 20 net carbs in that one meal.
In our humble opinion, their Keto plan is more suitable for someone who wants to follow a moderate low carb diet like Atkins, which is around 40 net carbs per day. That way you can eat more than just your Green Chef meal! However, their Keto plan is also certified gluten free, so if you have celiac, give it a try.
Now, let's discuss pricing. That always seems to be the deciding factor in choosing a meal kit. When you first sign up, you can expect a pretty hefty discount. For the Balanced Living plan with six meals total per week, we paid about $42 dollars. Without the discount, we would have paid about $80 dollars.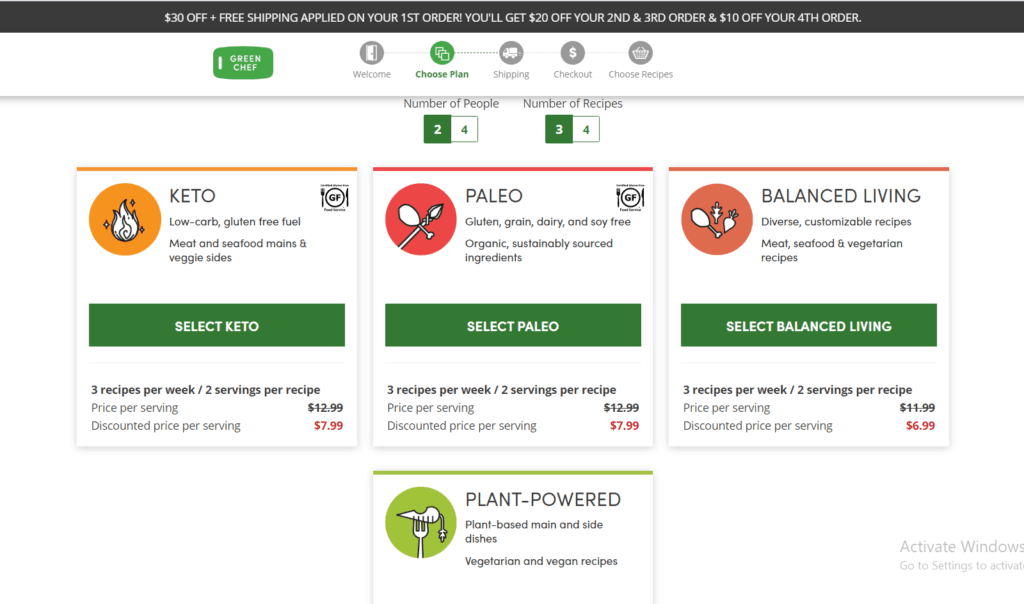 Green Chef offers three different sized boxes.
Their 3×2 box contains three dinners for two people (six meals total)

Their 2×4 box contains two dinners for four people (eight meals total)

Their 4×2 box contains four dinners for two people (eight meals total)
Here are their prices per plan:
Plant-Powered is $11.99 per meal with $7.99 for shipping.

Plant-Powered (2 or 3 boxes per week) is $9.99 per meal with $7.99 for shipping.

Balanced Living is $11.99 per meal with $7.99 for shipping.

Paleo is $12.99 per meal with $7.99 for shipping.

Keto is $12.99 per meal with $7.99 for shipping.
A benefit to Green Chef is the simplicity of the ordering process. Once you land on their website, you simply create an account and pick your dietary and delivery preferences.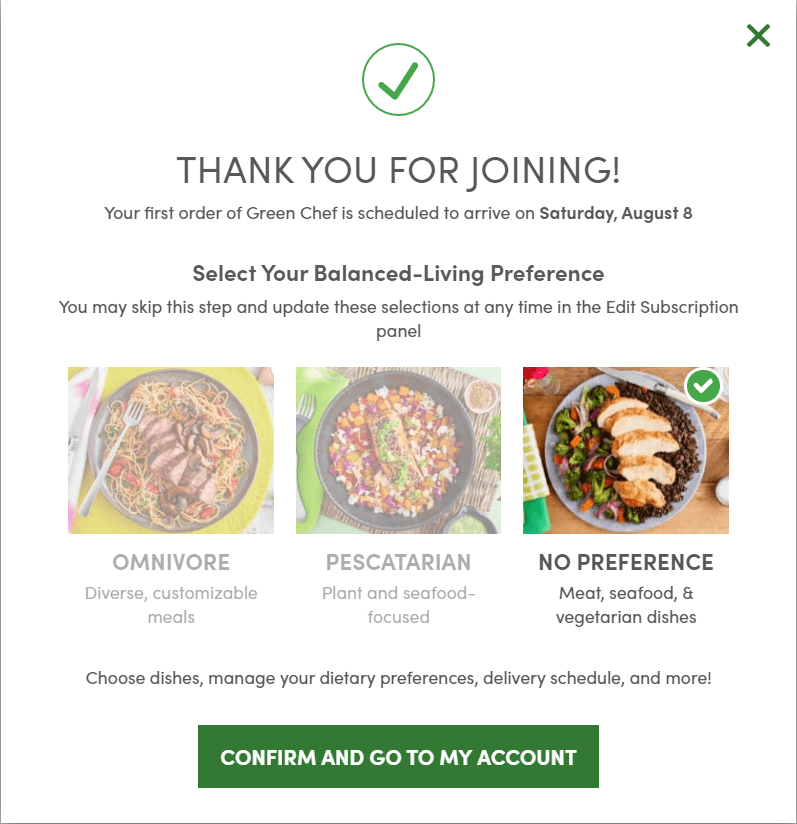 You're free to change your preferences, skip weeks, or cancel at any time, up to seven days before your next scheduled delivery.
To make changing your preferences and skipping weeks even easier, Green Chef has an app … for iOS only. That's a little unfair to Android users, but it's probably only a matter of time before they accommodate their customers that are Android users. (Note: this is conjecture).
Interestingly, they have a blog that everyone, iOS and Android users alike, can check out. It's called The Cutting Board by Green Chef, you'll find recipes, health tips, information about the Green Chef team, among other things.
Green Chef's delivery was smooth. Everything was on time and packaged well. All our ingredients stayed fresh during transport too.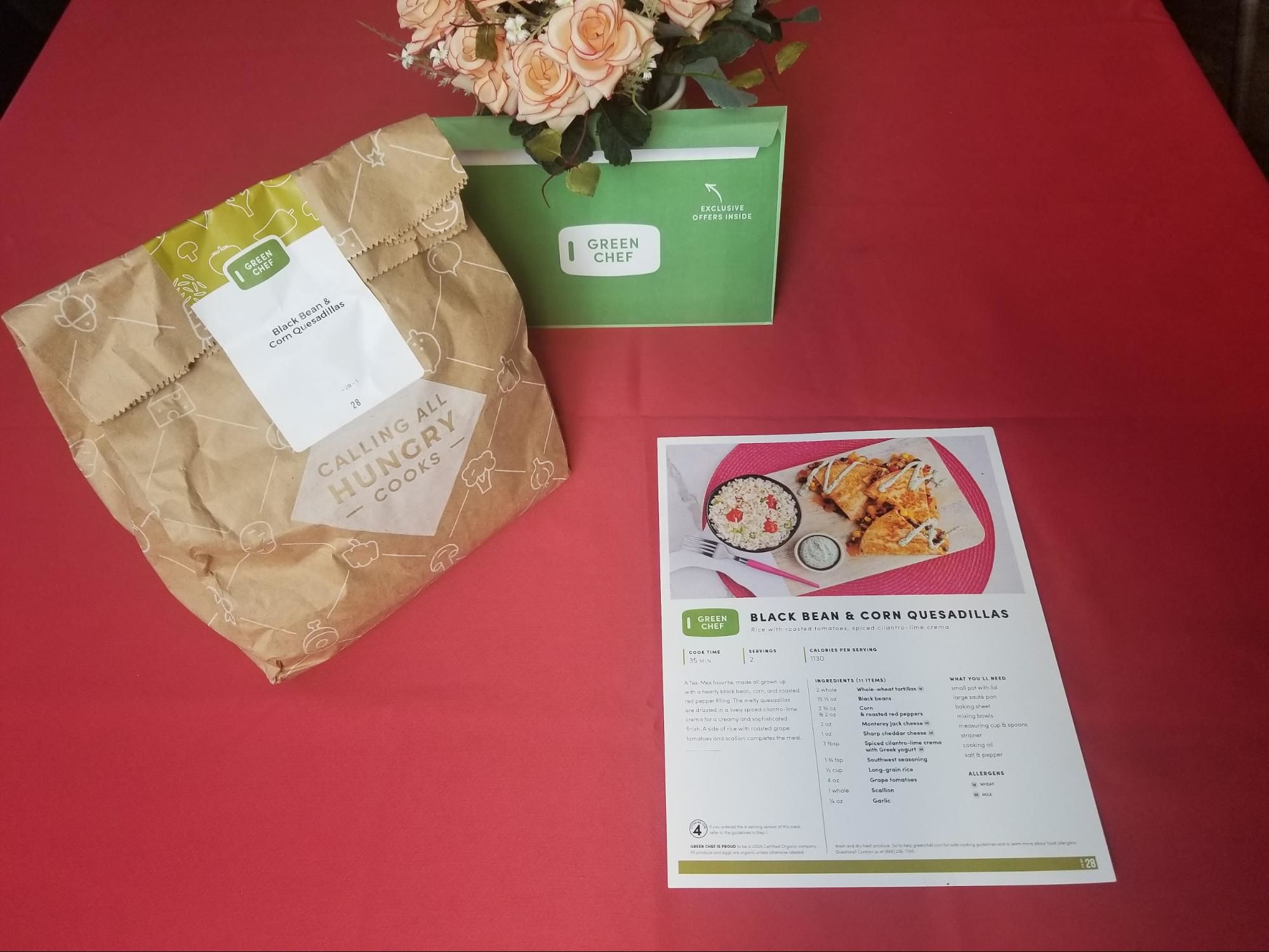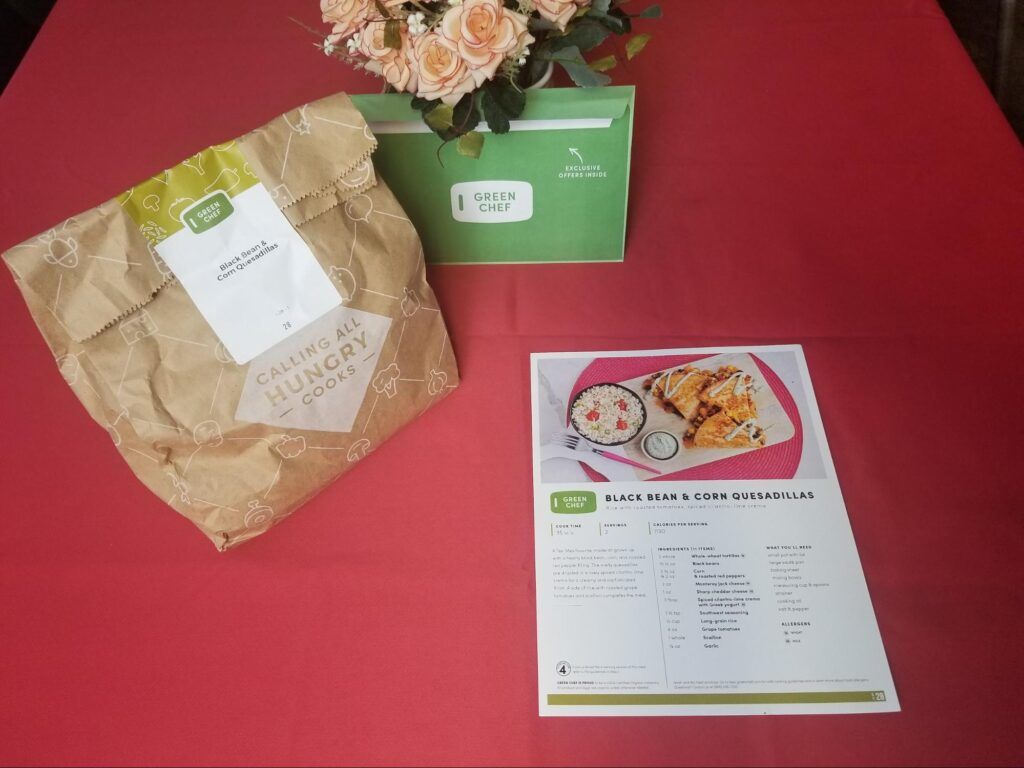 A benefit to Green Chef is how they package their meals. Not every meal kit has the ingredients for each meal sorted and packaged together in their own bags.
However, it's super convenient when a company does that. For one, it seems like it saves on fridge space. For two, it makes it easy to just reach in the fridge and grab out a bag for dinner and get to cooking.
Note, that the proteins are packaged separately from the rest of the meal. However, this protects from cross contamination.
Overall, our experience was quite positive. The order process was what you'd expect. The delivery was on time and everything was fresh and correct. Plus, the food was quite tasty. We weren't in love with the price point, but for organic ingredients and plans that fit a variety of dietary restrictions, we're not going to complain. However, it should still be noted there are less expensive services available.
Where we take issue is with the blatant greenwashing. If you aren't familiar with this term, it's when a company goes out of their way to market themselves as healthy and environmentally friendly when it's not really true. Their packaging is recyclable for sure, which is great.
However, when you go to the Green Chef website you're met with words like "healthy" and "nourishing." They even call themselves "the #1 meal kit for eating well."
Yet, we received a vegetarian meal that was aggressively carb heavy and 1,130 calories for a single serving. This is something that has to be noted if your intention is to use a meal kit delivery service as a way to eat healthy or lose weight.
Even their calorie conscious meals are 600-800 total calories. For reference, a Big Mac from McDonald's is less than 600 calories. This isn't to say you absolutely cannot work Green Chef meals into a healthy diet, we just wanted to make sure you knew what you actually getting.
Despite this service being called "Green Chef," their parent company "HelloFresh" might be the better option for people looking to use a meal kit to eat healthier and lose weight as their meals typically run about 500-800 calories per meal.
Nutrition aside, Green Chef's ingredients were pretty stellar, overall. We absolutely loved that some of them came pre-chopped for us. This is a definite time saver (and much appreciated).
Produce: The produce was fresh apart from the scallion. To be fair, this was the last meal we ate of the three. However, this was the only true flaw as far as quality goes.
Meat: Our USDA inspected meat was beautiful. The portions were decent size. It was fresh. Both the chicken and shrimp were securely packaged and had no leakage issues. Meat packages leaking is something we've run into with other kits, so it's appreciated that Green Chef's proteins were packaged effectively.
Spices/Toppings: The meals end up well seasoned and delicious. While they utilize common ingredients like garlic and herbs to flavor their dishes, they also have some delicious sauces like "Spiced cilantro-lime crema with Greek yogurt," "Chipotle aioli with lime" and "Honey-Dijon vinaigrette" which were high points in each dish.
Having some of the ingredients come pre-prepped is a welcomed time saver. Obviously, the meals with the pre-prepped ingredients cooked the fastest, had the least amount of steps, and used the least amount of dishes.
While the other meals used more dishes and took a little longer to prep and cook, they weren't terribly complicated. If you're a true novice, you may struggle. However, Green Chef has thoughtfully bolded important text within the instructions, which is helpful for those who will need to repeatedly consult the recipe to prepare the meal.
Two of our three meals were incredibly lovely. They tasted delicious and just felt good to eat. Our third meal also had a nice flavor, but it was a very heavy meal. It was a quesadilla filled to the brim with black beans with a big ol' side of rice. It was just so carb heavy that it stopped being enjoyable to eat about half way through (but hey, maybe that sounds good to you! No shame there).
Recipes You Can Get With Green Chef
Let's talk more about this carb heavy recipe and the other recipes we received so you know what to expect if you order from Green Chef.
Black Bean & Corn Quesadillas, Rice with Roasted Tomatoes, Spiced Cilantro-Lime Crema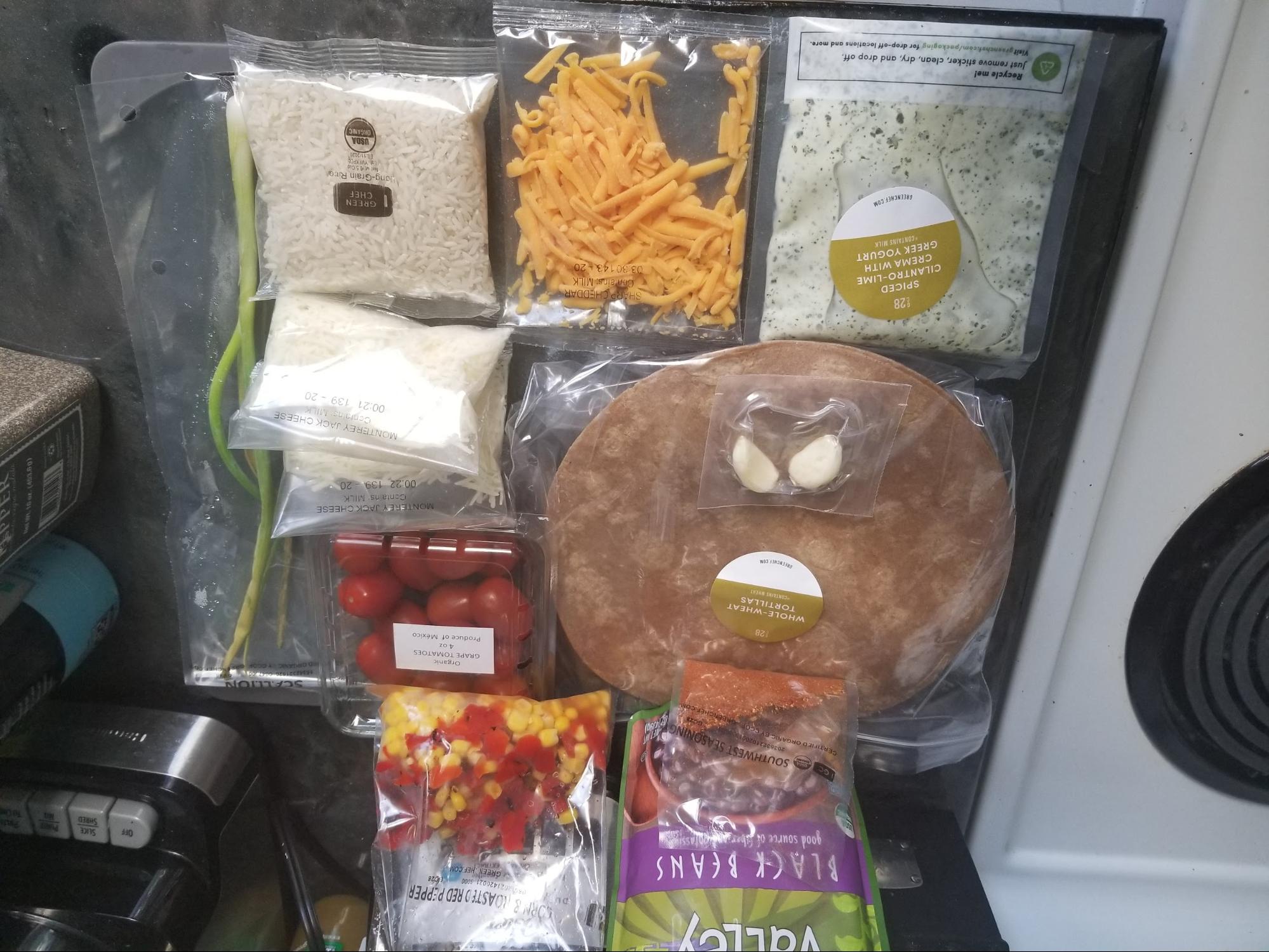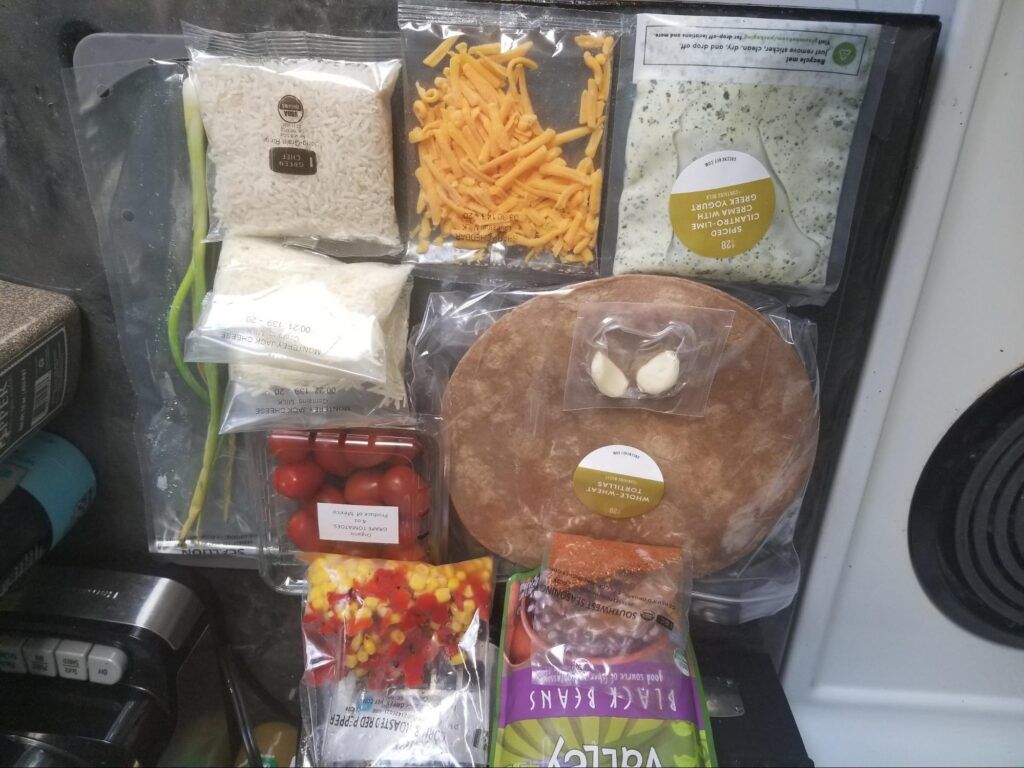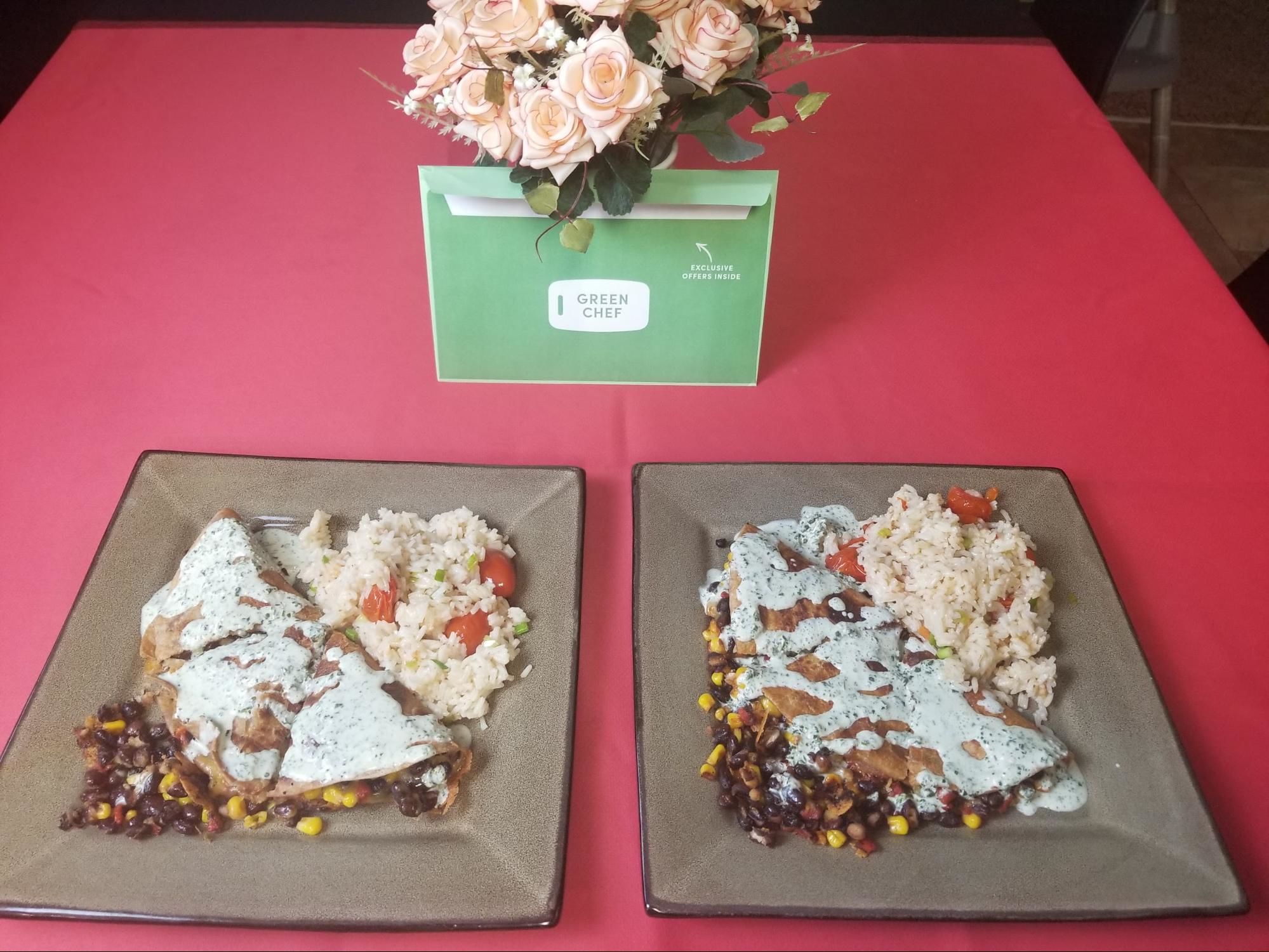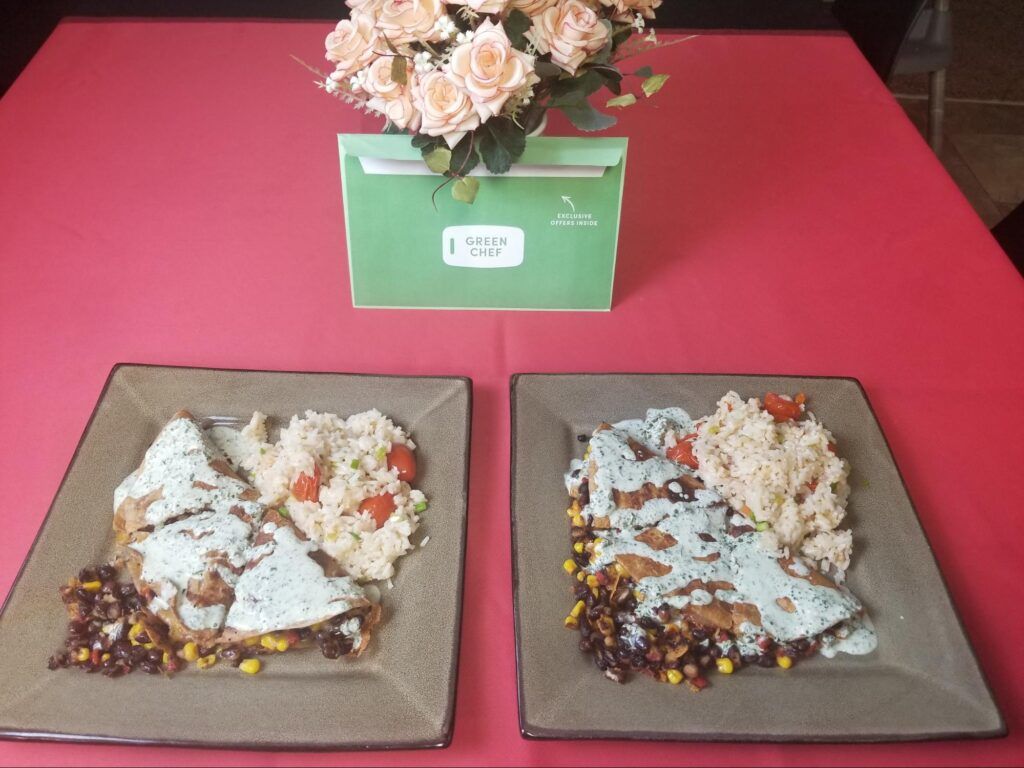 Ingredients:
Whole-wheat tortillas, black beas, corn & roasted red peppers, Monterey Jack cheese, sharp cheddar cheese, spiced cilantro-lime crema with Green yogurt, southwest seasoning, long-grain rice, grape tomatoes, scallion, garlic.

Our scallion was a little brown. However, we did eat this meal last.
How It Cooked:
For off, this recipe dirtied the most dishes. It used multiple pans, multiple mixing bowls, multiple utensils etc. Second, it was a bit involved as far as the cooking process goes and it took the longest. However, if you're systematic, you'll be able get through it without burning your quesadillas.
The Taste:
The southwest seasoning gave nice flavor to the black beans and the crema was delightful. It added a bit of freshness to a very heavy dish.

This meal was over 1,100 calories per serving, which makes us question why they'd choose to pair rice with a quesadilla literally overflowing with beans. A vegetable side dish would have been the healthier choice or they could have just forgoed the side dish all together because the quesadilla was truly more than enough.
Chipotle Mango Shrimp, Coconut Cauliflower "Rice" with Bell Pepper, Cashews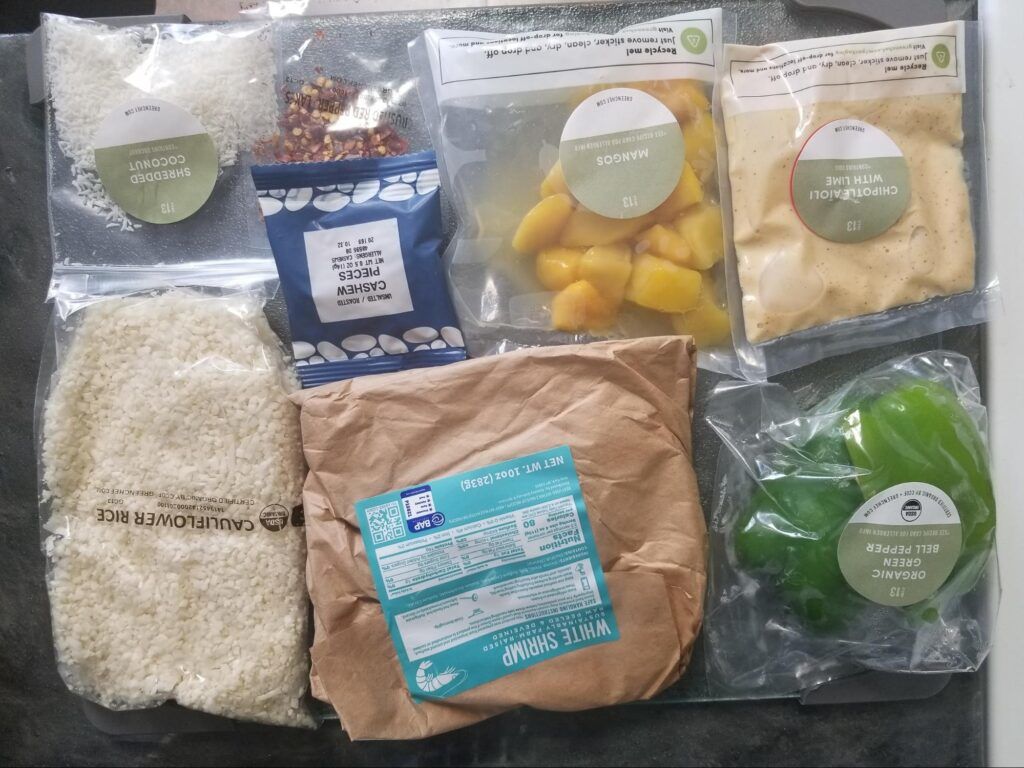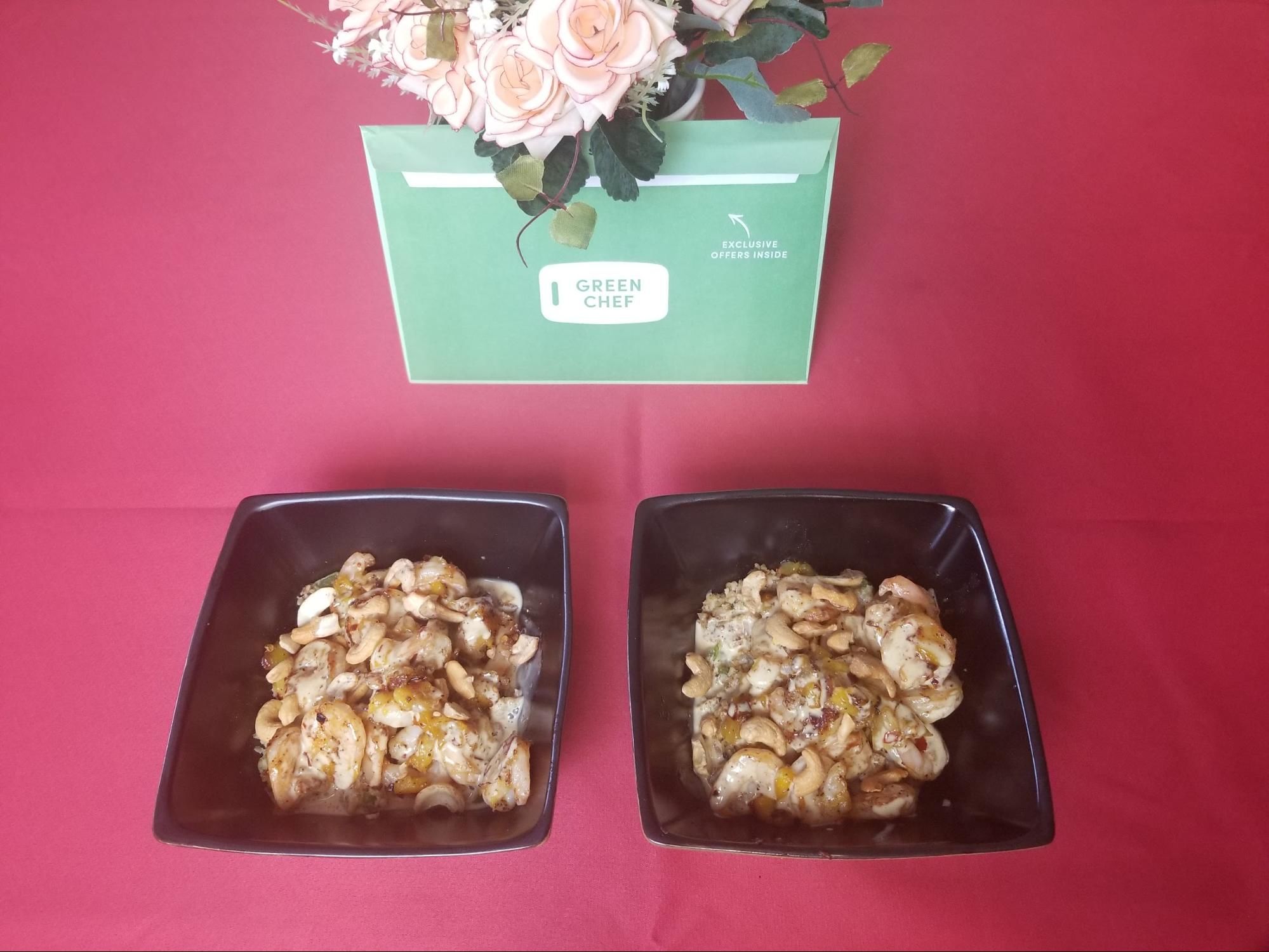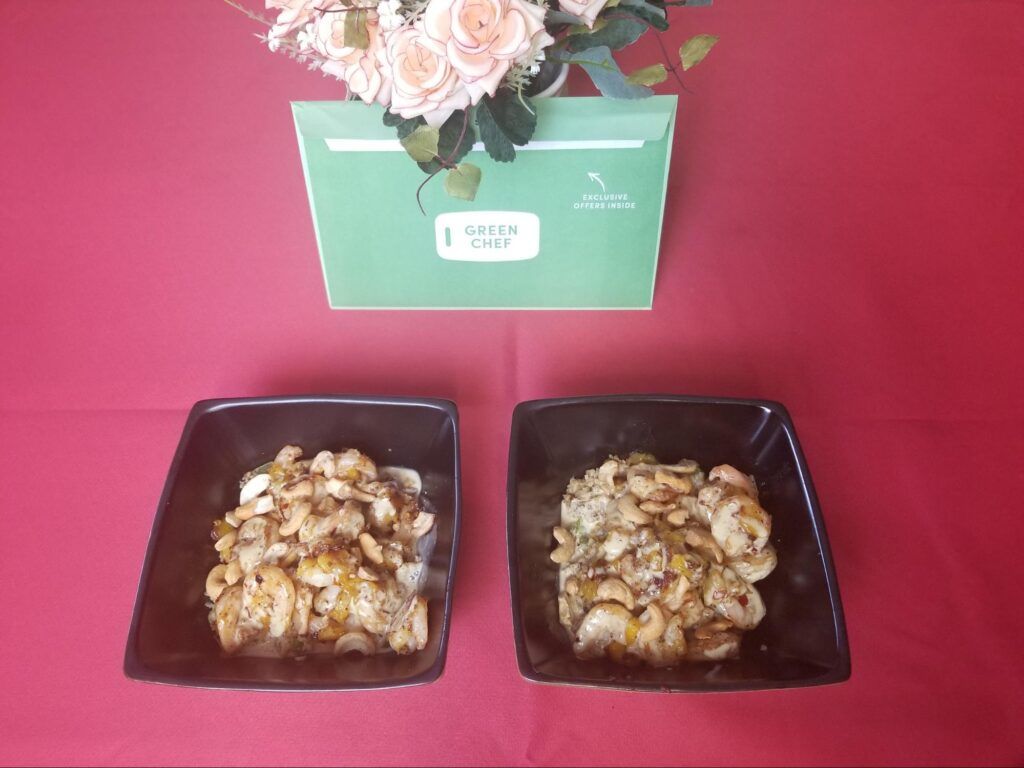 Ingredients:
Shrimp, mangos, chipotle aioli with lime, cauliflower "rice," green bell pepper, shredded coconut, crushed red pepper flakes, dry roasted cashews.

The mangos weren't too mushy and the green bell pepper was perfectly ripe. As far as the ingredients go, there wasn't an issue with this meal.
How It Cooked:
This recipe was the easiest to cook. It was also the fastest to cook and dirtied the least amount of dishes. This recipe is only five steps and one of those just called for you to chop the green pepper and mango. You then just cooked the cauliflower in one pan and the shrimp in another.
The Taste:
It was very delicious. It had just enough heat from the red pepper flake, but wasn't all out spicy. The aioli was awesome. Our only issue was that we wish we had more. If you notice, this meal was barely half a bowl of food, yet the meal before was ginormous.
Rosemary-Roasted Chicken, Kale Salad with Herb-Roasted Potatoes, Figs & Pistachios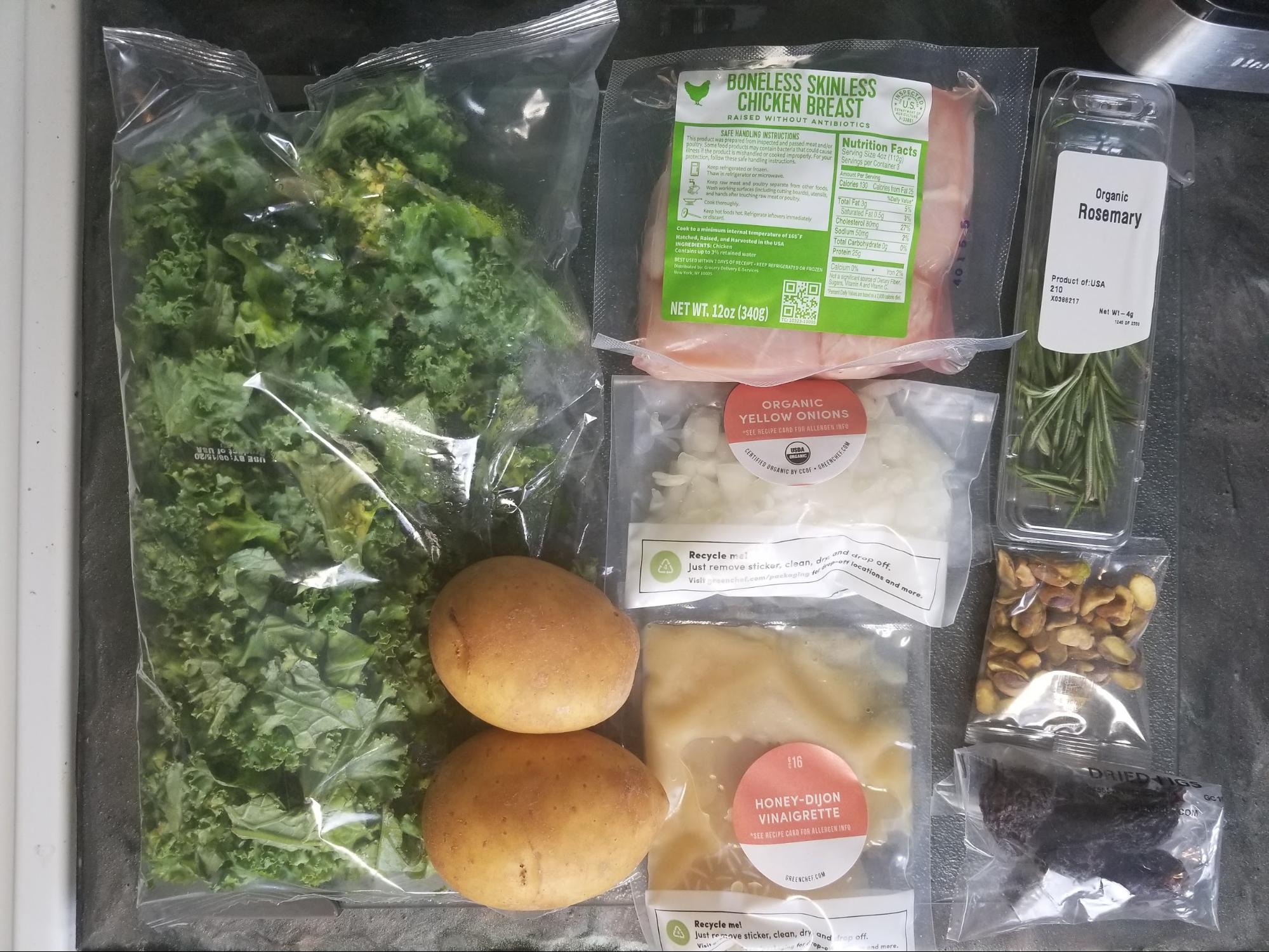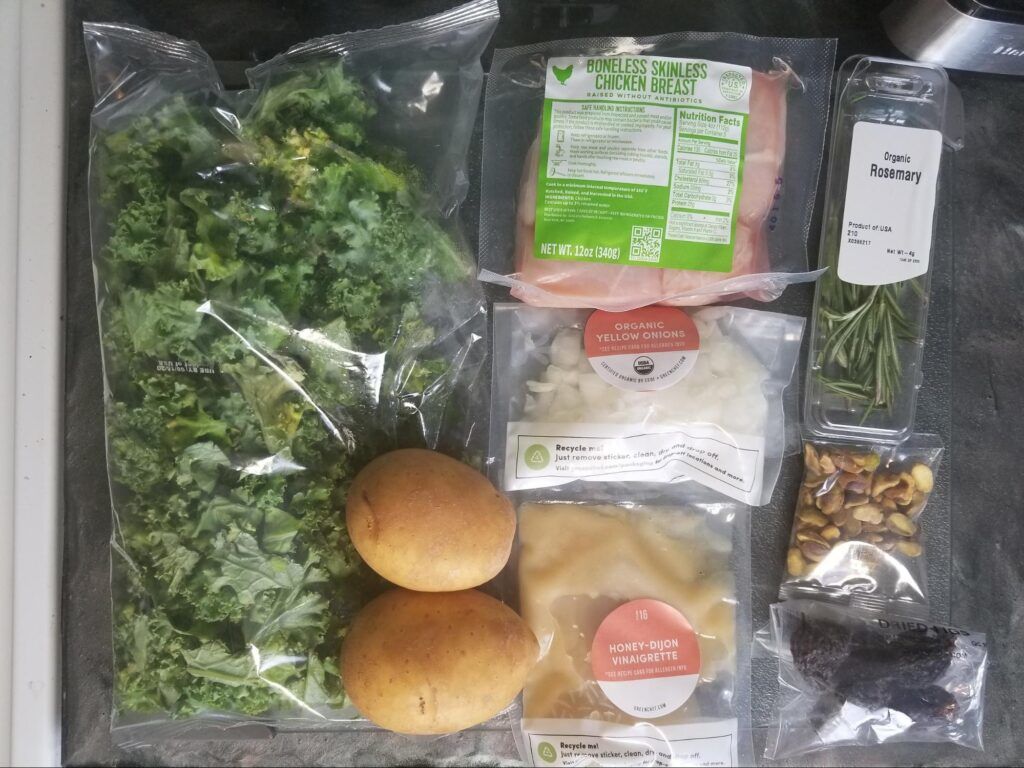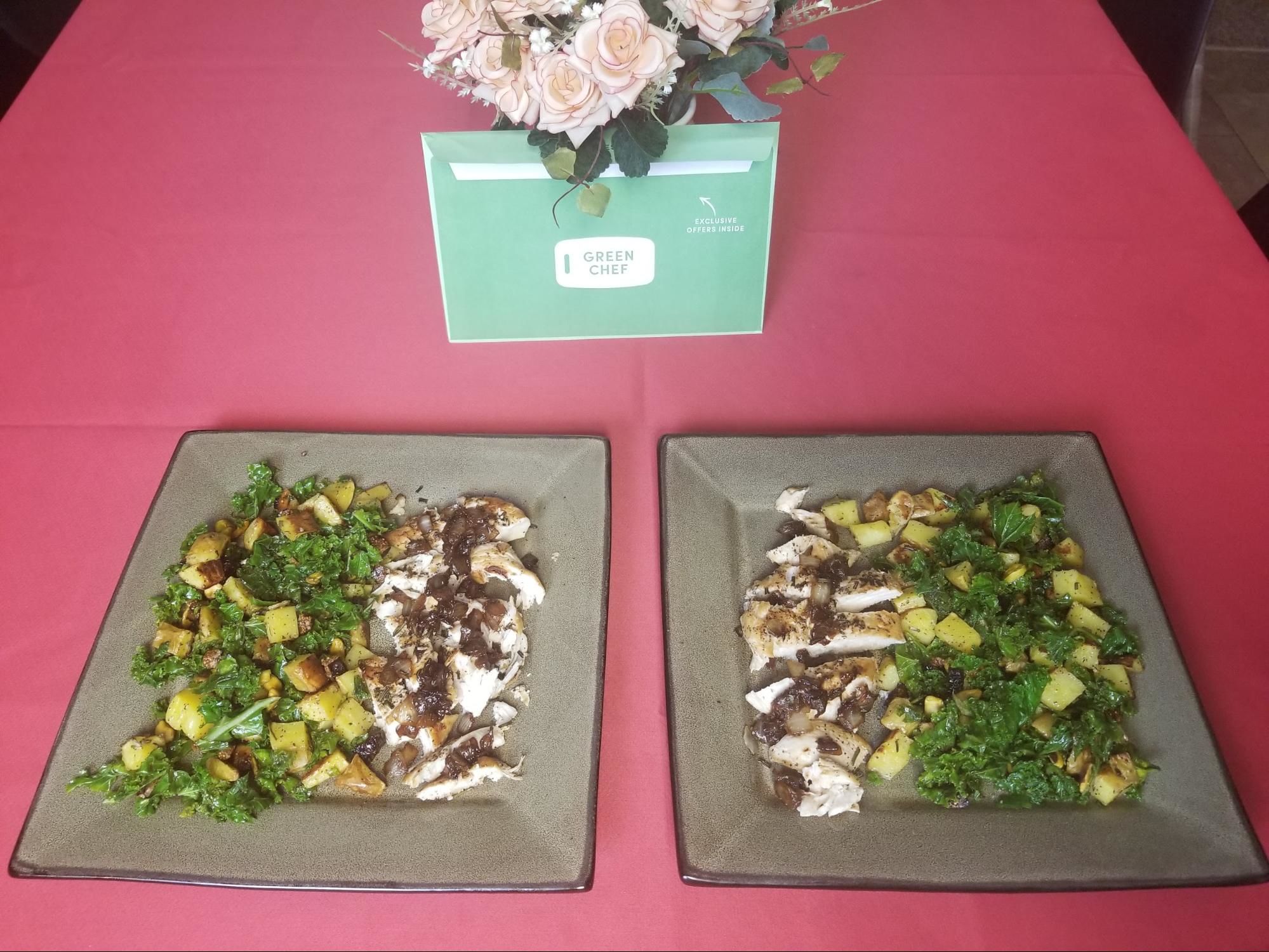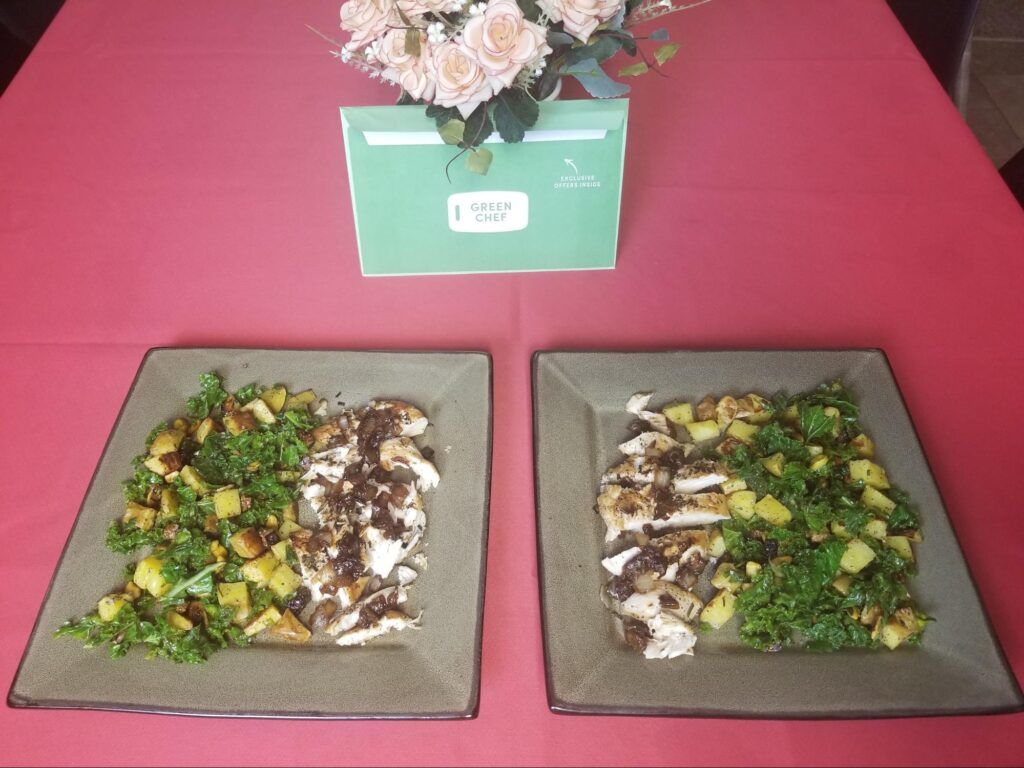 Ingredients:
Chicken breasts, rosemary, green kale, yellow potatoes, dried fig, pistachios, Honey-Dijon vinaigrette, yellow onions.

We loved the pre-chopped onion. Cutting onions is the worst.

The kale and rosemary were in perfect condition.
How It Cooked:
This recipe was really easy to cook as well. You just roasted the potatoes and seared the chicken.

You didn't have to cook the kale. You just put the kale in a bowl and massaged the dressing into it (it sounds weird, but it gives it the texture of cooked kale).
The Taste:
This was probably our favorite meal if we had to pick. It was on par with what we thought Green Chef meals would be like. Meaning, it was actually balanced. You got protein, you got vegetables, you got flavor. There was good stuff happening here.

Yet again, the sauce was a hit. And thankfully, they gave you enough to fully coat the kale so you didn't end up with an under dressed salad.
To sum it all up in three words: We'd order again. This is one of the more expensive kits, but the price does match the quality of the meal. The flavors were what you'd want from a meal kit. Plus, the ingredients were fresh and organic. They also have plans that are suitable for those whose dietary restrictions would normally keep them from being able to enjoy a meal kit service.
We weren't fans of the "greenwashing" and health claims. However, not everyone is looking to try a meal kit for their potential health benefits. If you fall into this category and have the budget for it, Green Chef is definitely a meal kit service to try.
Here are some Frequently Asked Questions about Green Chef:
Can I mix and match recipes from one meal plan with another meal plan?
You can't currently mix and match recipes from different meal plans, but you can change your plan as often as you'd like. Simply log in to your account, go to the Your Plan tab, and click Edit Plan. Just be sure to make any changes to your order before your weekly deadline (7 days prior to delivery at 11:59 pm ET).
Can I opt in and out of certain ingredients?
Green Chef's Balanced Living Plan under the Omnivore preference allows for customization of protein preferences. You can opt out of receiving certain proteins, like beef, poultry, pork, lamb, shellfish, fish, or game.
On the Balanced Living plan, you can opt out of up to 2 proteins on the Omnivore preference. Since you are able to pick your own recipes on the Balanced Living plan, opting out of proteins will ensure these proteins are not selected as your default recipes. You can always change your preferences or modify a single order, but your default selections will not include the proteins you choose to opt out of.
To edit your protein preferences:
Sign In

Click

Your Plan

and

Edit Subscription

If you're on the

Balanced Living plan

, click the proteins you

don't

want to receive (up to 2)

When you're finished, click

Save Changes
What is Gluten-Free Certification?
Green Chef was the first meal kit company to receive Gluten-Free Certification through the Gluten Intolerance Group's Gluten-Free Food Service program, which applies to our Keto and Paleo meal plans.
Receiving Gluten-Free Certification through the Gluten Intolerance Group's Gluten-Free Food Service program helps ensure that the finished product contains 10 parts per million (10 ppm) or less gluten (5 ppm gliadin) and similar proteins from rye, barley, and hybrids of these grains, as measured by using testing methods that are accepted for gluten testing by analytical associations such as the AOAC, the American Association of Cereal Chemists (AACC), testing researchers, and other such agencies.
The Gluten Intolerance Group provides the gold standard in certification for the celiac community. The GFFS Certification provides assurances to gluten avoiders, including celiacs, that Green Chef's gluten-free kits meet or exceed the most rigorous gluten-free standards in the industry.
Still not sure this is the right meal kit for you? Check out some of our other in-depth reviews: