HelloFresh says it's the most popular meal kit in the U.S. They say they test each recipe 45 times to ensure tastiness and simplicity. Let's see if what they say is true.
We chose two servings per meal, with three meals per week.
It costs about $8.99 per serving.
Our Take
Overall there's a lot of good things to say about HelloFresh, like the food was delicious, fresh and high-quality. Plus, the price was reasonable and on their website they were transparent about the pricing.
On the other hand, there were a couple of hiccups. The delivery was late and customer service was polite but not ideal. Furthermore, we believe that HelloFresh is more suited for amateur homecooks rather than complete novices.
However, we believe HelloFresh is a good meal delivery service and worth trying. They have a wide variety of recipe options meaning you can always try something new.
Read on to see if HelloFresh is right for you.
Who is HelloFresh Best For?
Best For People Who Want...
A variety of foods in a convenient way
Meals that are nutritionally well-balanced
Vegetarian dinner options
Calorie smart meals — they're around 650 calories each
People with dietary restrictions.

No

gluten-free, dairy-free, or nut-free meals

Vegans or more restrictive vegetarians

Keto or Paleo diets
HelloFresh In-Depth Review
Going to the grocery store these days is even more stressful than ever before. You'll likely have to wear a mask, walk down the aisles in a certain direction, and have backed up lines due to social distancing.
Due to this, it's made meal kit delivery services appealing. In this HelloFresh review, we'll talk about its pros and cons, the menu options, how it was to cook, how it tasted, and more. Let's get started and see if HelloFresh is the meal delivery service for you.
How It Works
HelloFresh is a meal kit delivery company in the form of a subscription service. The recipe and all of the needed ingredients are delivered right to your door each week (unless otherwise specified).
You can simply go to the HelloFresh website and immediately begin customizing your subscription with the amount of servings for each meal, the number of meals per week, and when it'll be delivered. Plus, you can even pick your meals from the weekly menu — it changes every week so there's plenty of variety.
Additionally, they offer 24/7 live customer support, should you need any help.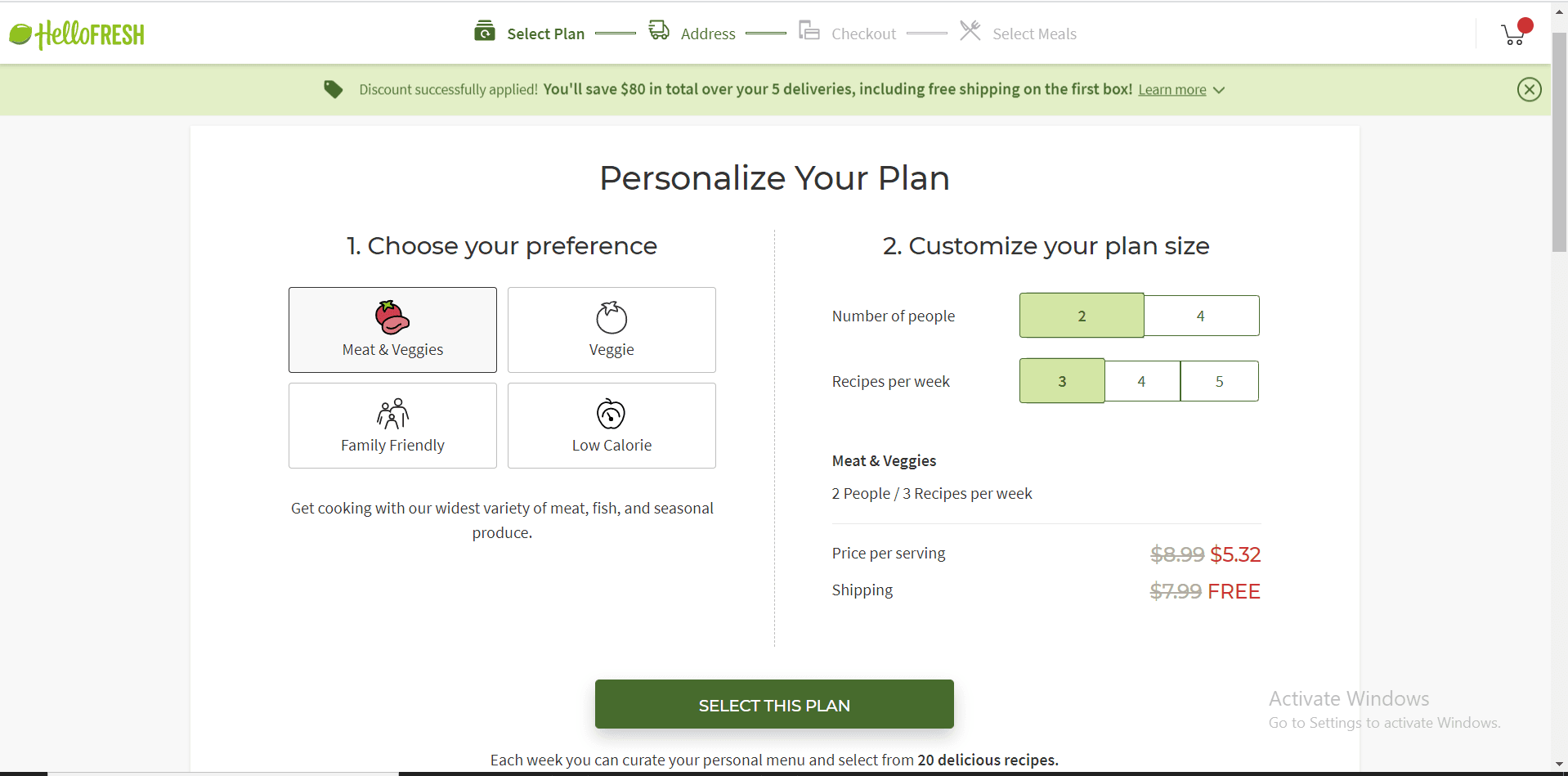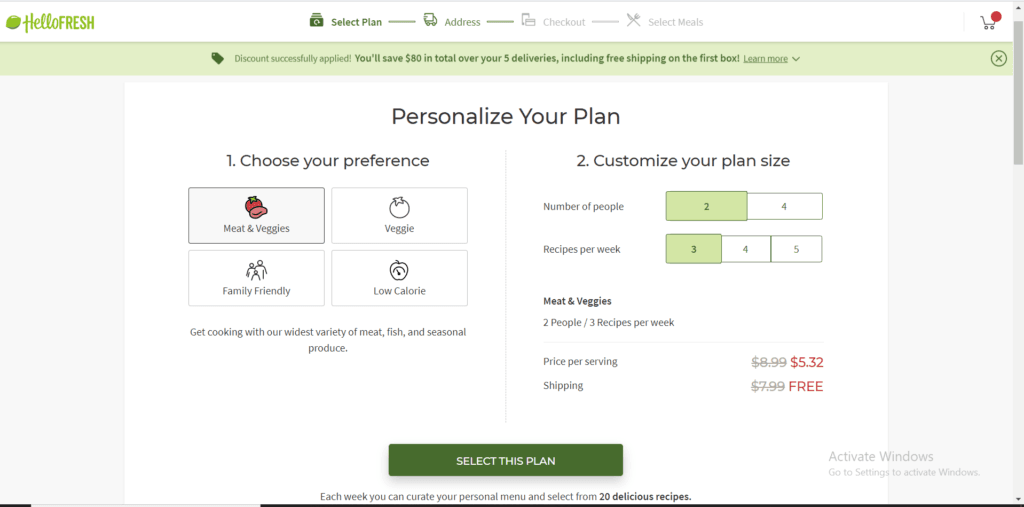 HelloFresh Costs and Plan Options
They have ten different menu types that are listed below, a large selection compared to their competitors. You'll only be able to select from these four when you sign up:
Meat and veggies:

Their widest variety of meat, fish, and seasonal produce.

Veggies:

A wide variety of meals full of seasonal, naturally produced veggies.

Family friendly:

Kid-tested recipes that make quick, easy-to-cook meals.

Calorie smart:

A wide selection of dietician-approved meals that are around 650 calories each.
However, once you have an active account, you can personalize your menu further by selecting any of these options in the "Plan Settings" menu:
Quick & easy

Seafood free

Pork free

Beef free

Pescetarian
You can choose from three to six meals per week and each meal can either serve two people or four. There aren't any meal plans for single individuals, but those cooking for one can still opt to order three meals per week, each having two servings, and simply use the leftovers the next day.
The meals are reasonably priced, at an average of $8.99 per serving. If you are a new subscriber, you can expect some level of discount (ours was $80 off my first four boxes). Plus, the meals you choose could change the price. For instance, their Gourmet meals can add an additional $7.99+ per meal.
The meal portions are adequately sized, especially for the price. While we had read some negative reviews about portion size, we found that each meal definitely made two large dinners.
Finally, the meals taste excellent. I cooked for myself and one other who is a picky eater and doesn't like many types of vegetables. However, when he had the vegetarian pasta meal with zucchini and onions, he not only ate it, but thoroughly enjoyed it. That's taste you can't fake.
Ordering Process
HelloFresh's ordering process is a breeze. When you go to their, you can immediately start customizing your plan and they're transparent about the pricing.
The first customizable option is the menu type. Without an account, they only show their four most popular options: Meat & Veggie, Veggie, Family Friendly and Calorie Smart. However, once you have an account, you can customize further with options such as Pork Free or Pescetarian.
Next, you customize your plan size. You can choose either two or four servings per meal, with three to five meals per week (which can be upped to six meals once you have an official account). HelloFresh is very transparent about the pricing, so right under these customizable options, you'll see the price per serving, as well as the shipping fee.
From there, if you don't already have an account you'll be asked to create one to set up payment, delivery options, and menu customization.
There are twenty different meals to choose from each week — the amount of variety is one of the highlights of HelloFresh.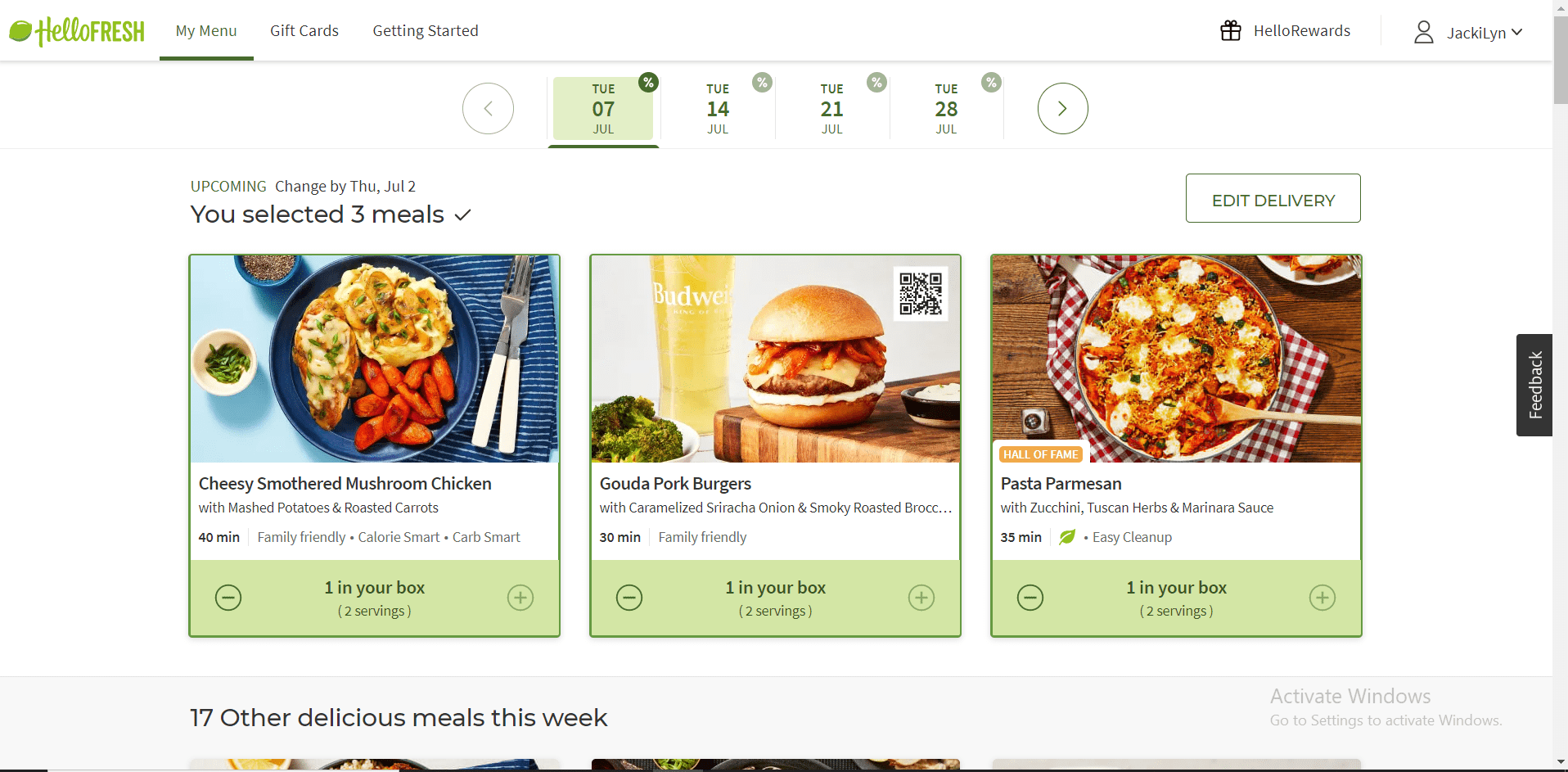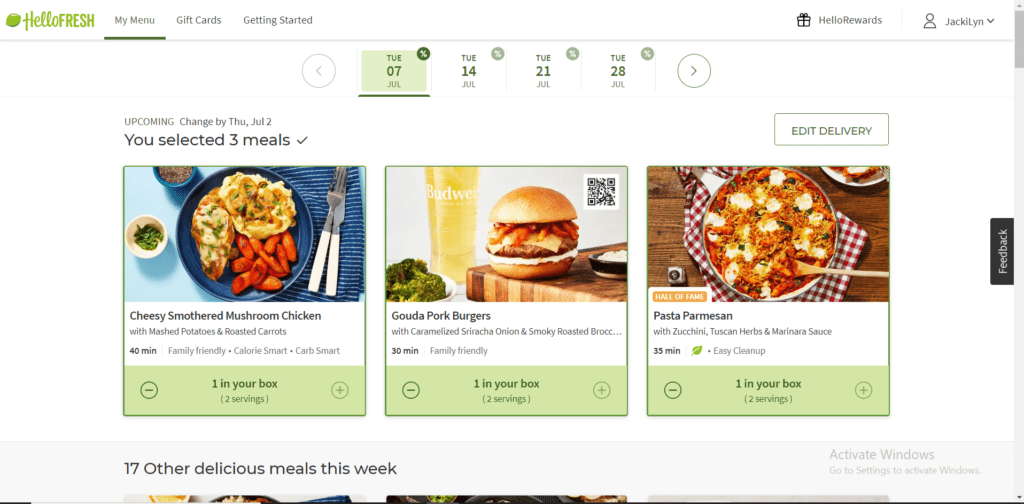 Delivery
While HelloFresh says on their website that delivery times should not be affected by COVID-19, ours was delayed and arrived a day late. The company did notify us of the delay and offered a $10 credit which cannot be applied until after our discount for first-time subscribers expires. Overall, it was an inconvenience.
However, despite the day delay, the food arrived cold and fresh. Our delivery was to Florida and it the packaging stood up to the heat.
Our Experience with HelloFresh
Overall, our experience was positive. Although it came late, it was still fresh when it arrived. Customer service was helpful and friendly and their 24/7 availability is a big plus. But, how and when we're able to the $10 credit we received is a little less than ideal.
Additionally, some of the recipes might be challenging for a novice. For example, one of our chicken dishes required boiling, roasting, and cooking three different things all at once before transitioning to finishing items such as sauces or potato mashing. Some cooking skill definitely required!
Related: EveryPlate review
Ingredients
This section is going to be broken down into categories, with comments on each so you know exactly what to expect if you order HelloFresh.
Produce
The produce was high quality. It was fresh, not wilted, and didn't have any bruising or mushiness.

While high quality, the carrots we received shrunk much more than expected, making the recipe hard to follow.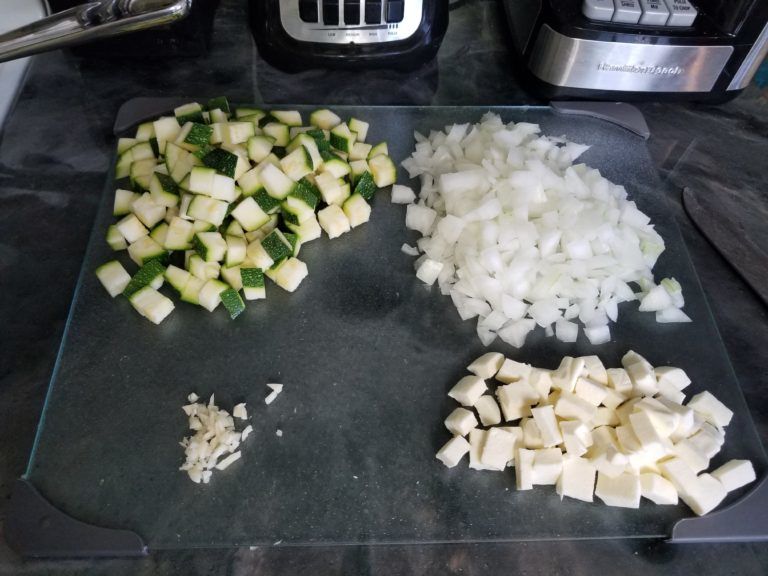 Meat
The meat was fresh and was USDA inspected. Plus, the chicken was raised without antibiotics.
The portions were the appropriate serving size for what is considered healthy (4 – 4.5 oz for each person).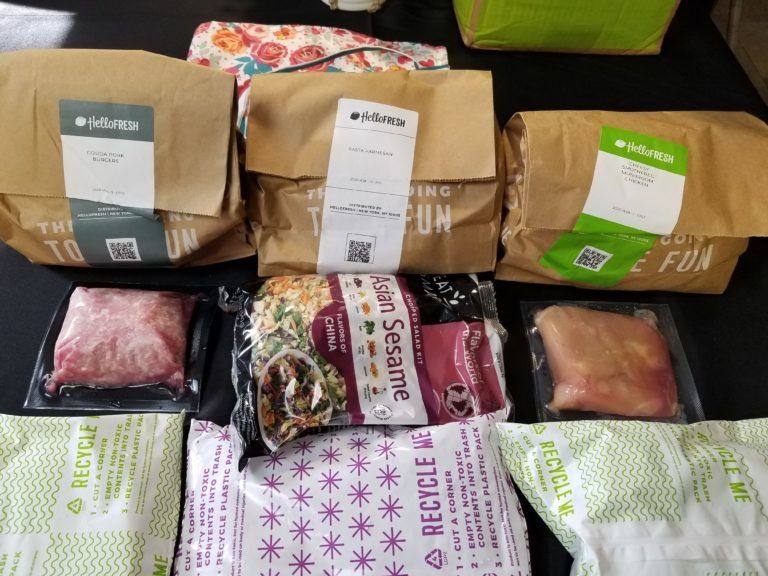 Spices/Toppings
The recipes call for your own salt and pepper, but they include seasoning packets too. We found that these seasoning packets were excellent and t

he food was far from bland. The flavors were well balanced and adding anymore than salt and pepper was unnecessary.

They seem to have even taken texture into consideration too. For instance, the pasta meal included real mozzarella, shredded parmesan and panko bread crumbs to top it with, which gets broiled in the oven to make a crispy crust. It's details like that that make all the difference.
Overall, the food itself was "restaurant quality" and the portion sizes were right where they should be.
Cooking
If you're looking for a balance between tasty food and easy clean up, some HelloFresh meals are not for you. One recipe called for two different pans (and potentially a third if you don't have an oven safe skillet), a strainer, a bowl, a cutting board, a knife, a measuring cup, a spatula. Plus, the plates and silverware to eat it. That's a lot of dirty dishes.
However, the recipes were easy to follow. Though, they aren't exactly "6-steps" as advertised. You'll find multiple tasks under one step. For example, they called combining meat with seasonings and forming burger patties, cooking the burger patties and melting cheese over the burger patties "one step."
We think that HelloFresh is more suited for ameteur homecooks, rather than complete novices because you may find yourself cooking in two different pots at the same time while roasting something in the oven.
Though, it should be noted that there is a small selection of one pot recipes that could be a solution for a novice cook or someone looking to have very little cleanup after the meal.
We did notice one small "issue." The prep times aren't very realistic. You may find the prep time listed as "10 minutes" but need to dice multiple vegetables and boil water. Plan accordingly if you like to have dinner on the table by a certain time.
Taste
When it comes to judging the taste of something, it can be a bit subjective. However, HelloFresh has a ton of different options, so there's pretty much something for everyone.
The food wasn't bland, but wasn't too intense or overpowering either. One recipe I received was labeled "spicy," and it was, but in a very unique way. It had heat without having that mouth burning quality that can be a real turn off.
HelloFresh also takes into account personal preference, so the recipes work in seasoning them with your own salt and pepper to taste. Though, if you're someone who likes to experiment, you could technically always add other seasonings if you want.
However, the recipes really don't seem to need any modifications. One of mine even came with a finishing oil. Yet, even with using the whole (little) bottle, the dish wasn't oily. The recipes seem very well thought out in that sense.
Recipes You Can Get
HelloFresh is perfect for families that don't follow any specific diets. For instance, if you're vegan, keto or paleo, this isn't going to be for you. However, if you're just looking for tasty well balanced meals, it's definitely an option. Here are the meals we received in our first box.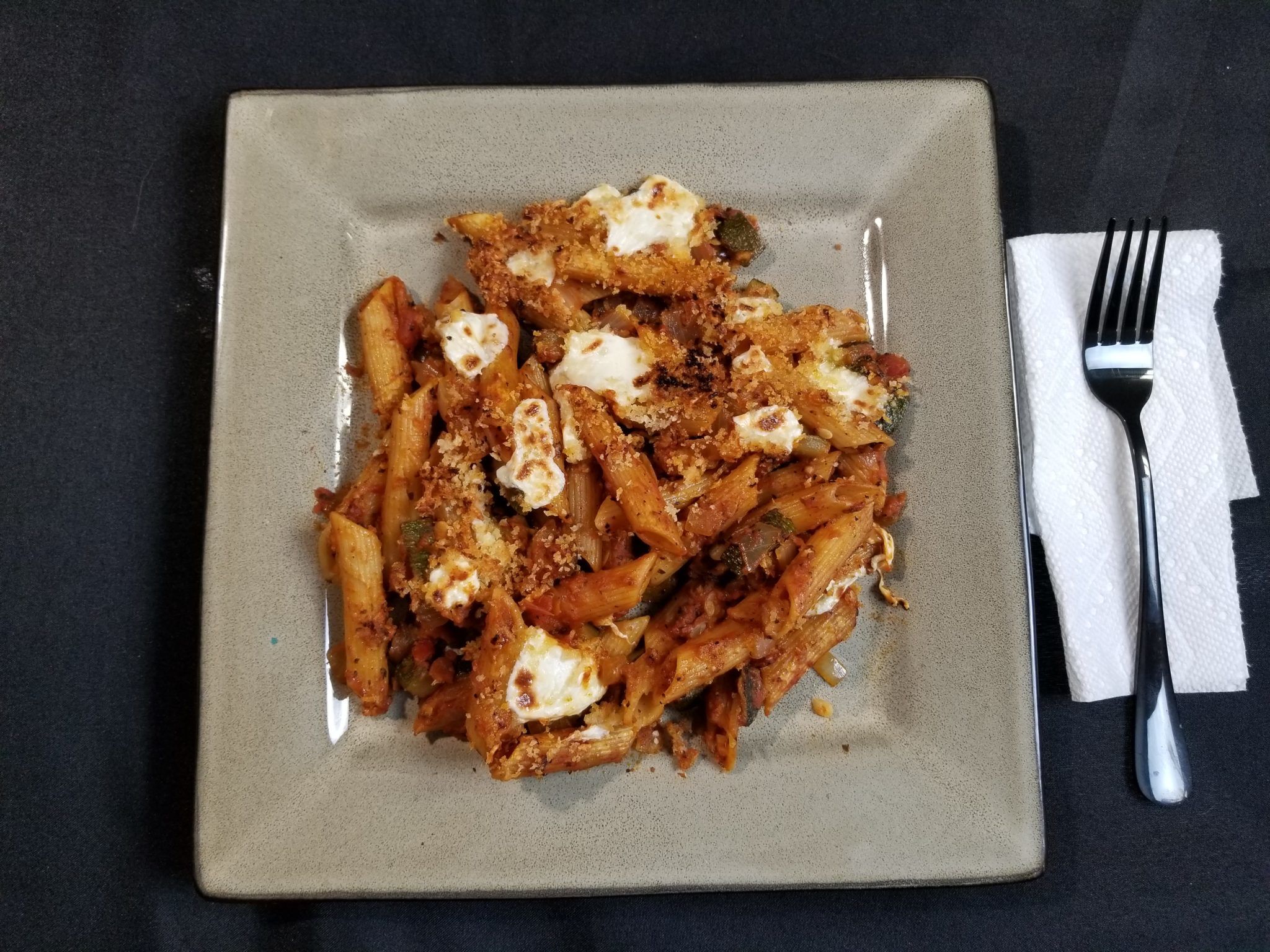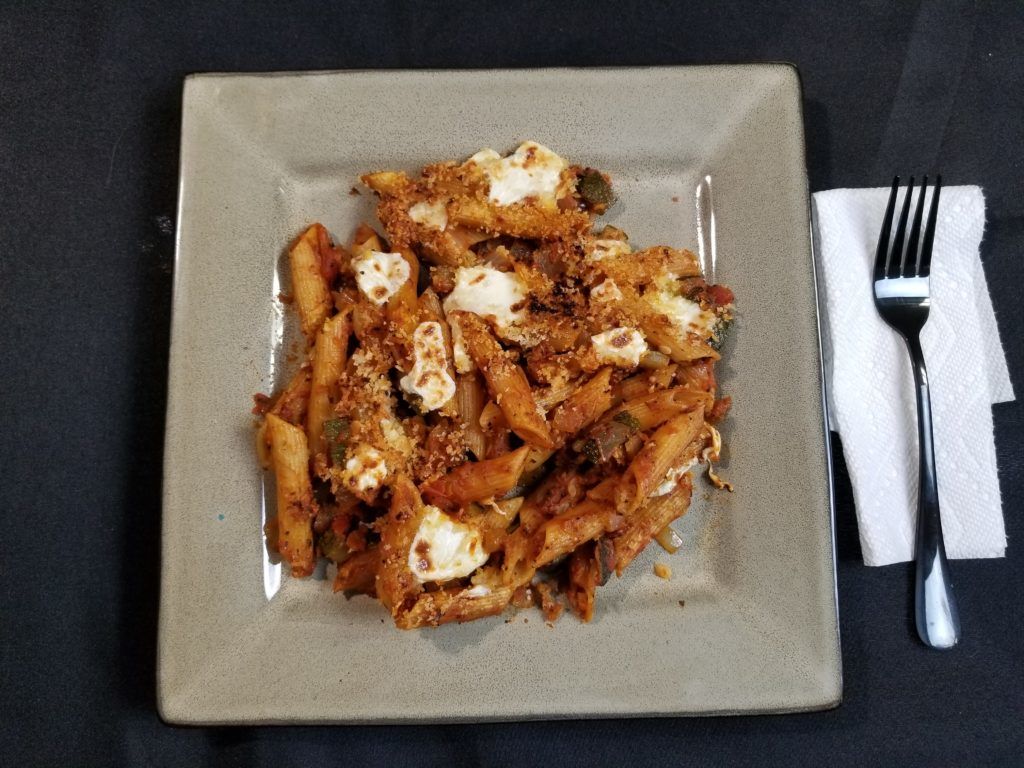 Pasta Parmesan with Zucchini, Tuscan Herbs & Marinara Sauce
Ingredients:
Zucchini, yellow onion, garlic, fresh mozzarella, penne pasta, Tuscan Heat Spice packet, marinara sauce, parmesan cheese, panko breadcrumbs, basil oil.

The produce was all very ripe and that Tuscan Heat Spice packet is one of the best seasonings with any of the meals we received.
How It Cooked:
This recipe was the easiest to cook. You boil your noodles in one pot, saute part of your veggies in another pan and combine everything at the end. However, this meal resulted in the most dirty dishes at the end.
The Taste:
It was very delicious. The crispy panko, parmesan crust on top with the basil finishing oil was a well thought out touch. It's no surprise that this one of their "Hall of Fame" recipes.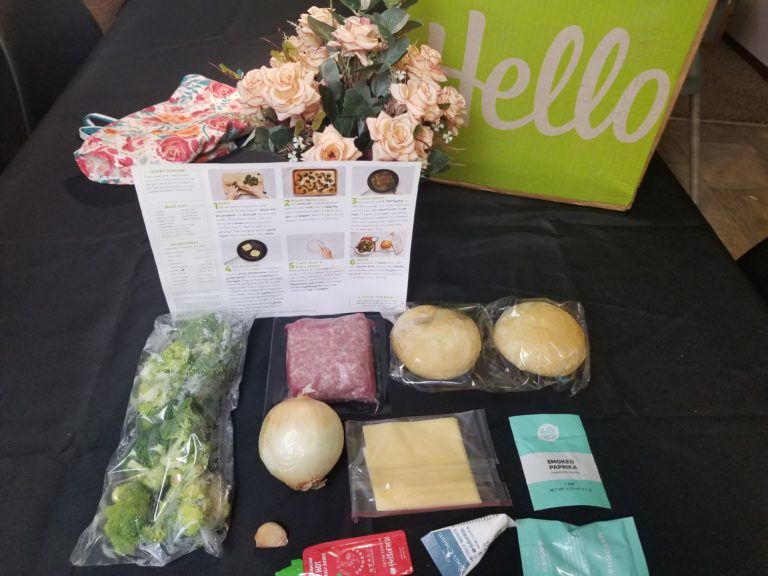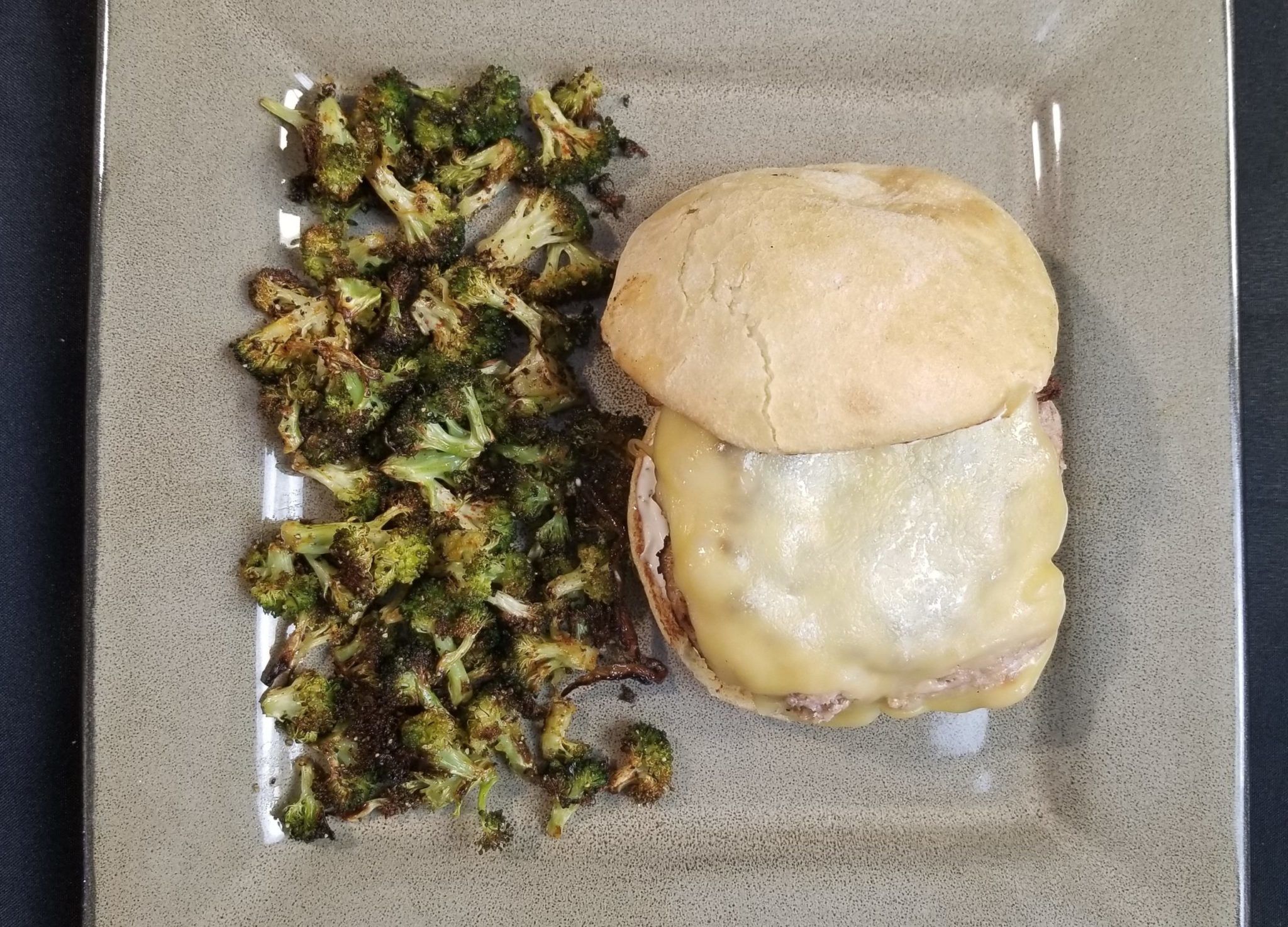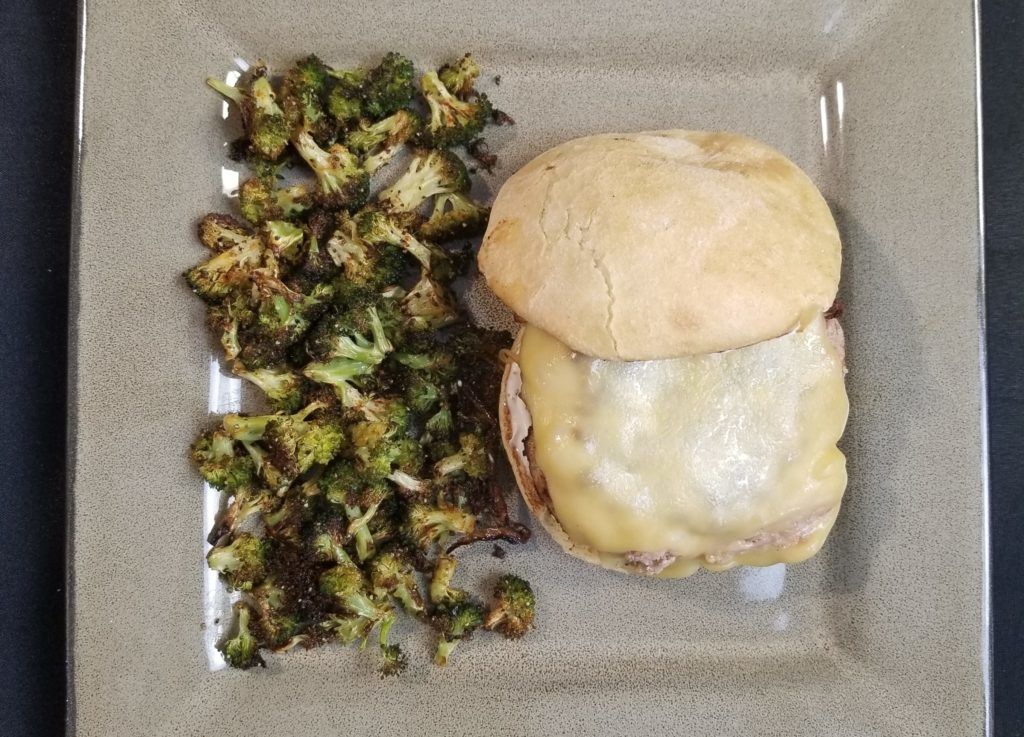 Gouda Pork Burgers with Caramelized Sriracha Onion & Smoky Roasted Broccoli
Ingredients:
Broccoli florets, yellow onion, garlic, potato buns, smoked paprika, sriracha, ground pork, gouda cheese, mayonnaise and sour cream.

The pork patties were pretty thick, like ¾ of an inch, which was really appreciated. Judging by the package of pork, you wouldn't expect this. One bun was smushed in transport.
How It Cooked:
This was the quickest and easiest meal to make. It also only called for about seven dishes to cook it, which was the least amount of dirty dishes produced by any of the three meals.
The Taste:
It came with a lot of broccoli, but roasting it in the oven made it very tasty. If you're someone who likes fully dressed burgers, you may find the burger was a little simple/plan with just cheese and grilled onions.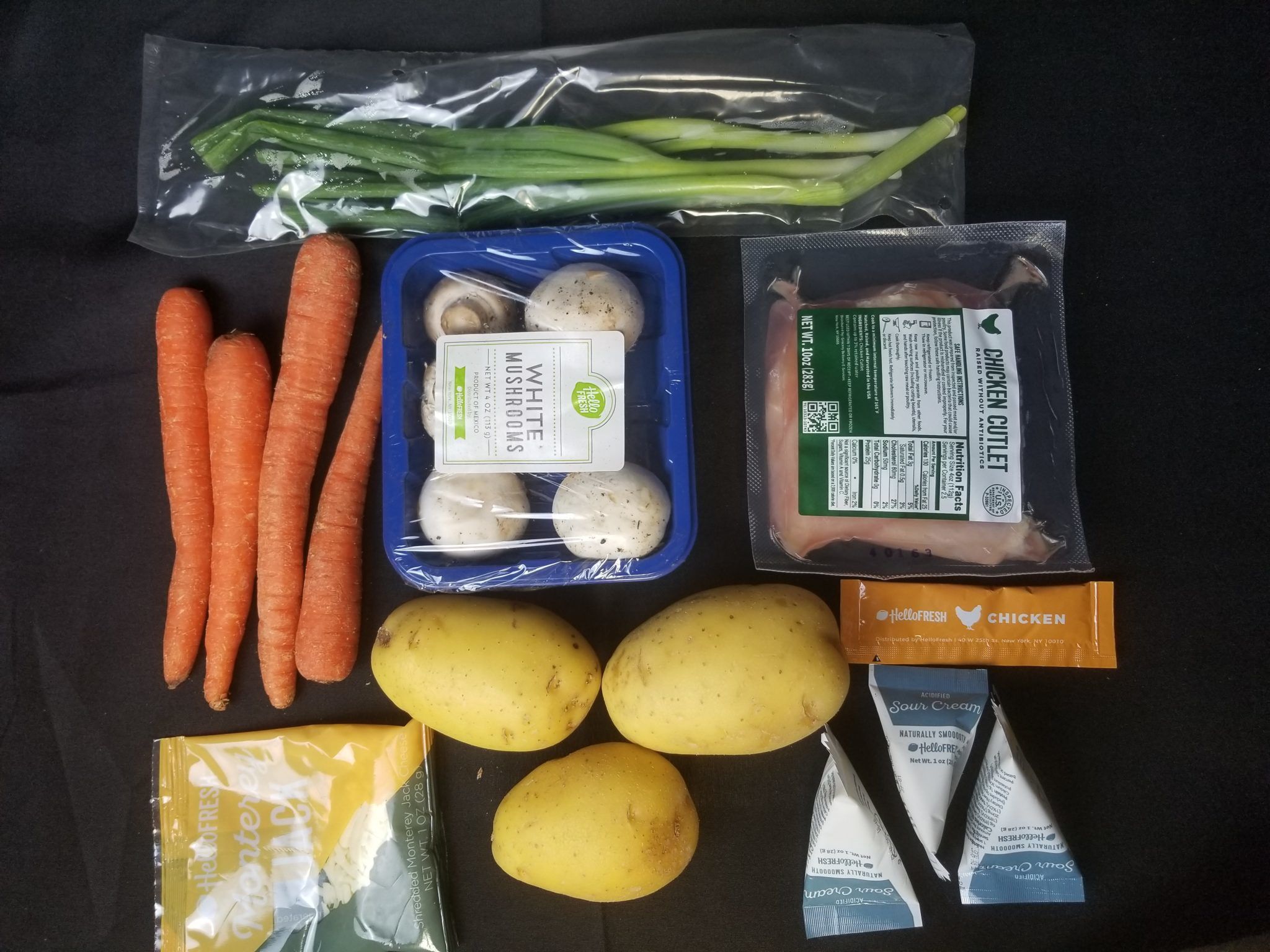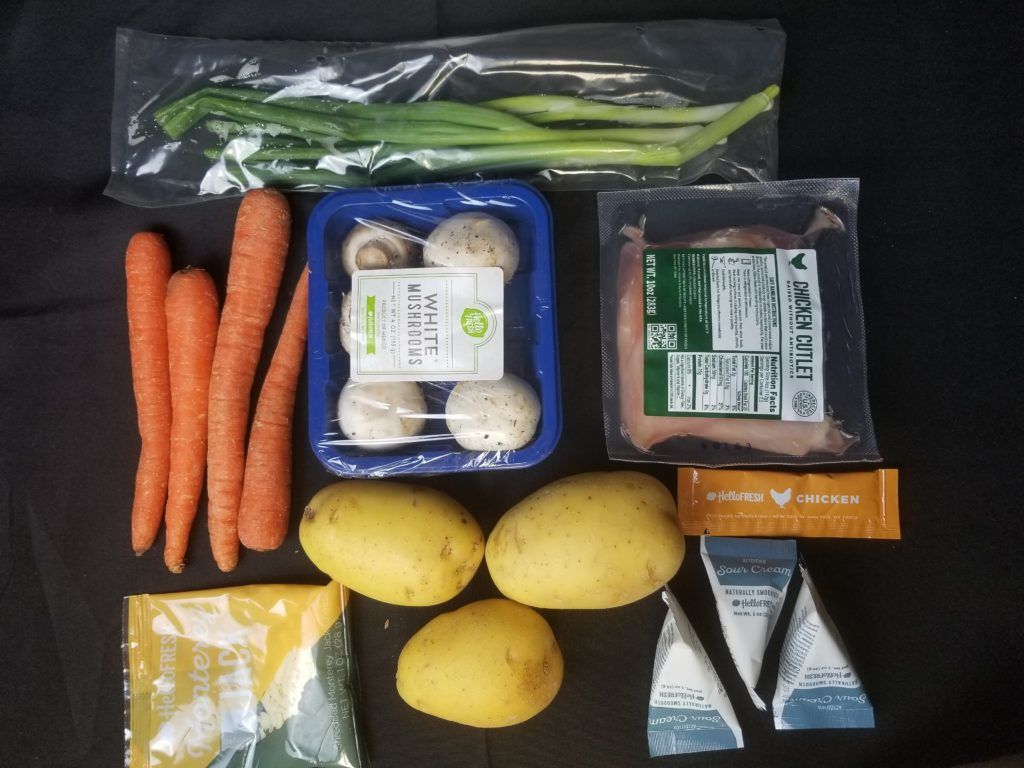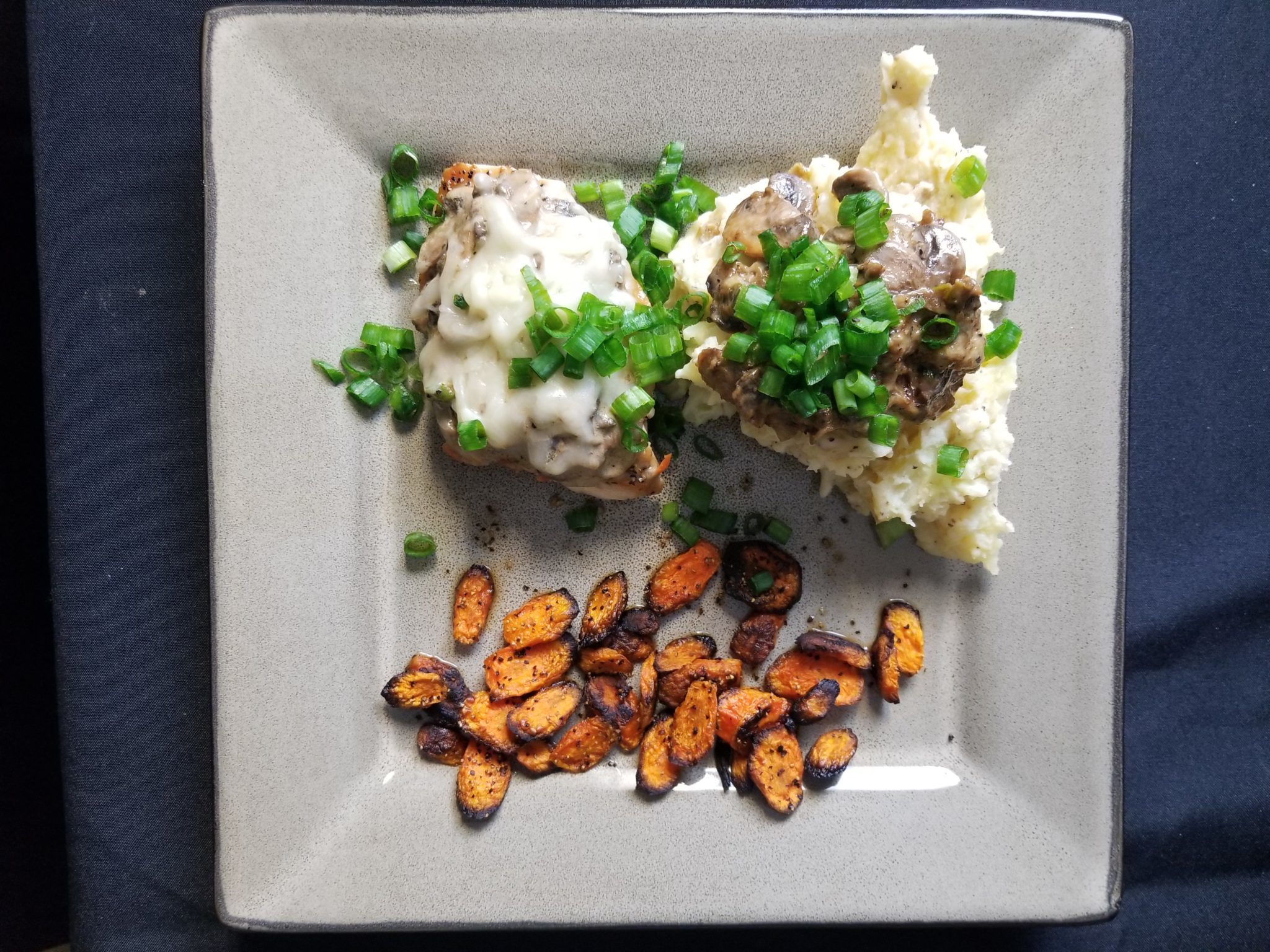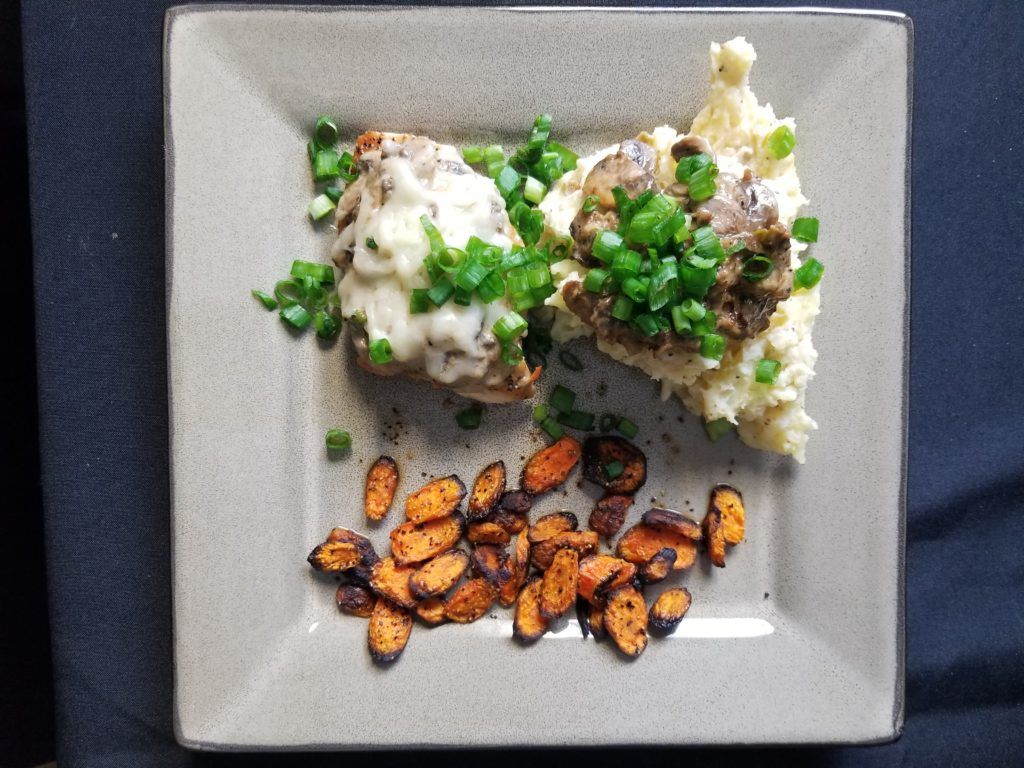 Cheesy Smothered Mushroom Chicken with Mashed Potatoes & Roasted Carrots
Ingredients:
Carrots, button mushrooms, scallions, yukon gold potatoes, chicken cutlets, sour cream, chicken stock concentrate and monterey jack cheese.
How It Cooked:
This was not the best of the meals. As far as taste goes, it was on par with the other meals. However, portion sizes were a bit "off" on this one. There were

a lot

of mashed potatoes, but the carrot serving was smaller than what was pictured because they shrunk significantly while cooking. Plus, the amount of scallions they provided was more than a garnish worth.
The Taste:
The taste was on par with the other meals, so very delicious, but due to the hiccups with the portion sizes of the ingredients, this was the least enjoyable meal.
In addition to the meals mentioned above, HelloFresh threw in an "Asian Sesame Chopped Salad Kit." It's both appreciated and confusing because there was no mention of receiving a "free gift" on the website or in the box. However, it made for an excellent side with another dinner.
Final Thoughts
HelloFresh exceeded our expectations. The food was genuinely very good and the meals were large and fairly priced. HelloFresh isn't the cheapest meal kit out there, but it's not the most expensive either. The quality of the meals and service was in line with the price point.
Our complaints were few and far between and came down to certain recipes creating quite a few dirty dishes. For us, none of the issues were dealbreakers and we would happily continue subscribing and recommend HelloFresh to others.
FAQs
Here are some Frequently Asked Questions about HelloFresh:
How do I apply a coupon or voucher?
Currently, some coupons can only be applied when opening a new subscription or reactivating a canceled one. However, if you received your voucher in an email, just click on the link in your email and follow the prompts to apply your discount.
There will be a promo code box during the checkout or reactivation process. You can add your code there and click apply.
How do I cancel?
If you want to cancel, follow these steps:
Log in to your account.

Click on your name in the upper right-hand corner, then click

'

Account Settings

'

Scroll down on the Plan settings page and click 'Cancel Plan' (under Status section).

Follow the prompt(s) for your cancellation. You will be prompted with a message confirming that your account has been cancelled.
However, it should be noted that you can skip a week at any time, with no penalty. Just:
Log in to your

account.

Click on My '

Menu

'.

Select the delivery day of the week you'd like to skip, then click 'Skip Week'.
Just be sure to pause/cancel by 11:59 pm PST 5 days prior to your next scheduled delivery so they can notify suppliers. Please note that they cannot process cancellations after the cut-off date and you will be responsible for all the charges incurred for already processed orders.
How much will I pay for shipping?
In order to guarantee the prompt delivery meals so they're the absolute freshest, there's a shipping cost associated with the deliveries. You'll see the shipping fee that applies to your order when you select your plan and check out. HelloFresh is very transparent about pricing.
How is HelloFresh different from its competitors?
While there are a lot of meal kits out there, HelloFresh has:
6-step, 30 min. recipes requiring minimal equipment

Up to 19 simple (delicious) recipes every week for all our plans

Easily customizable menus, flexible deliveries, and option to skip/cancel anytime
Still not sure this is the right meal kit for you? Check out some of our other in-depth reviews: