Home Chef is a meal delivery service with millions of subscribers. They say they offer a variety of easy and convenient meal solutions, but does that claim hold up? Read our in-depth Home Chef review to find out!
We chose two servings per meal, with three meals per week.
Price starts at $6.99 per serving.
How do we put this? The food felt fancy, but wasn't overly delicious. Considering the price of this service, we really needed the food to be delicious.
Some of the meals we received did come with a sauce that was pretty tasty. However, the only spice packets we received were seasoned salt. We were instructed to use our own salt and pepper too, but these are very basic flavors as well.
Plus, while we received a snazzy binder to put our recipe cards in, the instructions on one of the recipe cards didn't make sense.
Overall, everything was "fine/good," but because this is one of the most expensive kits we're going to try, we were looking for it to be "great/excellent."
Who is Home Chef Best For?
Looking for the ability to customize meals on an individual basis.

Who like the option of being able to buy these meals at a grocery store too.

Who want fancy meal options and oven ready meal options.
People with allergies. Their facilities are not certified allergen free.

People who want a full menu that accommodates their dietary needs.
Home Chef In-Depth Review
Do you sometimes like to pretend you're on an episode of "Chopped" while you're looking at that can of black beans from 1993 in your barren cupboard, knowing the only thing you have in your fridge is three day old Chinese food and a bottle of ketchup, all while kicking yourself because you put off going to the grocery store again on your way home from work?
No? Just us?
Anyway, thank gosh for the existence of meal kit delivery services. Saving us from eating yet another bag of croutons for dinner one kit at a time!
In case you aren't familiar with the concept, meal kit delivery services allow you to pick dinner meals online and will ship nearly everything you need right to your door so you can cook multiple dinners without having to make a trip to the grocery store.
One such meal kit delivery service is Home Chef, a weekly subscription meal kit service.
Customers receive orders with all the fresh ingredients you need to make restaurant quality recipes, designed by their chefs. Their goal is to save you the time of going to the grocery store, finding new recipes, meal planning, and portioning.
Plus, their seasoned chefs create new recipes each week for you to choose from and fresh ingredients are sourced for each menu.
Home Chef offers an excellent balance of fancy/chef-y meals that you'll have fun cooking and easy meals that you can just throw in the oven for nights when you're just not "feeling it".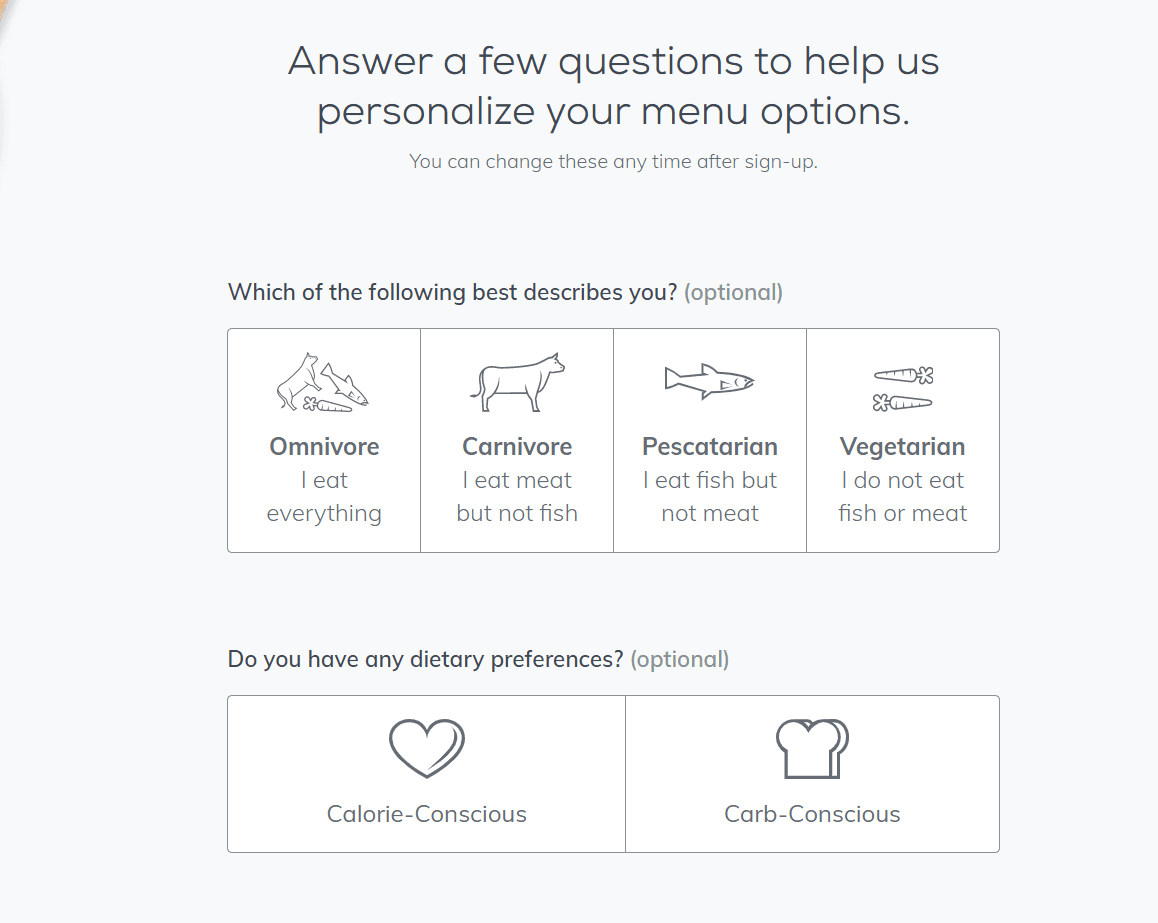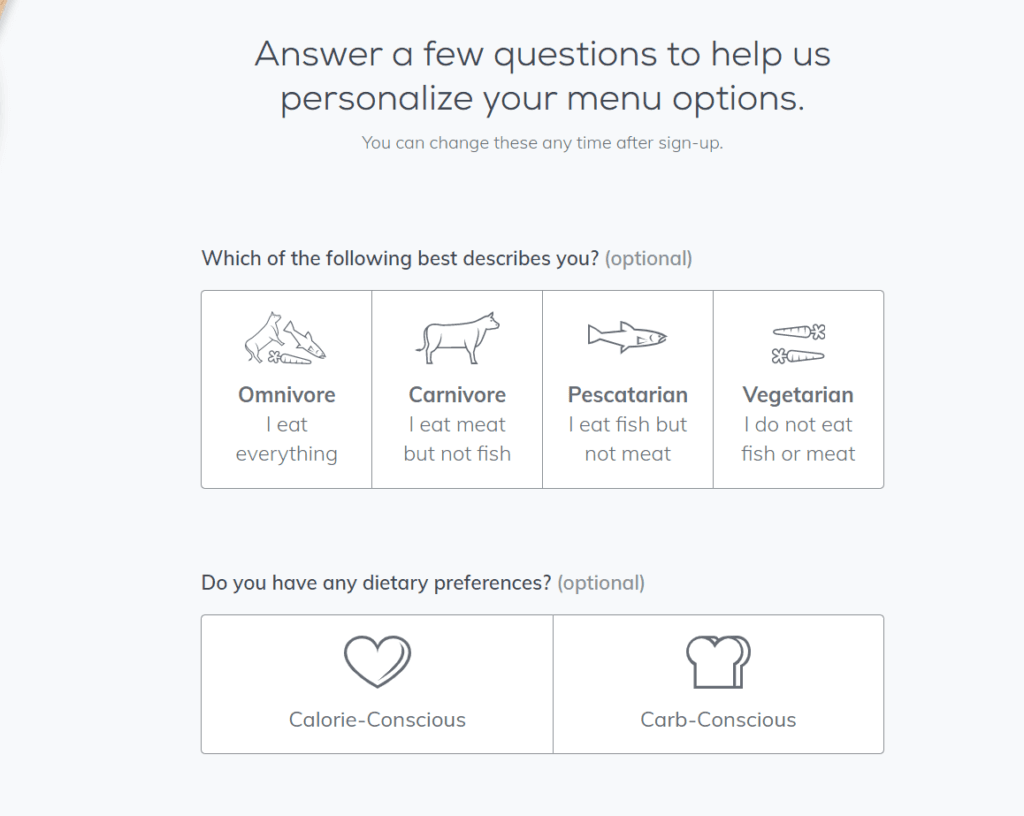 Home Chef is right on par with other meal kit services as far as the ordering process goes. Once on the website you can immediately start customizing your kit with the number of servings and meals per week and your food preferences.
However, one big difference between this service and other services is the fact that you can find Home Chef meals at the grocery store, which adds to the convenience.
Plus, they even have an app which features Home Chef's simple recipes with special cooking tips from their team of chefs. Most importantly, you can customize your weekly menu and manage your delivery.
Plans and Costs
We have a bit of a problem with their pricing tactics. We felt as if we were being nickeled and dimed.
They say they have meals starting at $6.99. However, the menu for the week we ordered only had one "meal" at that price and it was a salad.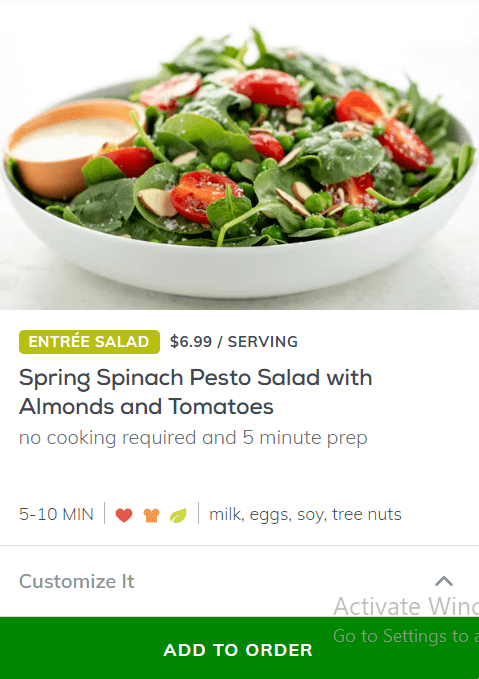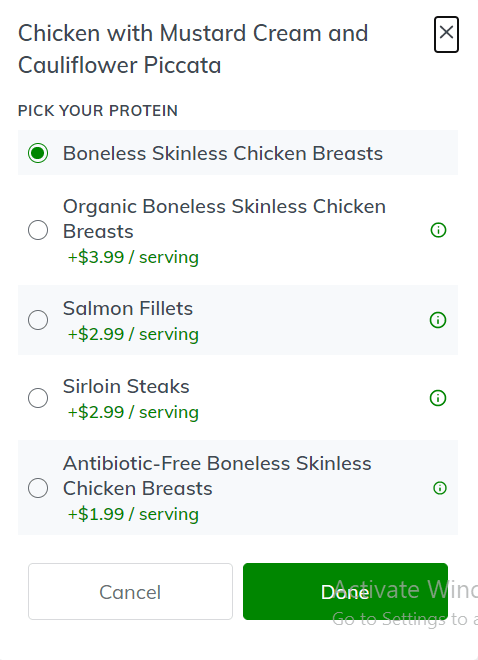 In reality, the vast majority of their meals start at $8.99, with some of the meals in their "Culinary Collection" costing as much as $12.95 per serving. And be careful if you use their "Customize It" option because that can add to the costs too.
While Home Chef doesn't specifically have a "keto" menu or a "paleo" menu, they do offer a few calorie and carb conscious meals each week should be able to fit these diets. However, any customization you need to do for it to accommodate your dietary needs will probably cost extra.
Even with all the options to customize your order, the process is very simple. You can create your account and pick out the meals for your first box in a matter of minutes. Plus, the app is a breeze to use too.
On the app, you can manage your subscription and pick out your meals. You can even rate the meals and leave feedback from the app.
A benefit to Home Chef is they offer the largest meal kit of any company we've come across. Home Chef lets you order for a family of six, with up to six dinners each week.
Our delivery was positive for the most part. Everything looked so fancy.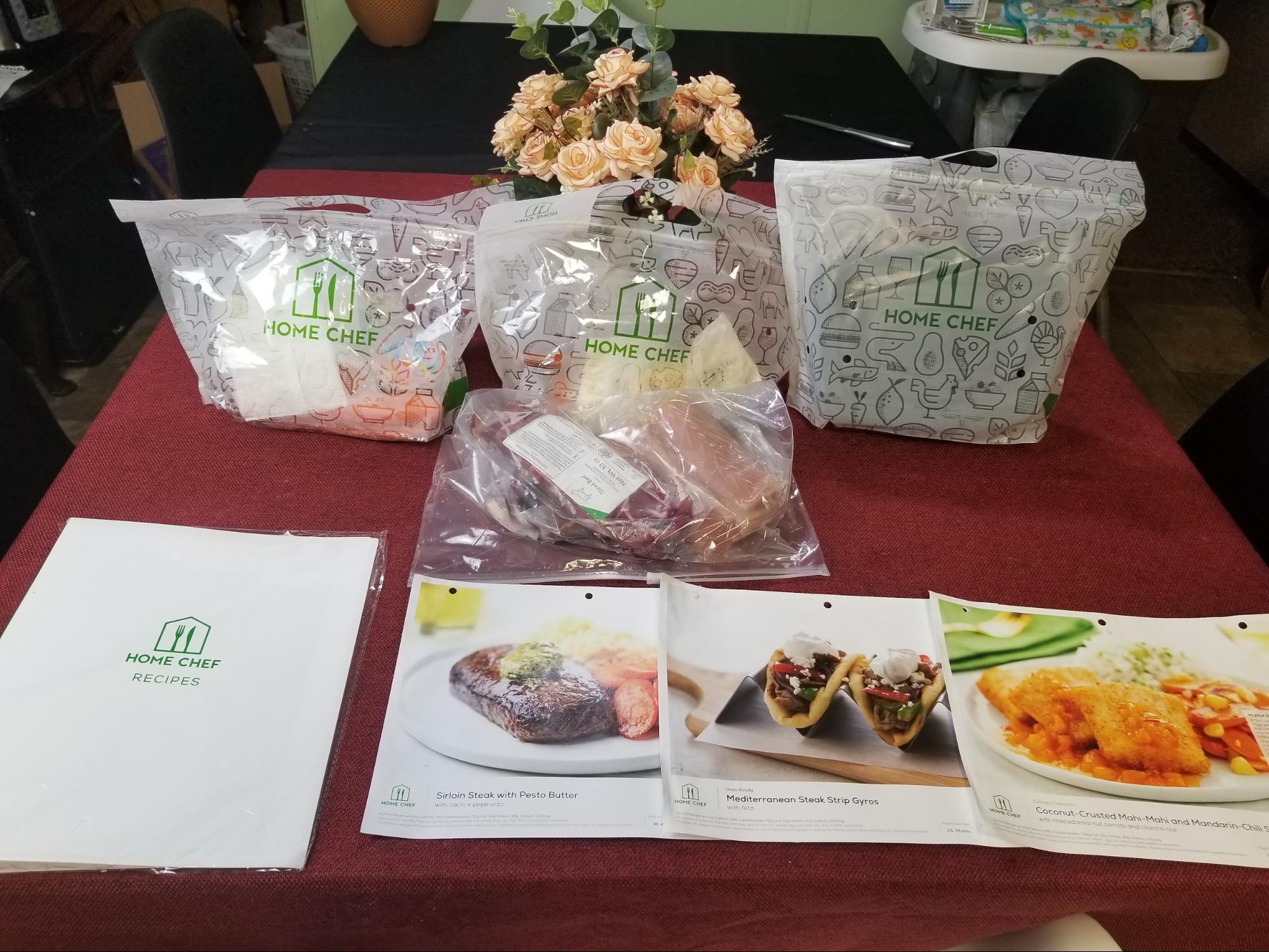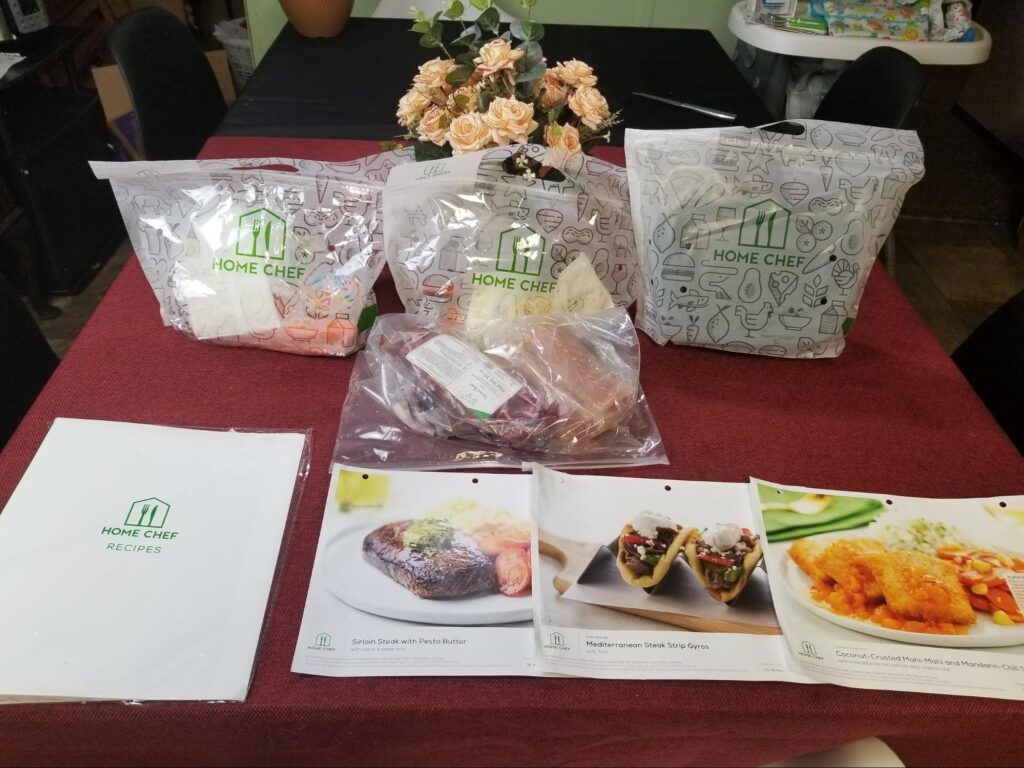 The ingredients are sorted by meal and packaged in plastic bags, except for the proteins. The proteins were in sealed packages packed into a separate plastic bag.
This is fortunate because our mahi mahi package leaked and the entire bag of meat smelled strongly (offensively) of fish.
Aside from that negative, everything else was a dream. We even received a binder to put our recipe cards in, which would be especially beneficial for anyone planning to do this service long term.
Even though our fish leaked, everything was very visibly fresh. This isn't surprising because the insulation lining in the box was nearly two inches thick and there were a total of seven ice packs.
Our box had been delivered for around six hours or so before it got put into the fridge, yet there wasn't a single ice pack that had thawed completely.
Our Experience with Home Chef
Our experience was mostly positive. However, at the end of the day we have a few grievances we'd like to express.
First, it was quite shocking for our first kit to come out to almost $65 even though they advertise that meals start at $6.99 per serving. This is unconscionably misleading because the only meal that was $6.99 per serving on the menu we ordered from was a meatless salad.
So, unless you're trying to eat that same salad for all three (four, five or six) of your dinners that week, you almost have no choice but to pay more $6.99 per serving.
Read on to find out our other grievances.
This section is going to be broken down into categories, with comments on each so you know exactly what to expect if you order Home Chef.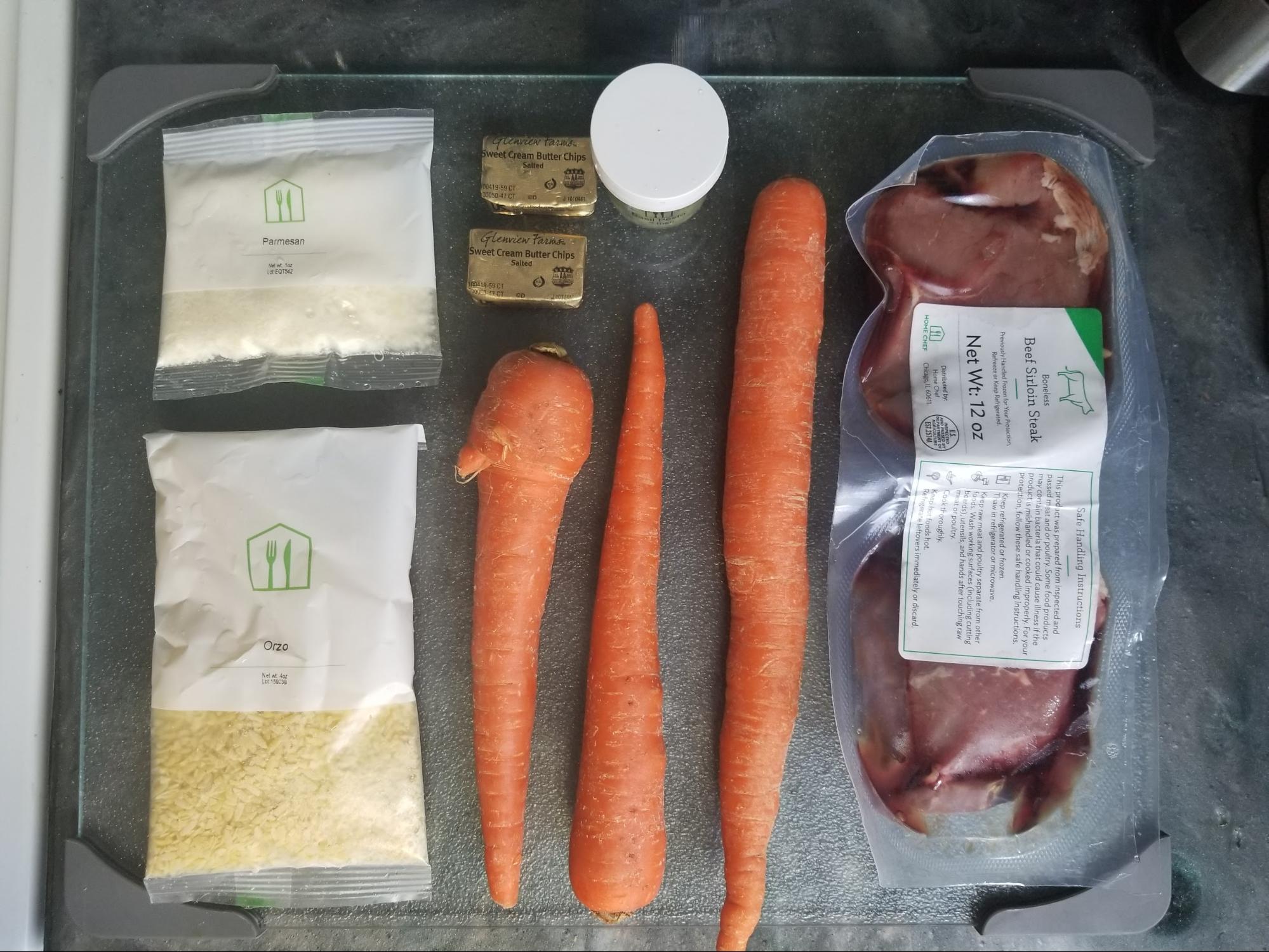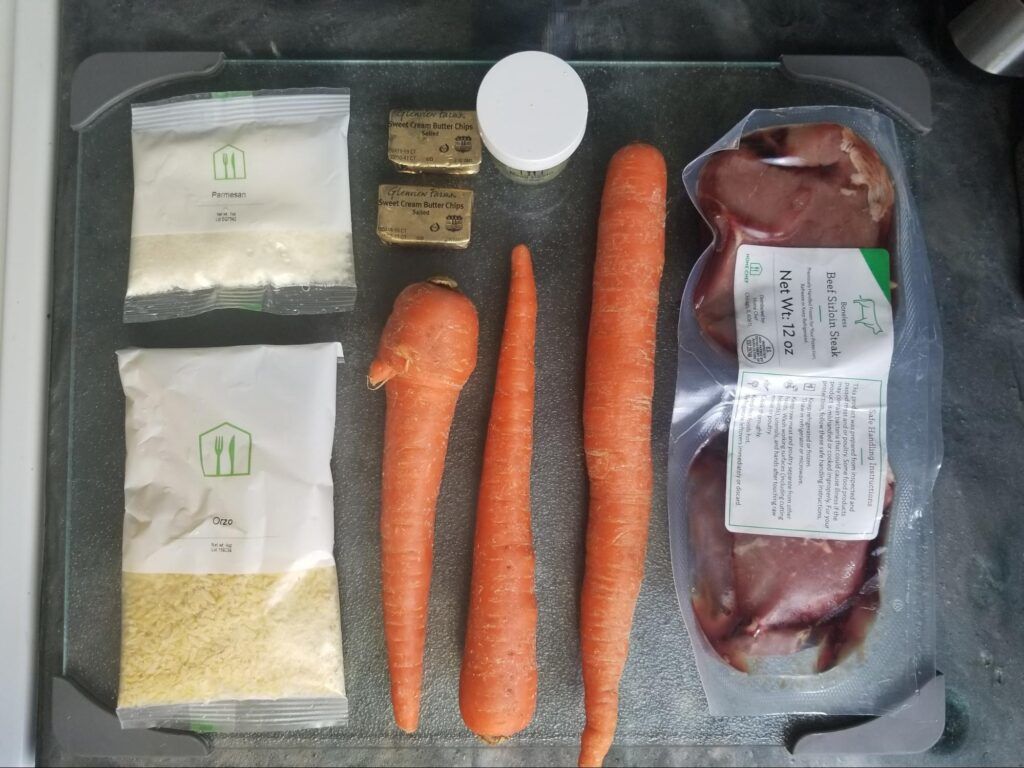 Produce
There were some beautiful carrots in our kit. Carrots are something other companies seem to struggle with in their meal kits. You almost never get enough carrots for a decent portion size. However, Home Chef didn't let us down in the carrot department.
Meat
The meat was a smidge more of a let down. Our first issue was that our mahi mahi package leaked into the bag where our meat was stored so the entire bag smelled strongly of fish, even after the mahi mahi was removed. Our second issue was with the sizing of our steaks. See below.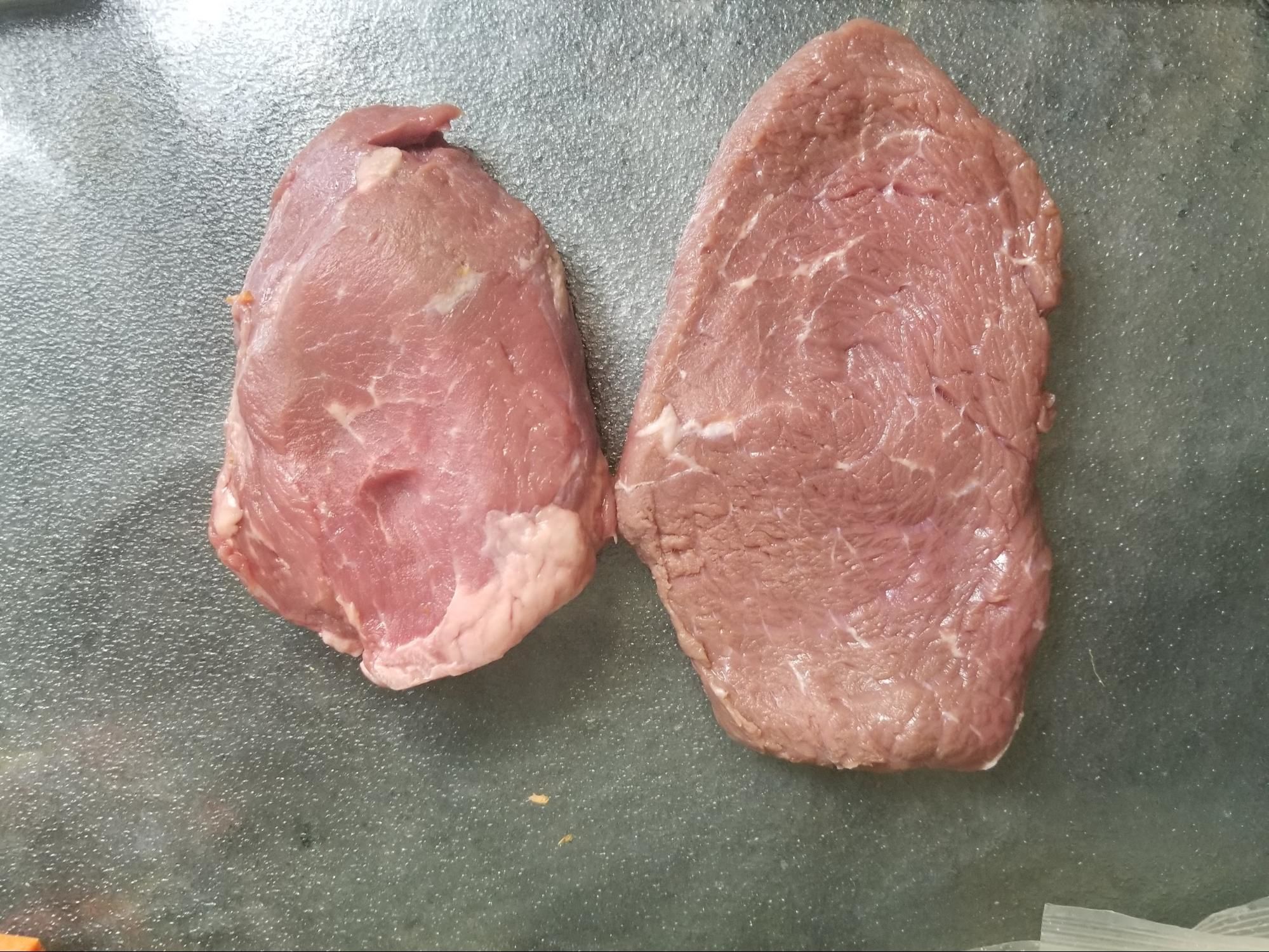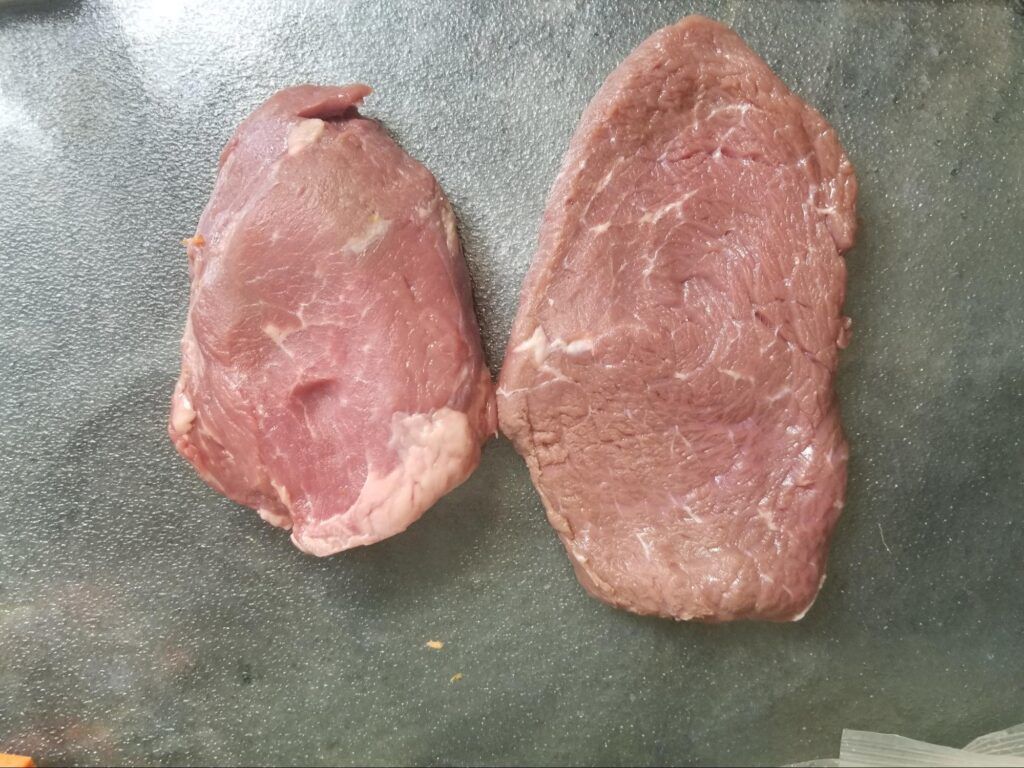 That's no camera trick, that photo was snapped from overhead. Plus, the thickness varied enough we had to cook each piece of meat for a different length of time, which is inconvenient.
Fortunately, there was no issue with the protein that came with our third meal. However, two out of three proteins having some type of problem isn't great odds.
We do like to give these meal kits the benefit of the doubt when we receive a kit that has a flaw because we only try each service for one week. However, us experiencing multiple flaws is something you should keep in mind when trying out Home Chef as well. If you have similar experiences, you might consider trying another service instead.
Spices/Toppings
As far as the meals we received goes, the spices were another area where they struggled. Literally, the only spice blends we received were plain ol' seasoned salt.
The recipes call for you to use your own salt and pepper, but that combined with seasoned salt doesn't create delicious depths of flavor. The food was definitely edible, it didn't taste bad. It just fell short in the flavor department and left us wondering, "where's the garlic? The onion? Anything that will make this meal more savory and satisfying?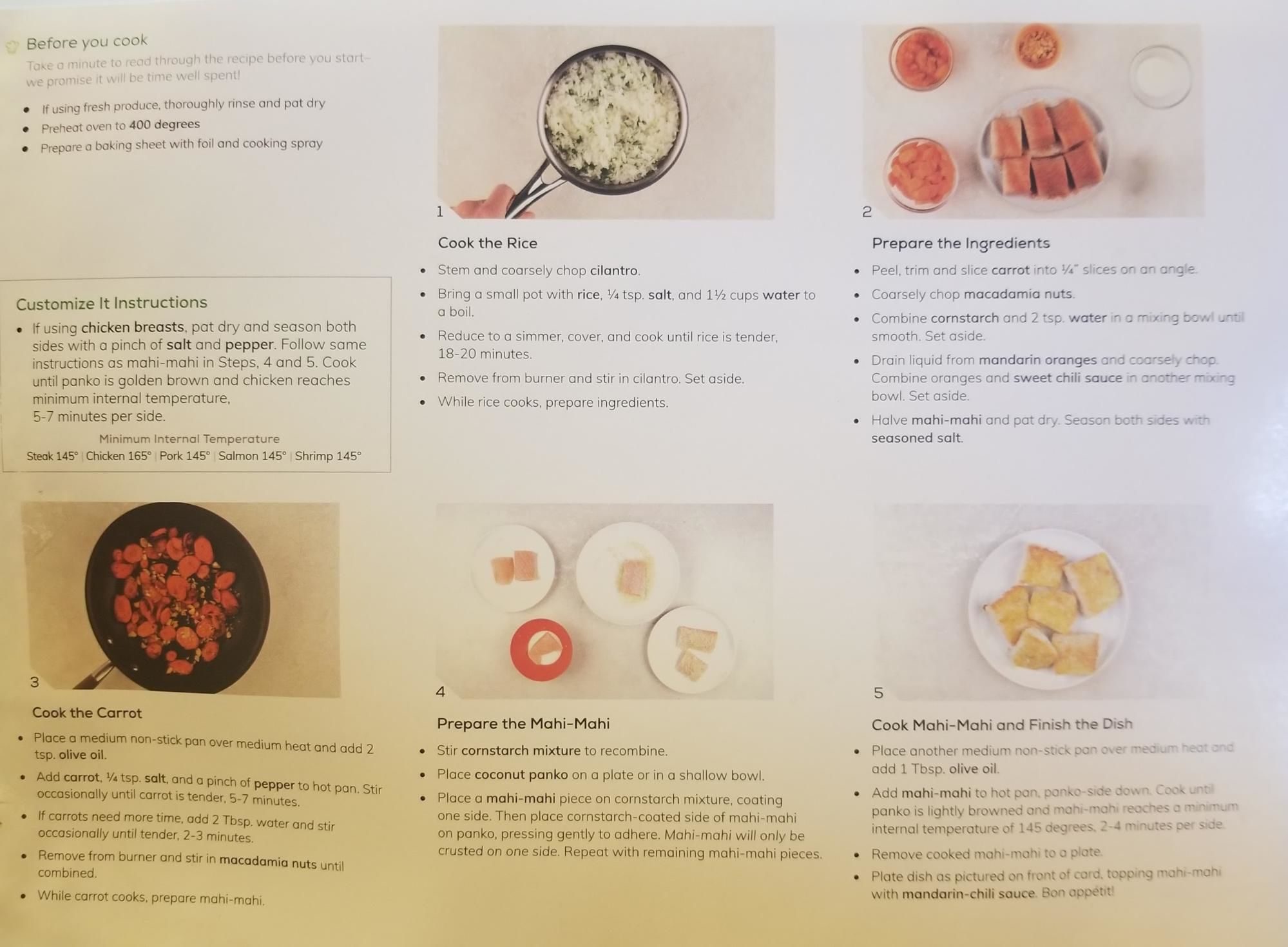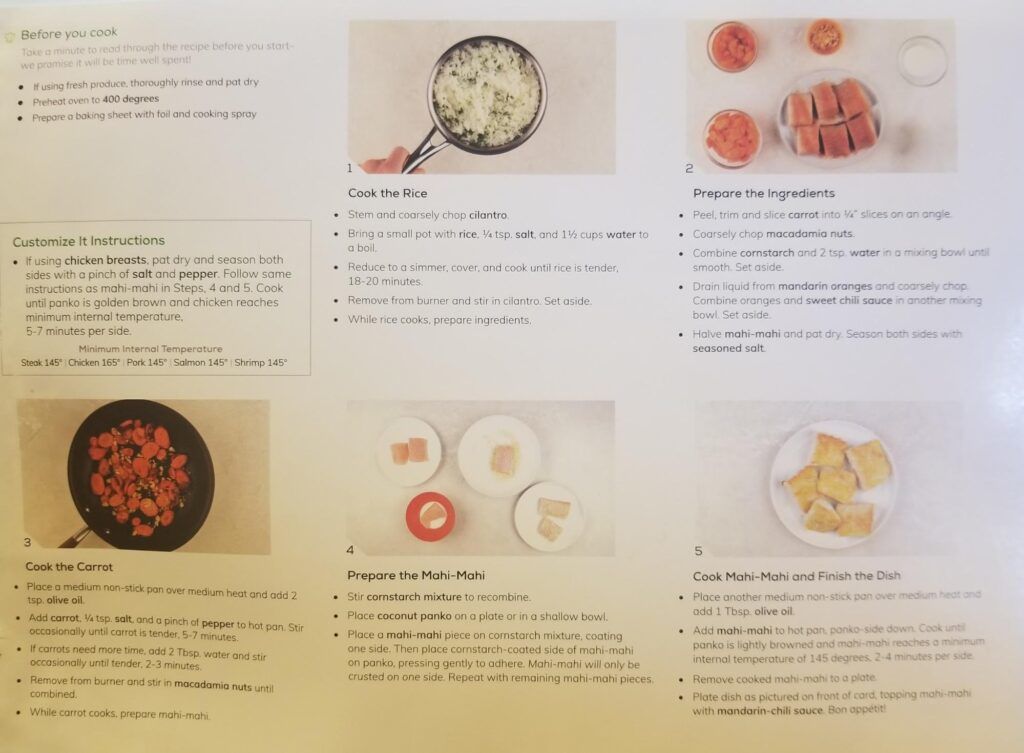 Yet another area Home Chef had trouble in is with the instructions. If you'd direct your attention to the top left corner of this recipe card, it says preheat the oven to 400 degrees and line a baking sheet with foil. However, if you scan through the rest of the instructions, you don't use the cooking sheet or the oven. This was very confusing and called for us to stop and re-read the recipe card to make sure we didn't miss something.
Apart from that everything cooked up well enough with their instructions. Specifically, the rice and orzo we received were perfectly al dente simply by following their directions.
We've pretty much already gone over taste. The food didn't taste bad at all, but the flavor wasn't anything to write home about. Given the aesthetic of the kit and the quality level of the ingredients, we really expected to be "wowed" by the flavor.
The sauces we received were delicious though. They were more on par with our taste expectations.
In our opinion, just the simple addition of a clove of garlic would really go a long way to improve the flavor of the meals.
Home Chef would be a good option for families that don't follow any specific diets and aren't on a budget.
Also, if you want the option to feel like a fancy chef, while still being able to pick out recipes that you can just throw in the oven on nights when you're not "feeling it", Home Chef is definitely an option.
Here are the meals we received in our first box.
Coconut-Crusted Mahi Mahi and Mandarin-Chili Sauce with Macadamia Nut Carrots and Cilantro Rice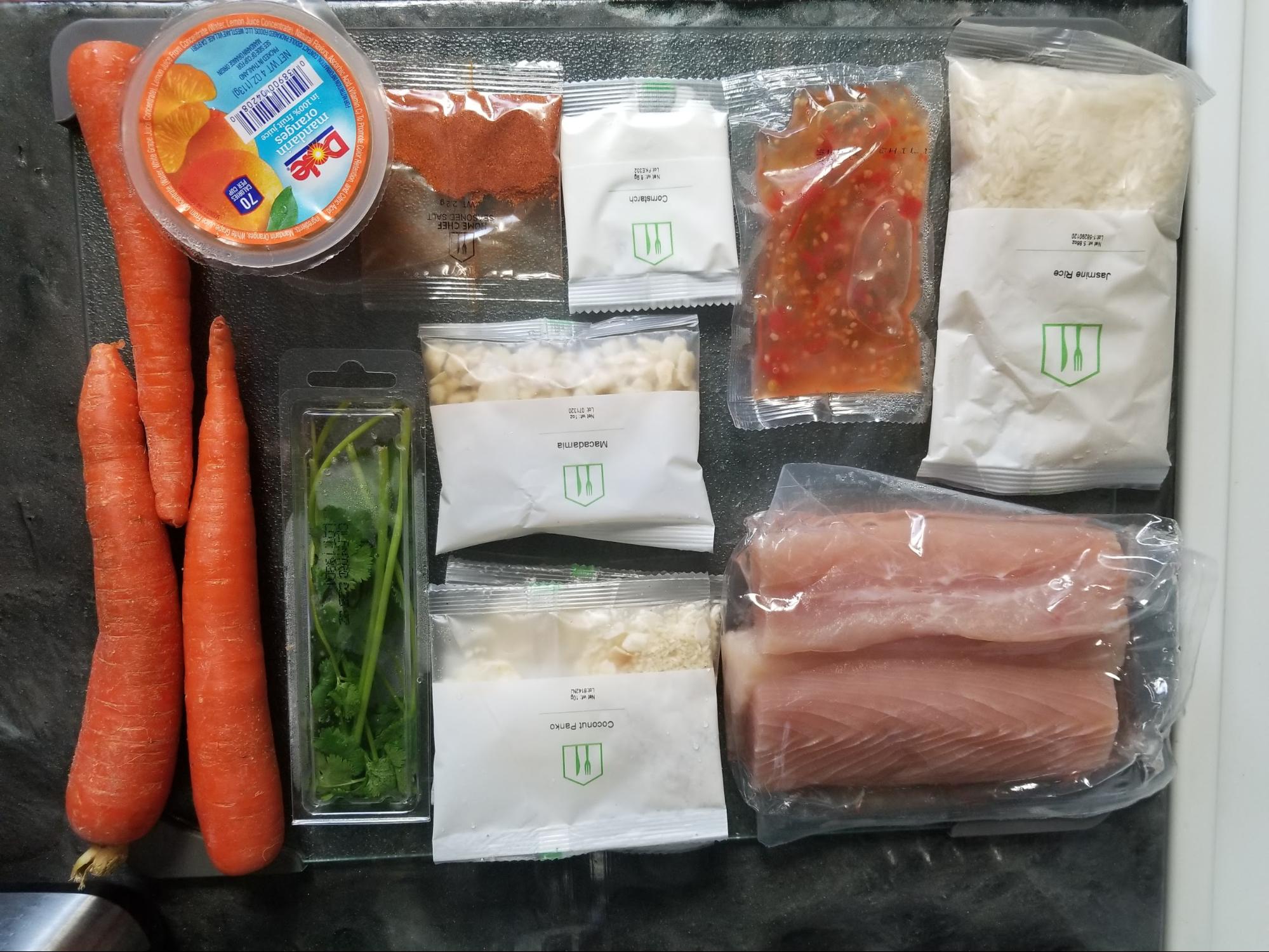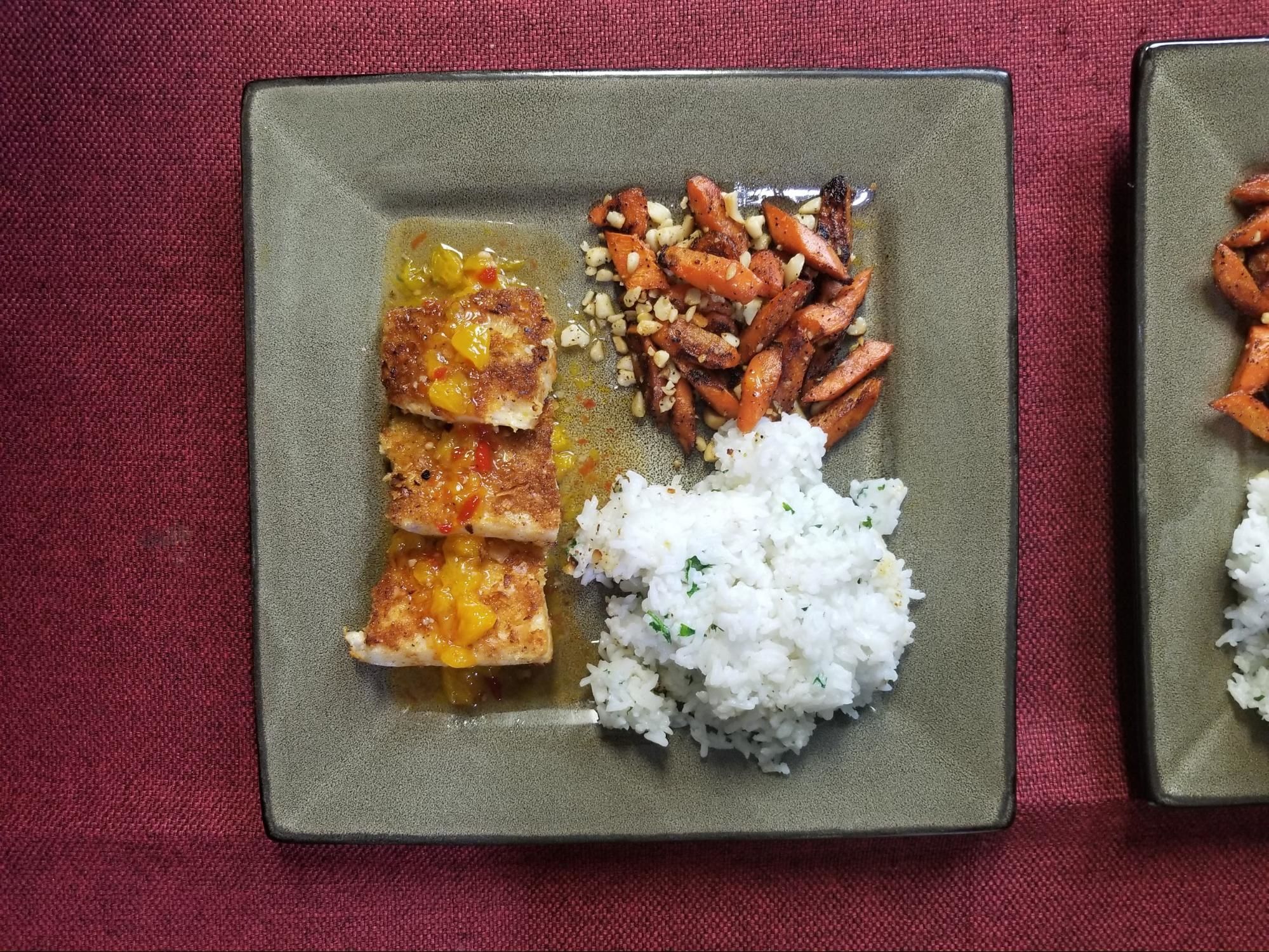 Ingredients:
Coconut panko, seasoned salt blend, carrot, mandarin oranges in juice, cornstarch, cilantro, macadamia nuts, sweet chili sauce, jasmine rice.

The carrots were lovely. However, we're not entirely convinced that the cilantro was really cilantro, because cilantro has a very distinct flavor and smell. But, it is possible that this was just the most mild of cilantros.
How It Cooked:
While Home Chef deemed this one of their expert difficulty level meals, if you work systematically, you'll be able to manage it. The issue is the instructions are kind of confusing. They call for you to preheat the oven and line a cooking sheet, neither of which end up being used.
The Taste:
This meal had my favorite sauce. It was made by mixing the mandarin orange into the sweet chili sauce. Very simple, very tasty.

The "cilantro" didn't add anything to the jasmine rice. We were really looking for that bright pop of herb-y, citrus-ness that cilantro has. However, ultimately the rice ended up rather bland because apart from the cilantro, it only had a ¼ tsp of salt in it. It was perfectly cooked following Home Chef's directions though.
Mediterranean Steak Strip Gyros
Ingredients:
Mini naan flatbreads, pepper and onion mix, sour cream, feta cheese crumbles, seasoned salt blend.

This was the second meal with just seasoned salt as a spice, but this one had no sauce. The feta cheese was really lovely though and the peppers and onion were nice and crisp.
How It Cooked:
This was a meal that we simply had to toss the meal and veg in the oven and then warm our naan bread before assembling. It was very simple and very quick.
The Taste:
Listen, the only thing Mediterranean in this dish is feta cheese. It's actually fairly close to a fajita on naan as opposed to a gyro.

Where is the tzatziki sauce? That addition would have really helped bring everything together. The sour cream has a "sour" note similar to tzatziki. However, it doesn't have the garlic or lemon juice that could have really amped everything up. So, overall, not bad, just could be better.
Sirloin Steak with Pesto Butter with Cacio e Pepe Orzo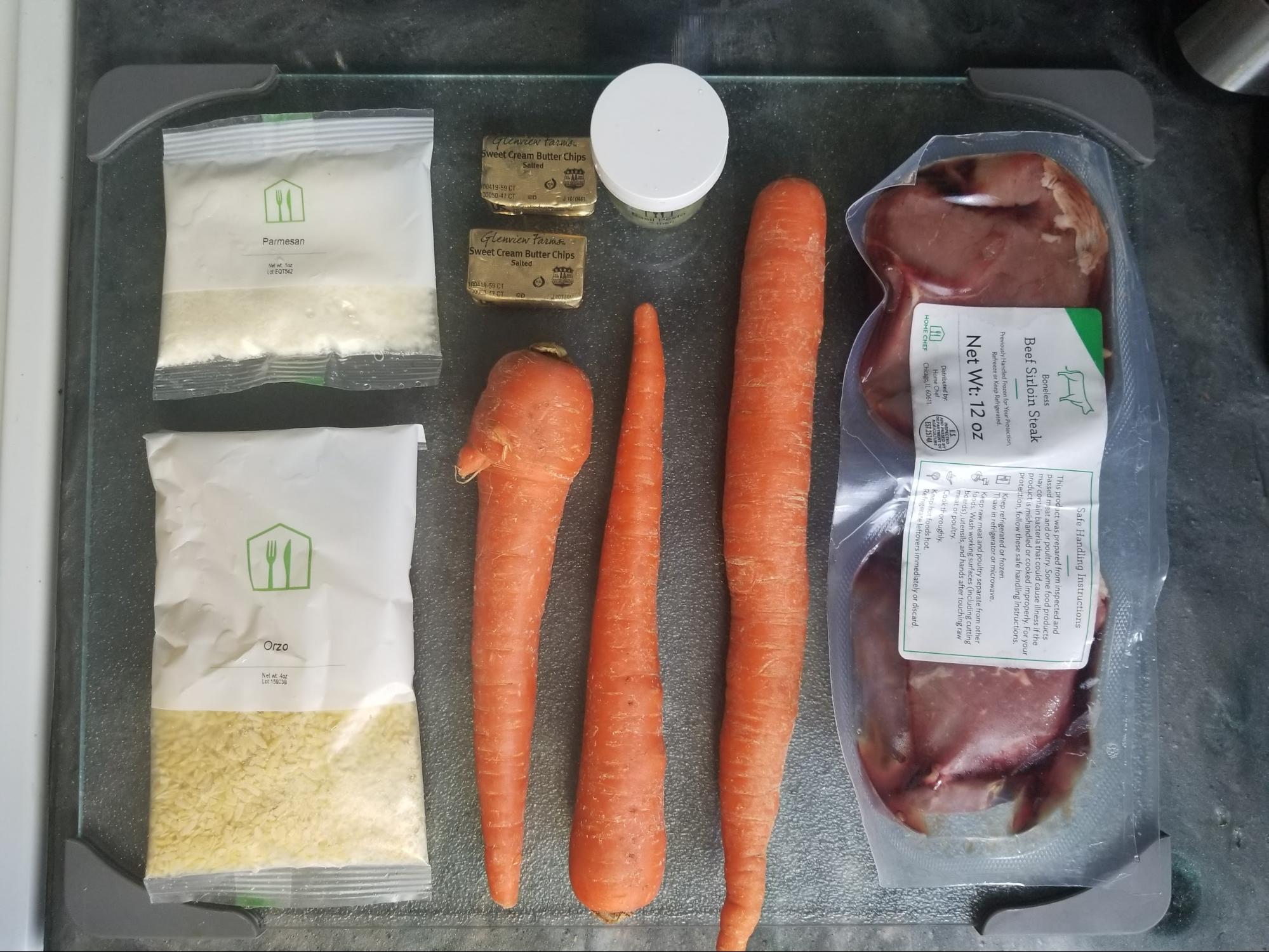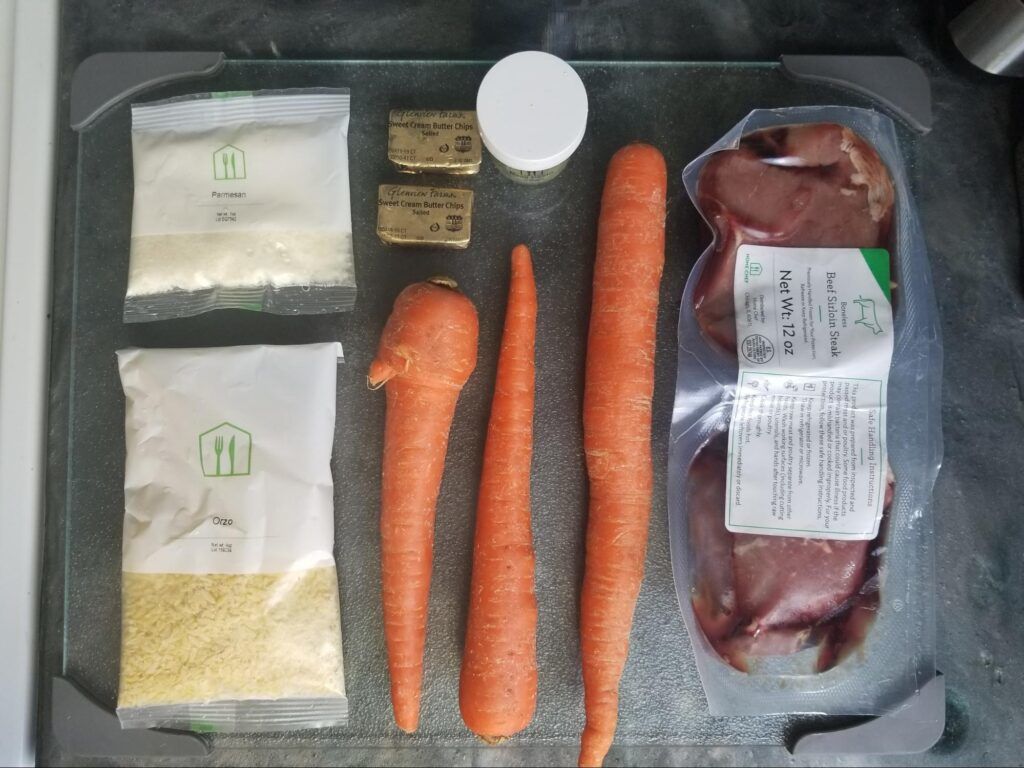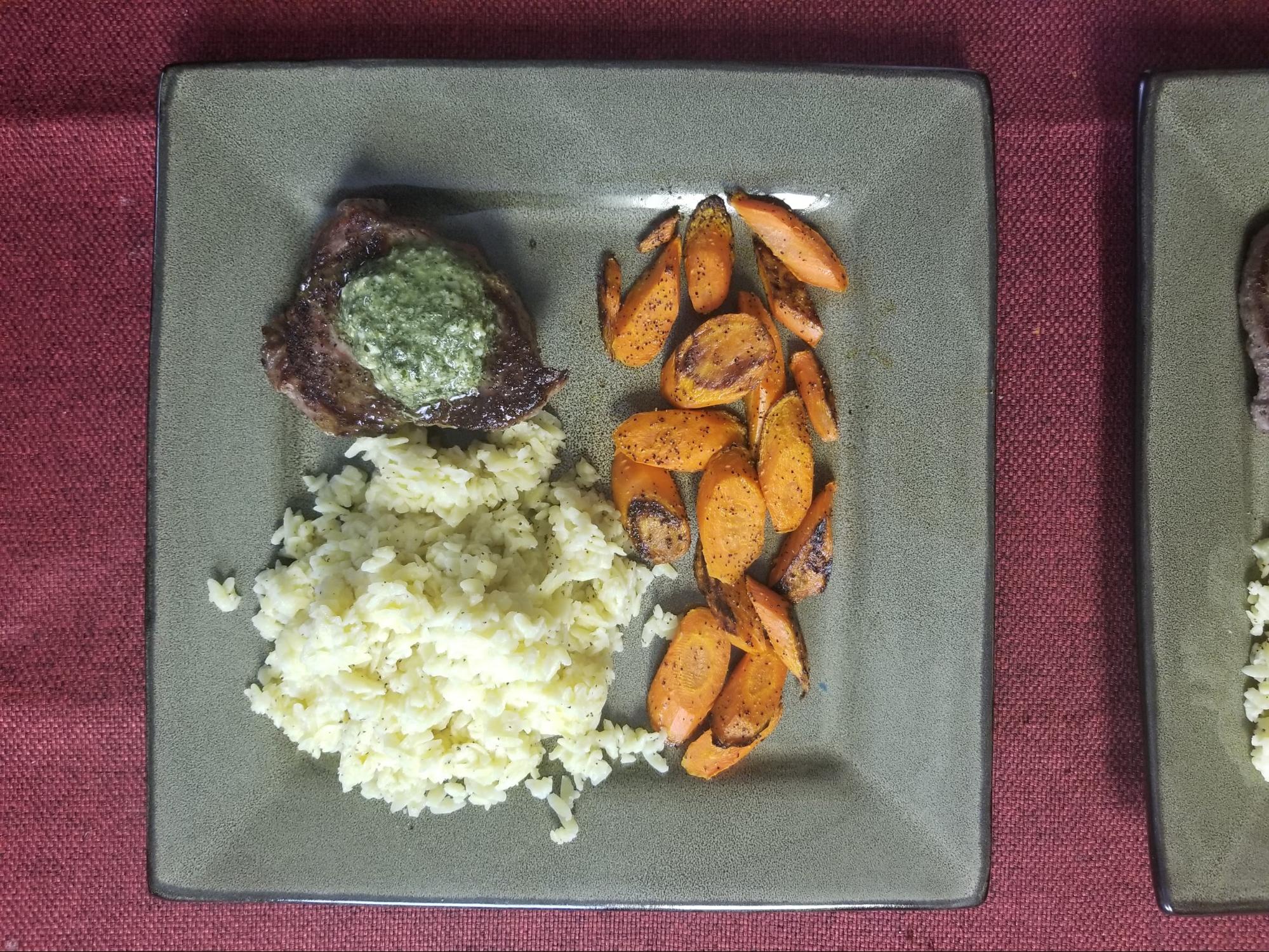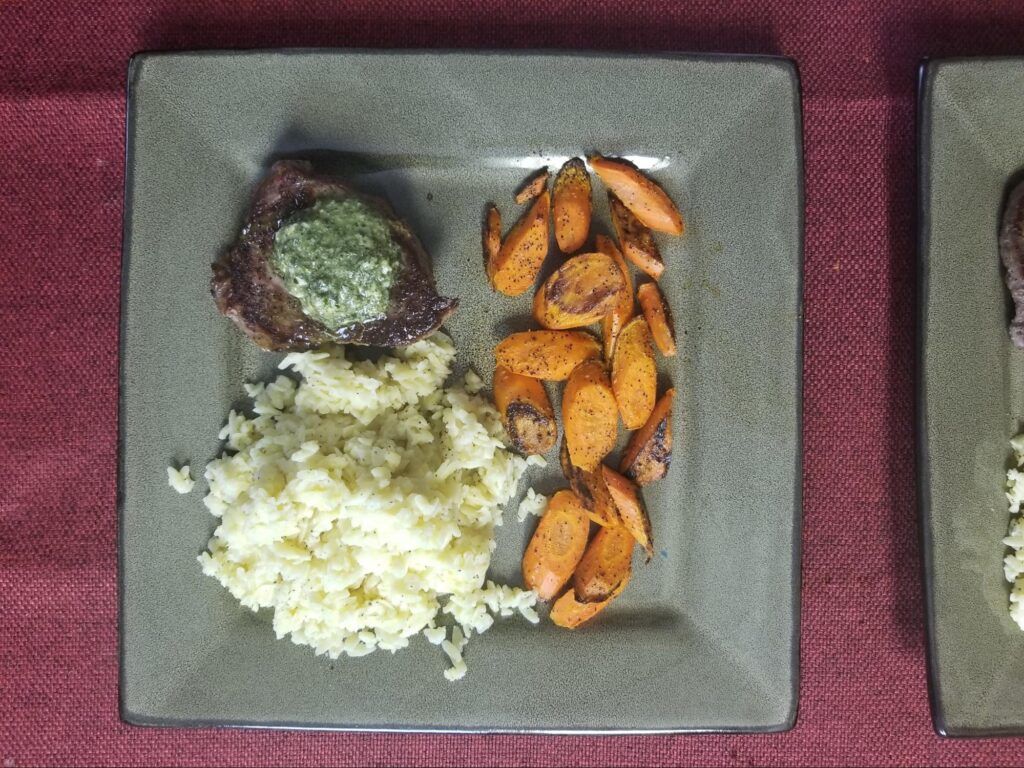 Ingredients:
Butter, orzo pasta, carrot, grated parmesan, basil pesto.

The carrots were lovely. However, like with the first meal with jasmine rice, the orzo was bland. Home Chef didn't include enough grated parmesan for it to make a difference to the orzo.
How It Cooked:
While the orzo was bland, it came out with the perfect texture following their cooking instructions. What didn't cook properly according to their directions were the sirloin steaks. They were vastly different sizes/thicknesses.

The cooking instructions weren't complicated though, and had we had more appropriately sized steaks, this meal would have been a breeze to cook.
The Taste:
This was the blandest of them all. The only component that had good flavor was the steak. A little bit of salt and pepper can go a long way on good quality meat, which was the case here. Plus, there was the addition of basil pesto at the end.

However, the orzo had next to no flavor despite adding parmesan cheese, salt and pepper. One ounce of parmesan, ½ tsp of pepper and ¼ tsp of salt was simply not enough to impart

actual

flavor into the orzo.

Again, we're left thinking what a difference a smidgen of garlic would have made to the dish.
Home Chef was a rather interesting experience. They have aesthetically pleasing packaging that comes across very "chef-y." However, the flavors fell short for us. While nothing tasted bad and the quality of the ingredients were impressive, we expected more from chef created recipes.
If you've got the money to spend, Home Chef is worth trying because they offer their "Culinary Collection" of recipes that look really fun to cook and seem worth the price. However, if you're on a budget, we believe there are better budget friendly meal delivery kits out there that we would recommend trying first.
Here are some frequently asked questions about Home Chef.
How Do I Apply To The First Responder, Doctor, Nurse, Hospital Employee, Teacher, Or Military Discount When Signing Up?
You can apply for the ongoing discount for first responder, doctor, nurse, hospital employee, teacher, and military during the payment step of the sign up process.
First, you will want to proceed through the signup process normally until you reach the payment section. On the right side of the screen under 'Order Summary' you will see green text asking if you want to apply for the discount. When you click on the text, you will be prompted to verify your credentials through ID.me. Once verification is complete, you are routed back to the Home Chef page to finalize sign up. If the discount is successfully applied, you will see it represented in the 'Order Summary'.
What Meal Plans are Offered?
The Home Chef Standard Plan includes meal kits that allow you to explore your culinary horizons. They'll recommend a mix of fresh flavors and familiar favorites they think will please your palate. You put the meal together from start to finish.
The Home Chef Fresh & Easy Plan includes meals designed for convenience. They'll recommend products with little to no prep, simple cooking and easy clean-up. This includes options like oven ready meals and salads.
Of course, customers are always free to change things up and order from their full menu line-up.
Are the Products Organic?
Because Home Chef is a subscription service, their menus change each week. They use different products and order from different suppliers depending on what meals they're currently featuring. While their products are occasionally organic, that's something they can't guarantee for every meal at this time. They strive to ensure that their products are consistently high quality and are sourced responsibly as often as they can.
Still not sure this is the right meal kit for you? Check out some of our other in-depth reviews: