Sun Basket's motto is "Eat Clean, Feel Great." They have a number of delivery options such as oven-ready, pre-prepped, and DIY. But will you feel great after eating? Our Sun Basket review digs into the details on this popular meal delivery service.
We'll get right to the points: We feel Sun Basket isn't worth the money and there are better options for that price. However, there are a few factors that may cause you to feel differently, so we'll let you be the judge after you finish reading our review.
When we do these reviews we consider things like price, taste of meals, quality of the ingredients, portion size and even creativity (after all, these services are great for helping people get out of recipe ruts). However, the price on Sun Basket simply didn't align with the taste of the meals and the quality of the ingredients.
But, Sun Basket does have some positive attributes to their service. First, their plans can cover a variety of different dietary restrictions. Second, they're primarily organic. Third, this service definitely sets the bar quite high for creative recipes.
Keep reading our Sun Basket review and decide for yourself.
Who is Sun Basket Best For?
Best For People Who Want...
To eat primarily organic.

A unique menu and love variety.

To have to follow certain dietary restrictions.
People on a tight budget.

Picky eaters.
Sun Basket In-Depth Review
In the "Age of Amazon," we all love getting packages delivered right to our doorstep. It's fun and something to look forward to at the end of the day. We've now taken things to the next level and can have entire meals delivered weekly. Who doesn't love food?
Sun Basket is one such company that delivers food right to your doorstep in the form of "oven-ready," "pre-prepped," or DIY meals every week. This subscription service can accommodate a variety of dietary restrictions, which is a benefit and does help set them apart from their competition.
Sun Basket's website is easy to use. Once you land on it, you immediately begin customizing your plan based on the amount of servings and meals per week and your dietary restrictions. Then you get to choose your meals for the week. This is another area where they set themselves apart.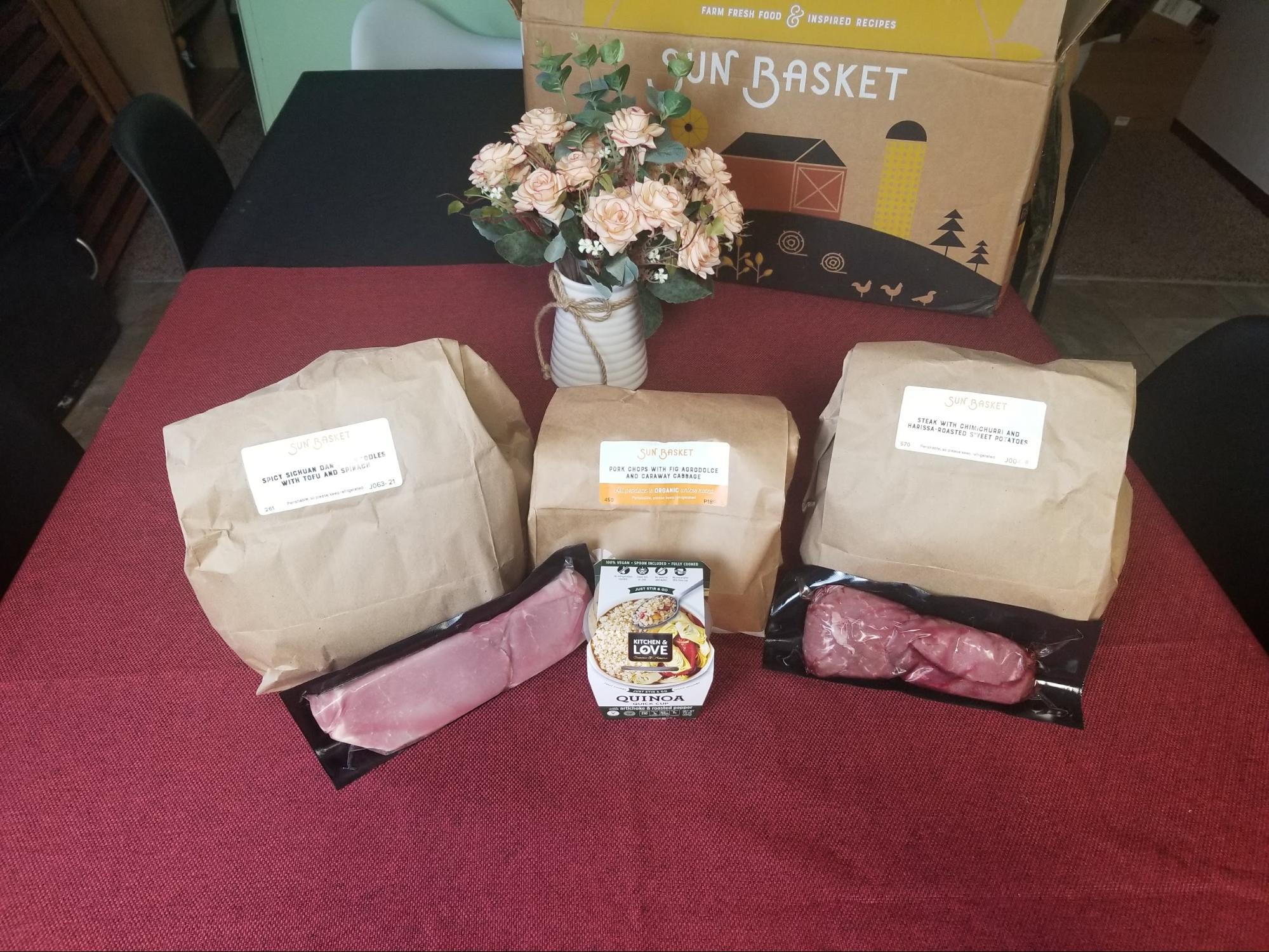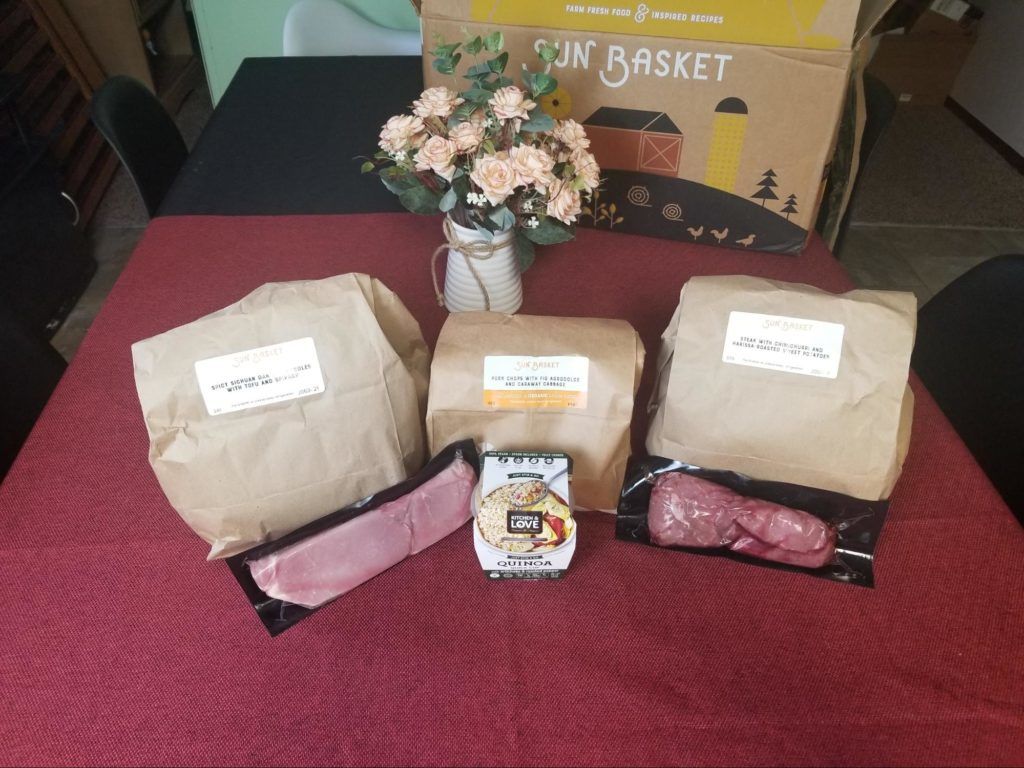 Some meals are oven-ready, meaning they require next to no prep. You may just have to pour a sauce over something, then bake it. Some meals are pre-prepped, which means various ingredients come pre – portioned, chopped or minced. Finally, some meals you choose are like other meal delivery services and they simply send you the ingredients and a recipe and you DIY.
Sun Basket Costs and Plan Options
There is no price difference between these options, it all comes down to your personal preference here.
Another way Sun Basket differs from competition is because they offer breakfasts, lunches, dinners, snacks and even butcher services that are delivered right to your door.
However, for the purpose of this review, we focused on their dinner meal kits. Those include 2 or 4 servings of 2-4 recipes per week. The more recipes you do, the cheaper the servings get. For reference, they start at $10.99 per serving, so they are on the pricier side compared to other meal kits.
We did two servings with three recipes so we paid $11.99 per serving.
Furthermore, they differ from other meal kits because they are quite inclusive when it comes to accommodating dietary restrictions. You can choose from:
Paleo – High in protein. No dairy, gluten, grains, soy or corn.
Carb Conscious – 25-35g net carbs or fewer per serving with plenty of protein.
Gluten Free – Wheat alternatives, but not suitable for those with severe gluten allergies. These meals are gluten free, but they're packaged in a facility that handles wheat so there's the chance for cross contamination.
Lean & Clean – Whole foods with less than 600 calories per serving.
Diabetes-Friendly – Recipes approved by the American Diabetes Association.
Chef's Choice – Hand-picked, seasonal recipes (this is the plan we picked)
Vegetarian – No meat or seafood.
Pescetarian – No meat or poultry. Vegetarian meals + wild-caught seafood.
Mediterranean – Whole grains, good fats, wild-caught seafood and responsibly sourced meats.
Quick & Easy – Less prep, meals done in under 20 minutes.
There is a lot going on on Sun Basket's website because they offer so many services. However, they sort everything using a header on the left of the screen.
Under the "Dinner" menu you can see what is currently in your basket, which you can swap out for different meals. You'll find your options under "Meat & Poultry", "Seafood" and "Vegetarian". Just click whatever sounds tasty and it'll bring you right to those options.
From there, you can see pictures of the meals and how they're classified (such as "Oven-Ready," "Speedy," "Gluten-Free," etc.). Click the "+" and it gets added to your basket. Click the picture and you can customize that meal before adding it to your cart (see below for an example).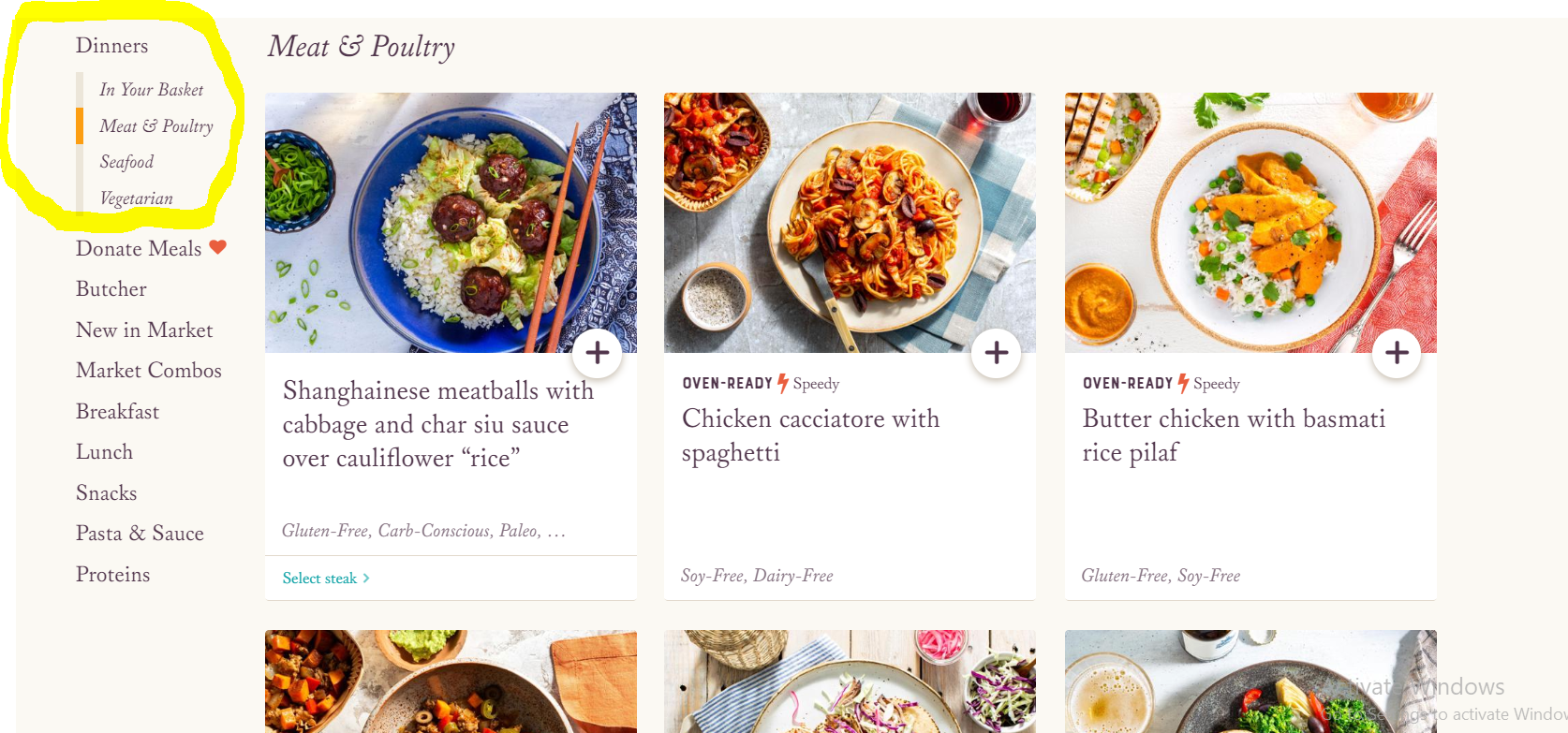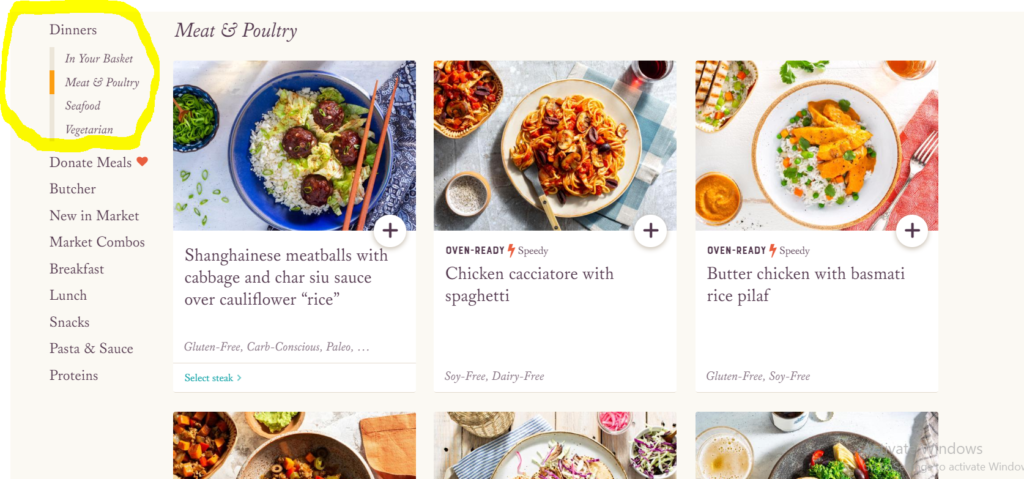 Plus, Sun Basket has an app making it easy to choose your recipes, manage your subscription and deliveries on the go.
The versatility and customizability is a huge selling point for Sun Basket in particular over other meal kit delivery services.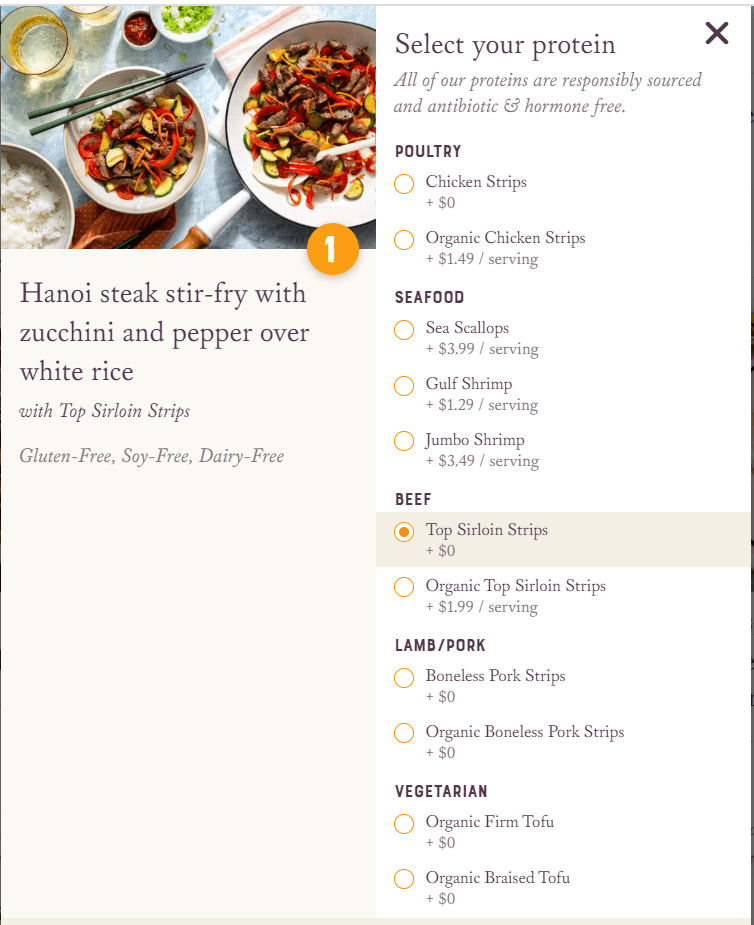 The delivery was right on time and top notch. The insulation was nearly two inches thick and there were a total of four large ice packs. These ice packs were still solidly frozen when we received our package (in the summer Florida heat), something that hasn't happened with other services, so the extra thick insulation did its job well.
Each meal was packaged in it's own bag, which is convenient and makes it super simple to store the meals in the refrigerator until it's time to prepare them.
All and all, they seem like pros in this department. With other services we've experienced late deliveries and nearly melted ice packs (this sparks nervousness when we're receiving meat in our packages). However, your delivery day of the week is going to depend on your location, but they do deliver to 48 states.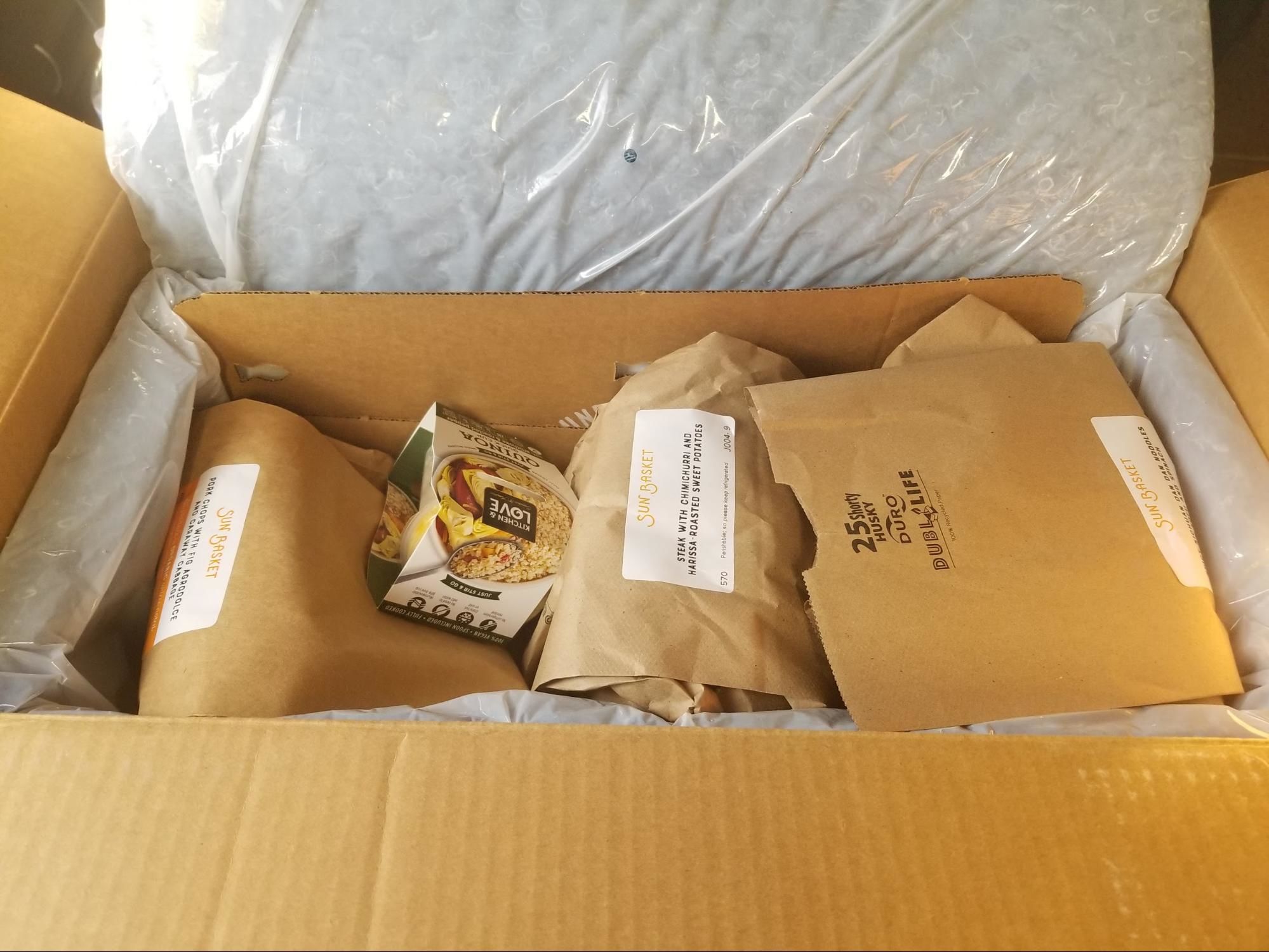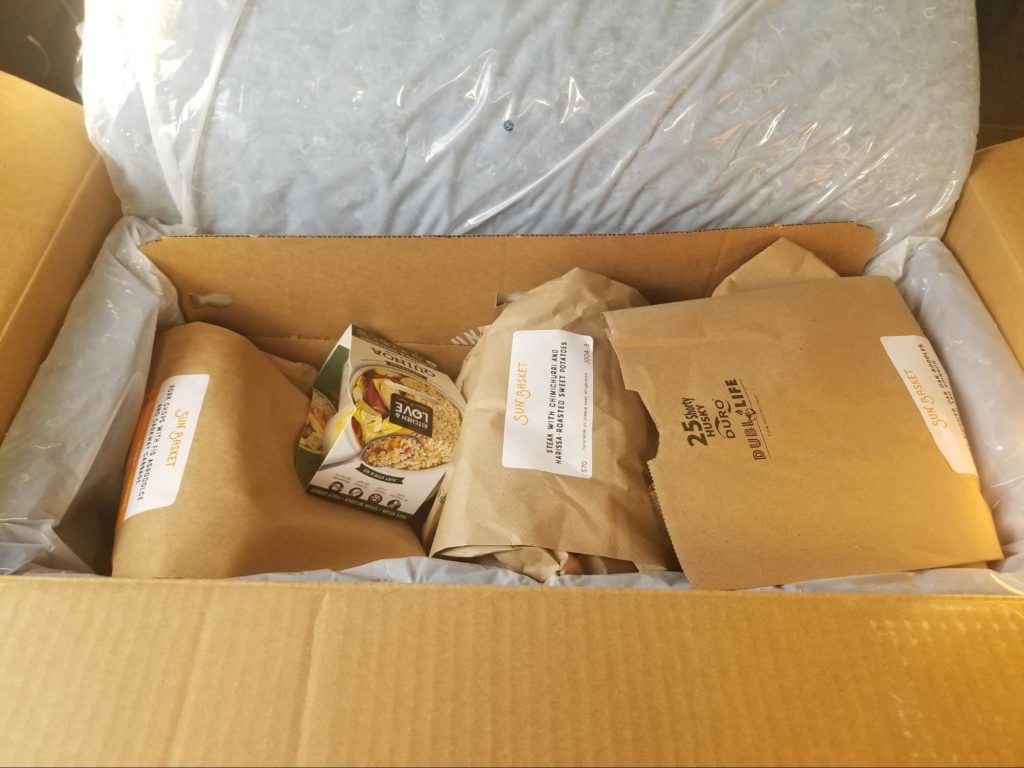 Our Experience with Sun Basket
We love that Sun Basket tries to meet the dietary needs of so many potential customers. We also love that their menu was very unique and fancy (who doesn't love fig agrodolce sauce?). Unfortunately, the love kind of stops there.
To give them the benefit of the doubt, it's possible that we caught them on a bad week. Or, maybe they're simply trying to offer too many different services that their dinner meal kits suffered.
…But we just didn't love the food. Considering Sun Basket is on the higher end when it comes to pricing, we had much higher expectations for the quality and taste of the meals.
Ingredients
As far as the ingredients go there were some pros and cons. One pro is that all their ingredients are primarily organic unless otherwise stated. There aren't many other services that use primarily organic ingredients. Now let's talk about the cons. We'll break the cons down by category so you know exactly what to expect if you order Sun Basket.
Produce:
We found that the produce we received was puny, bruised and some of it was even rotting. Check out the pictures below. You can see some bruised soft spots in the apples. Plus, the rainbow chard had begun to liquify in the plastic bag. We subbed this ingredient out with rainbow chard we purchased from the store.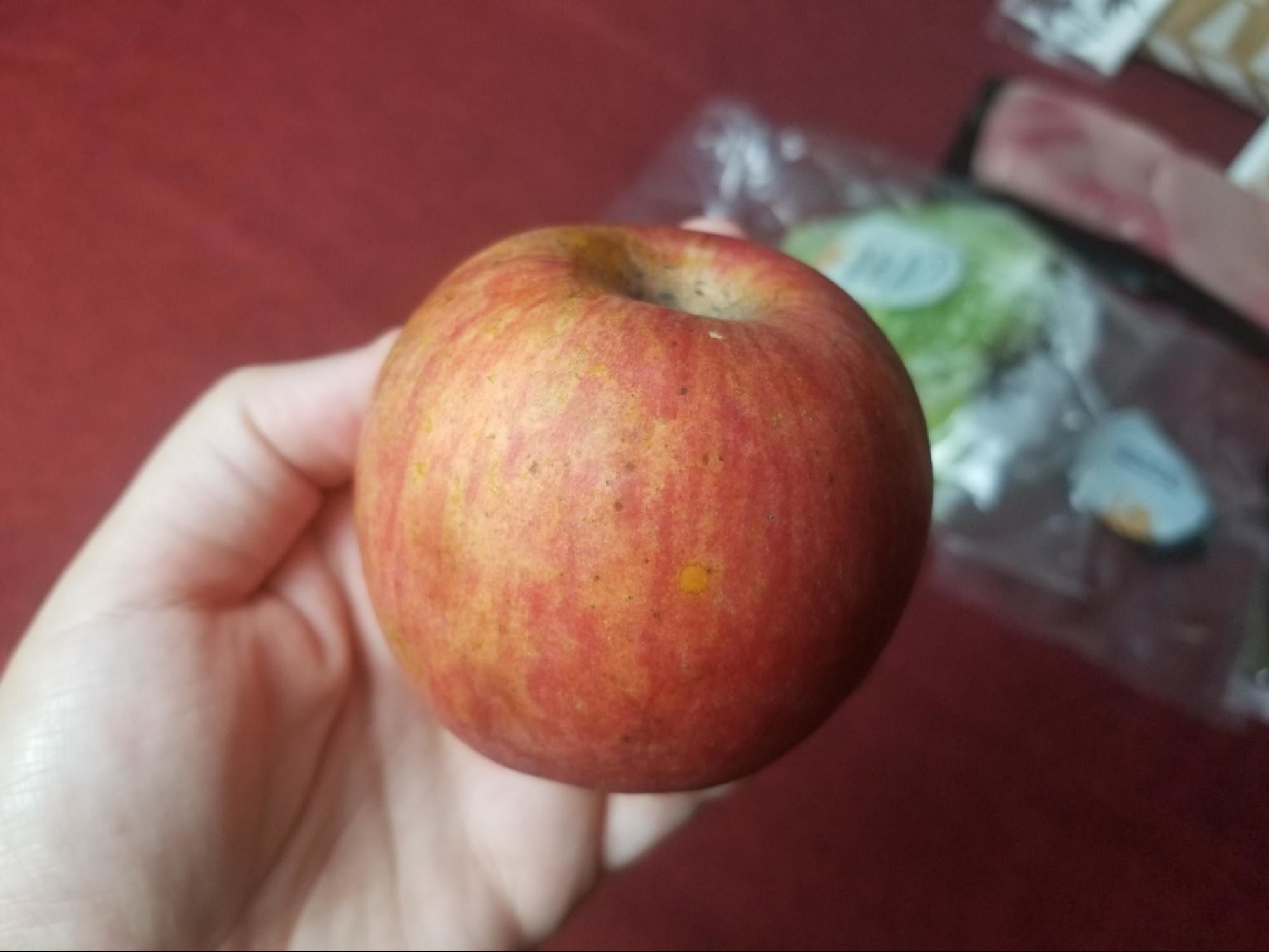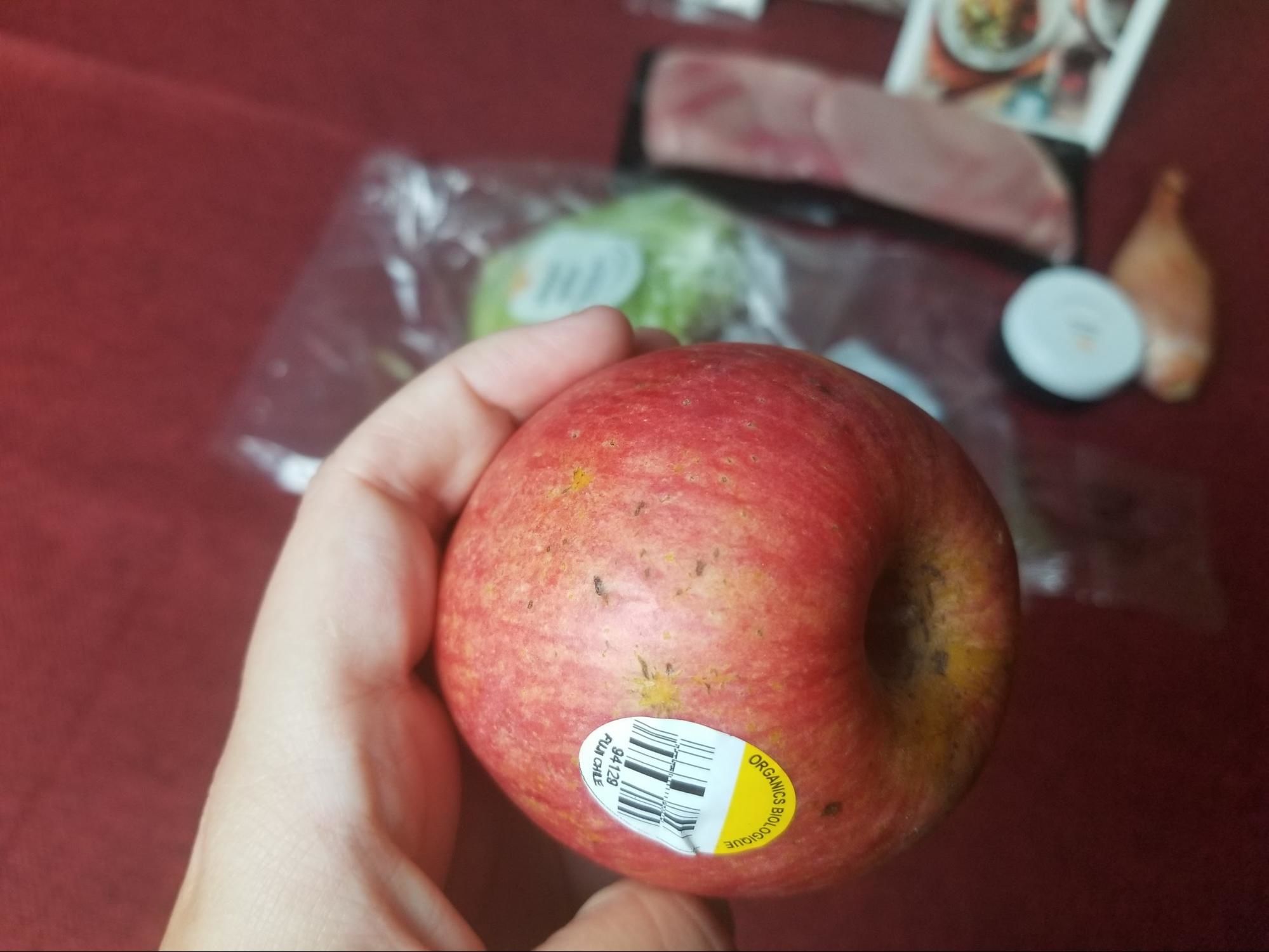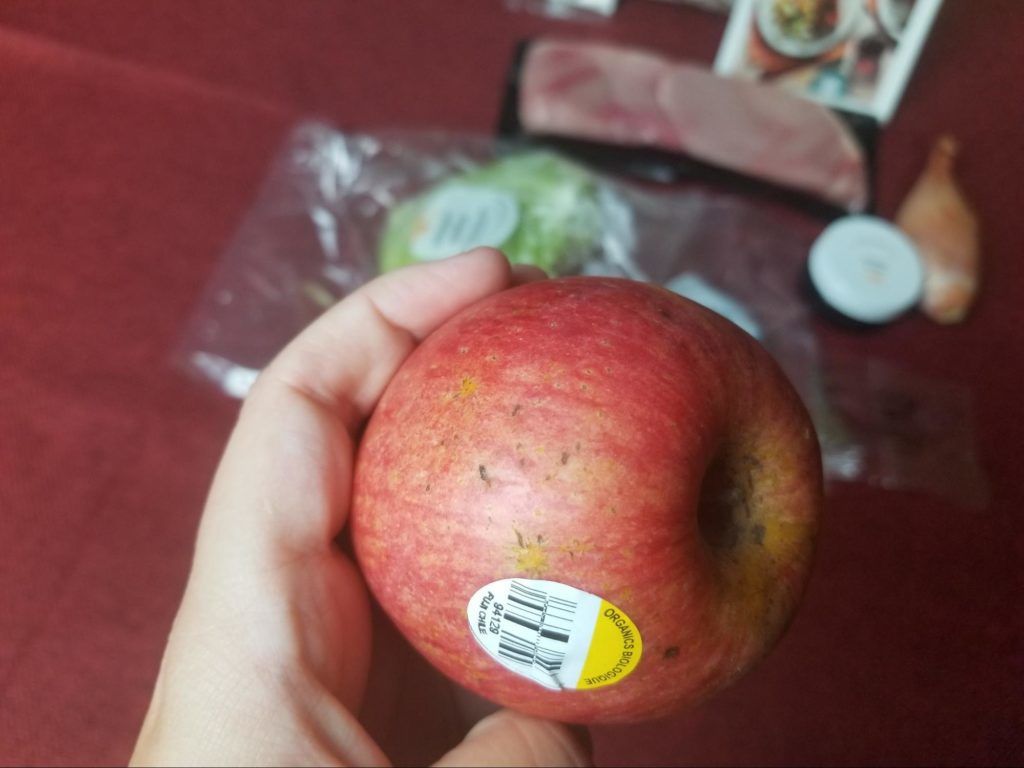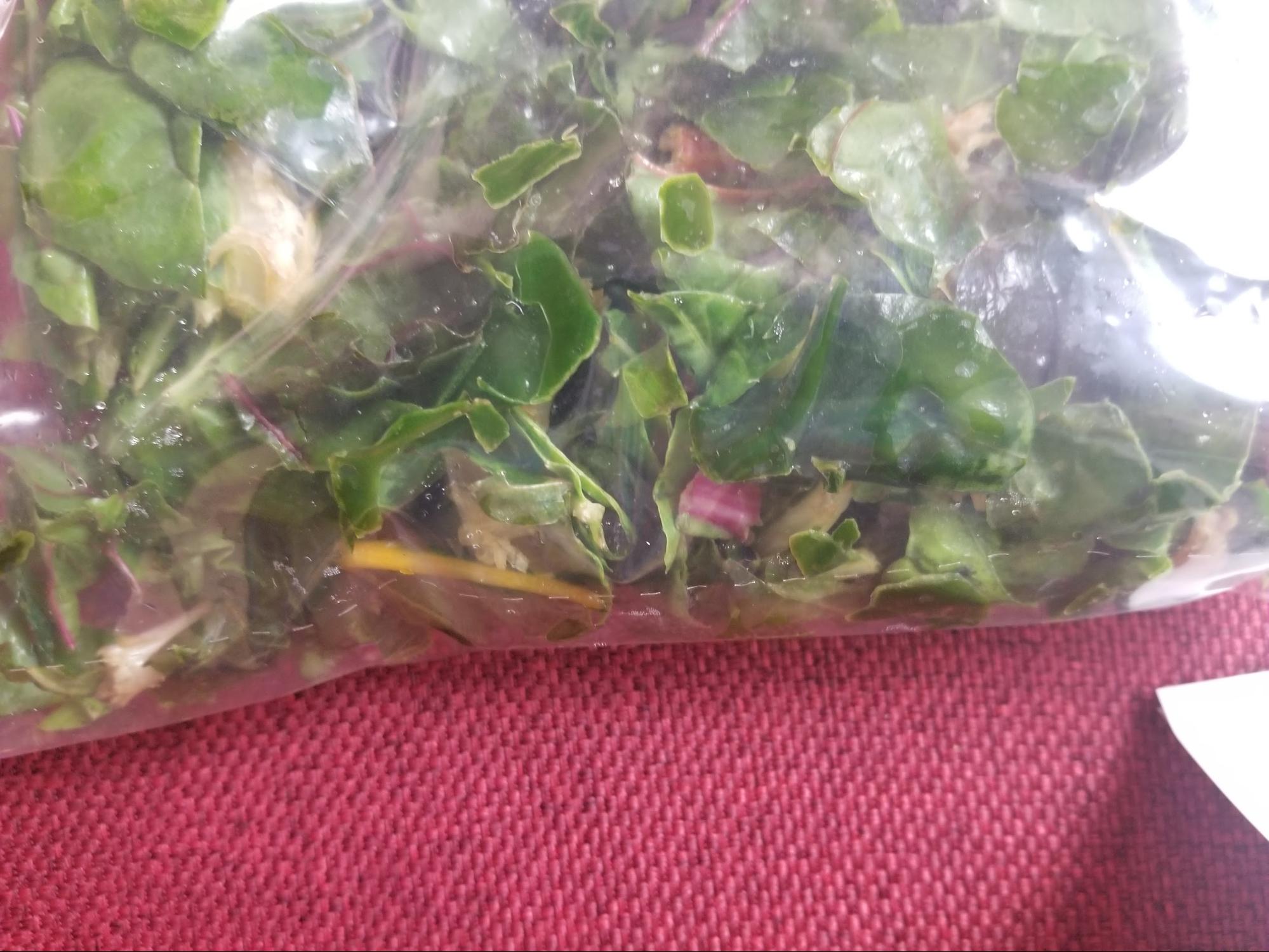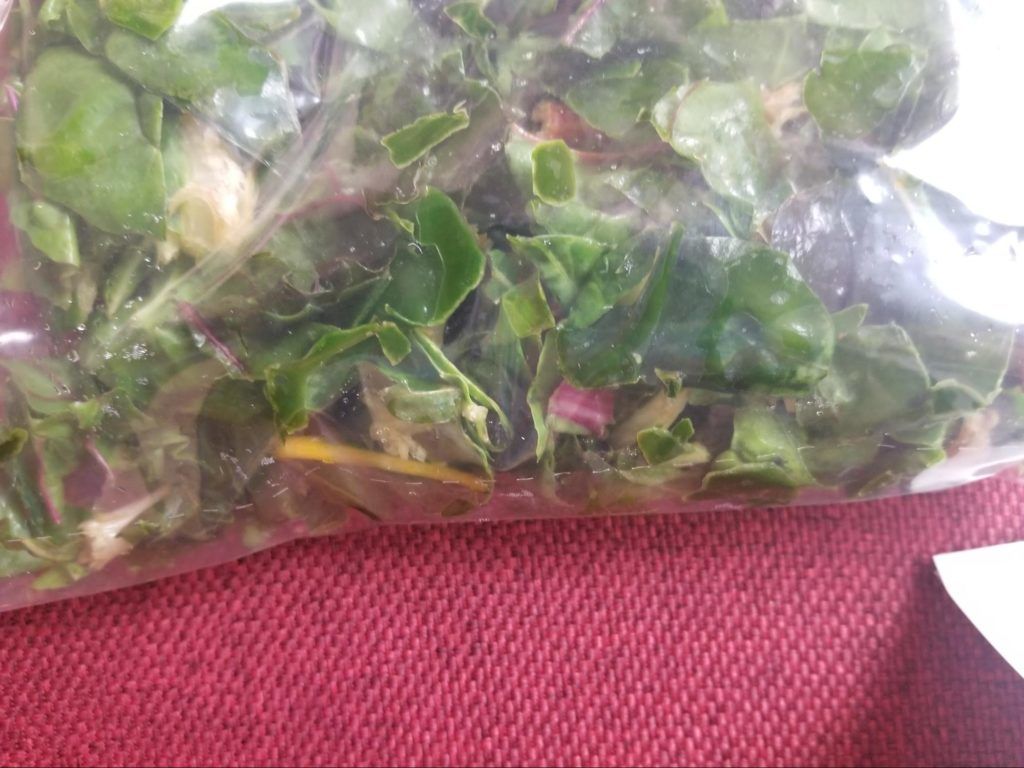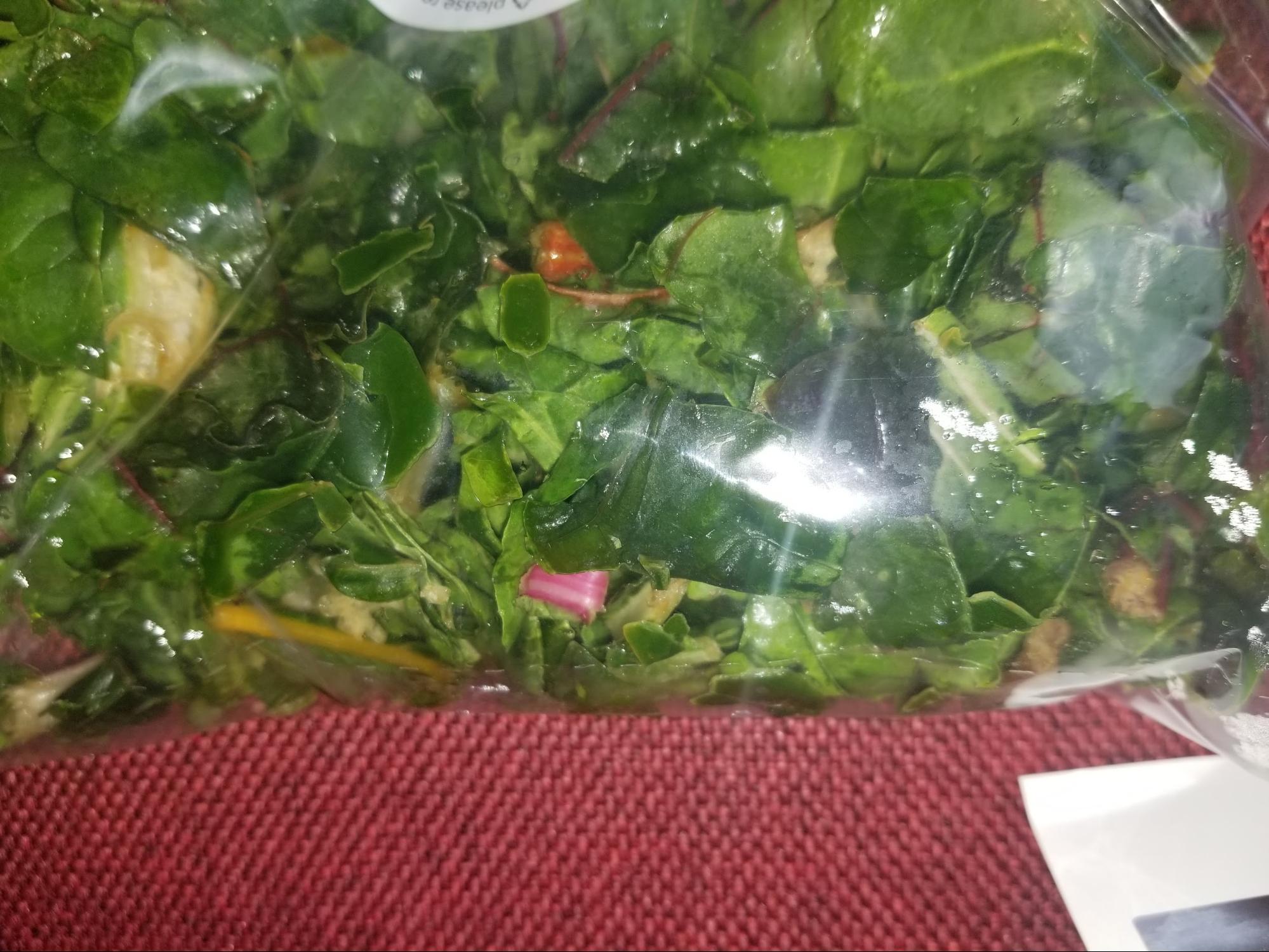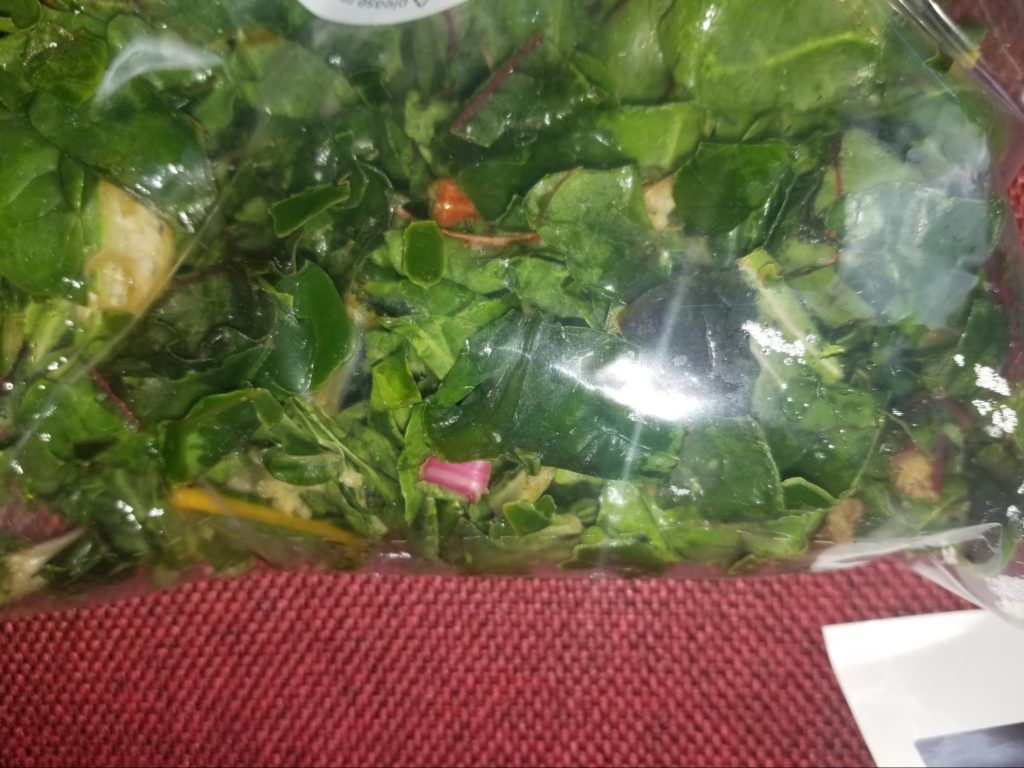 Meat:
As far as the meat goes, we only have one complaint. While it was high quality, there was a pretty apparent size difference in our cuts of top sirloin. Due to these, each steak cooked for a different amount of time, which was a little convenient. However, it's not a huge deal breaker. We'd definitely prefer high quality cuts of meat over cuts of meat that are exactly the same size.
Spices/Toppings:
A lot of the flavor in the dishes actually comes from sauces they provided. We used our own salt and pepper as directed. However, neither of these was enough to make the food taste good. The flavor was all over the place. One meal had next to no flavor. One meal had some taste, but it wasn't that tasty. One meal had way too many flavors. We'll go into this further when we review the meals we received.
A benefit to Sun Basket is also the option to pick meals that are oven-ready or pre-prepped. This really does take a lot of the work out of it. Dinners with no grocery store trip. Dinners without slicing or dicing anything. Dinners in less than 30 minutes. That's convenience if we've ever seen it.
They also offer recipes that you handle yourself from start to finish, if that's more your style. It all comes down to your personal preference. Don't have a lot of time on your hands? Oven-ready and pre-prepped are definitely the way to go. However, there are options that will make you feel like a Michelin star chef too, because the entire meal is DIY.
We tried one of each, just to see what each style of recipe entailed in the kitchen. Even the total DIY recipe was easier than other meal kits we've tried.
Not only were a lot of our ingredients a little rough, the food didn't taste that good. For lack of any other way to describe it, the food was different. Have you ever tried harissa-roasted sweet potatoes, dan dan noodles or fig agrodolce with caraway cabbage?
We're not saying we need every meal to be chicken alfredo pasta or pot roast. However, somewhere between classic comfort food and unique eats would be more preferable.
In fact, our secondary taste tester actively chose not to finish the caraway cabbage. Conversely, some people aren't picky at all and are open to trying new things. If you fall into this category, Sun Basket may be right for you.
You'll definitely find some unique eats on Sun Basket's menu. You'll find recipes that include words like hanoi, arrabbiata, and char siu sauce. These meals will have you channeling your inner chef, that's for sure. Here are the recipes we received in our first box.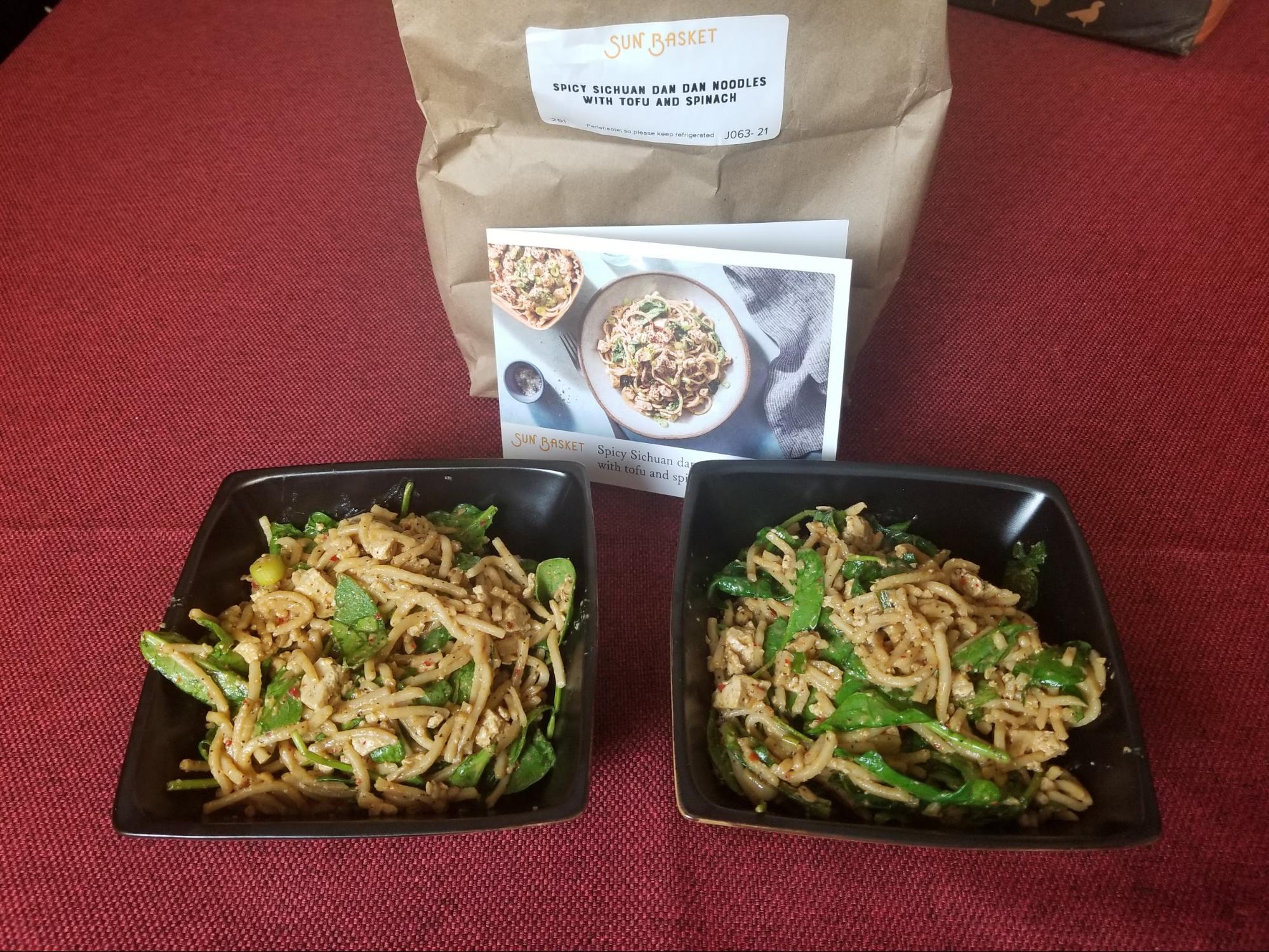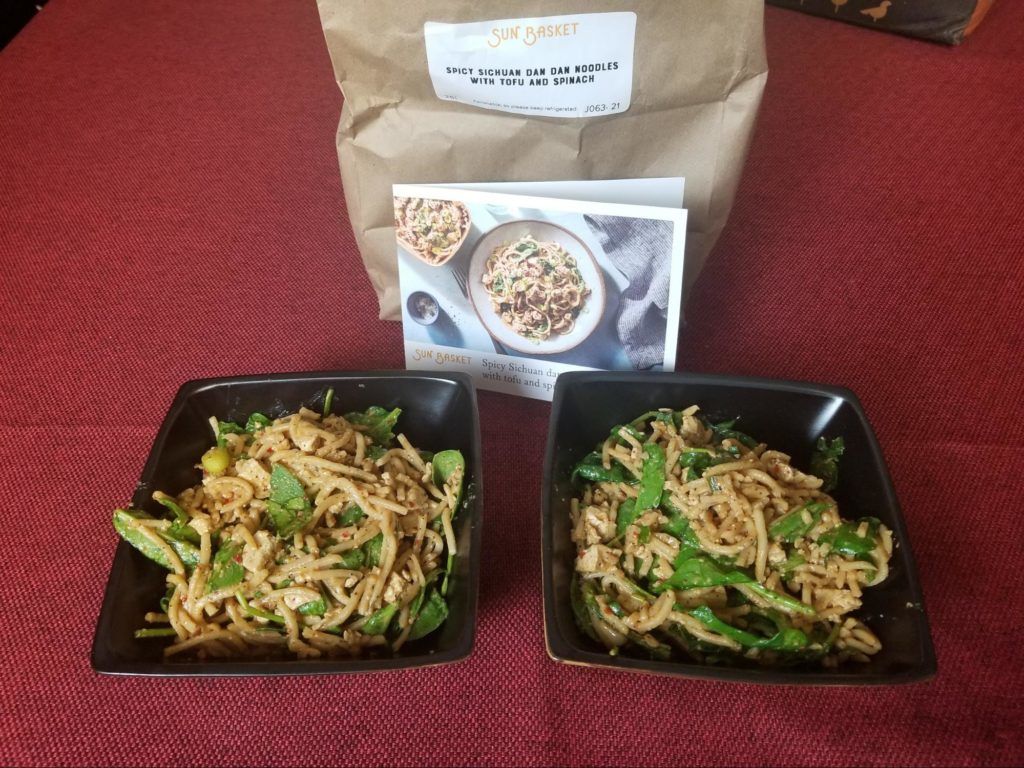 Spicy Sichuan Dan Dan Noodles with Tofu and Spinach
Ingredients:
Fresh ramen noodles (precooked), organic scallions, toasted sesame oil, kimchi chile sauce, Sun Basket dan dan sauce, organic baby spinach.

The tofu in this would have been so much better if it was tossed in cornstarch and pan fried first. It was nearly mush.
How It Cooked:
This meal was oven-ready. We just had to pour the sauce and go. Then after it cooks you combine the sauced noodles with the spinach and serve. It couldn't have been easier.
The Taste:
Somehow it was really bland. The recipe says there are kimchi chile flakes and sichuan tofu in it and it has "spicy" in the name, but where? It was so bland, the light sprinkle of our own salt made it almost too salty. Would we recommend this meal? No.
Steaks with Chimichurri and Harissa-Roasted Sweet Potatoes
Ingredients:
Organic sweet potatoes, extra virgin olive oil, harissa powder, top sirloin steaks, organic chopped chard, organic chopped garlic, Sun Basket chimichurri.

We had to swap out the chopped chard for our own store bought chard because theirs was rotting.
How It Cooked:
This was one of their pre-prepped recipes. No slicing, dicing or mincing required. This is a convenient type of meal. It's prepped enough that it saves time, but isn't prepared so much that it feels like a really expensive TV dinner.
The Taste:
We found the flavors of the meal didn't balance. The acidity from the chimichurri ended up being too overpowering for the harissa roasted sweet potatoes.

It wasn't a bad dish. It was just a little off putting.
Pork Chops with Fig Agrodolce and Caraway Cabbage
Ingredients:
Boneless pork loin chops, organic cabbage, organic apple, caraway seeds, organic shallots, dried figs, balsamic vinegar, arrowroot powder.

The cabbage was more core than cabbage leaf. Plus, the apples were pretty beat up. They had multiple soft bruised marks.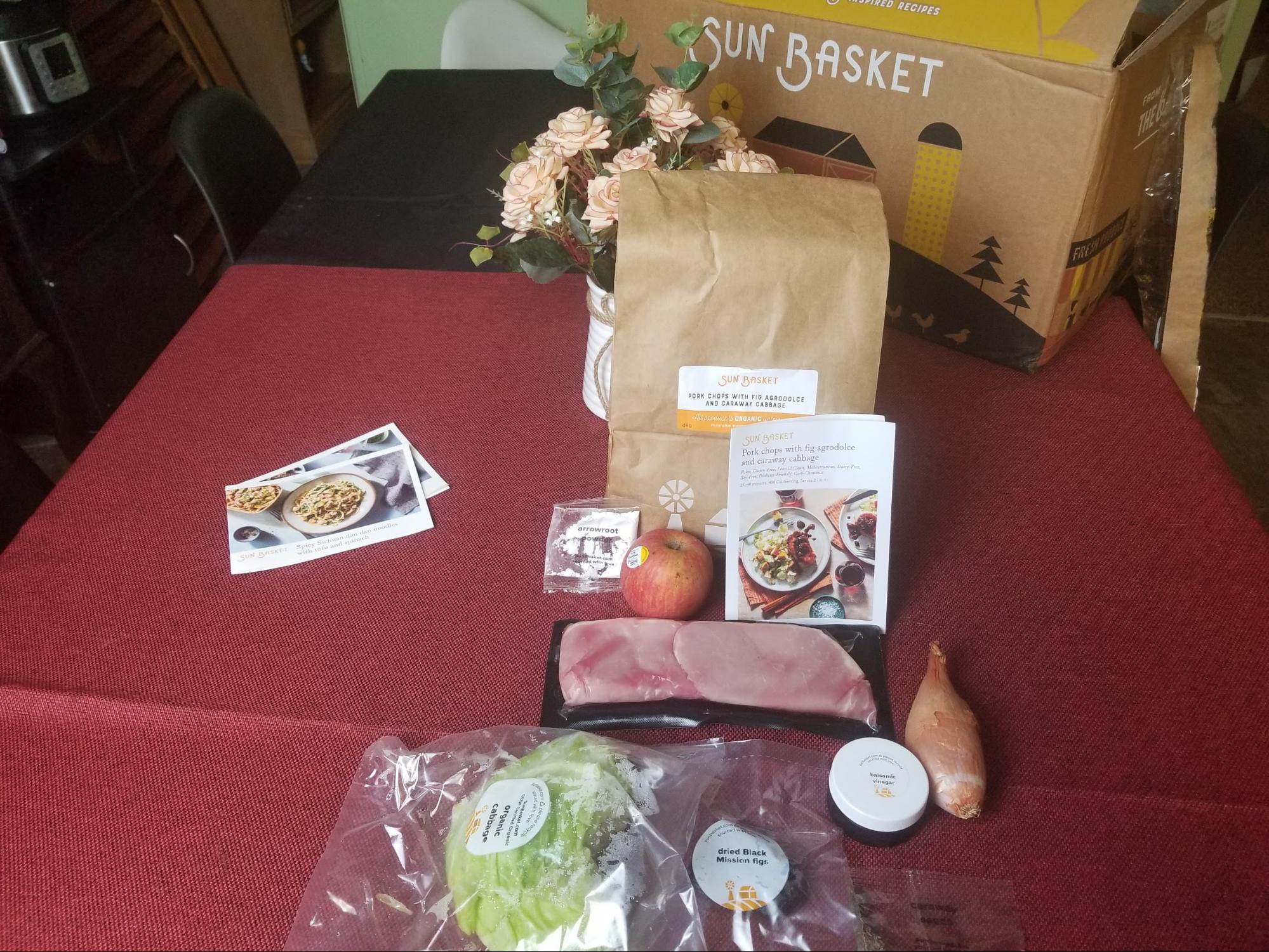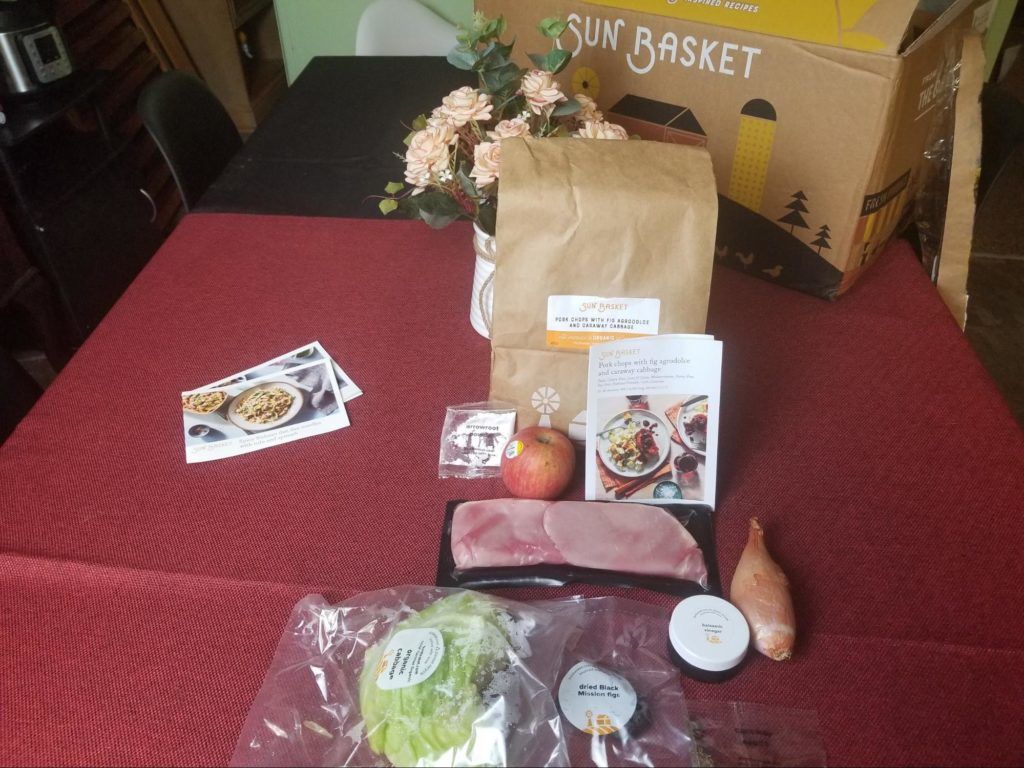 How It Cooked:
You only use two pans to cook this meal, so even though the whole meal is DIY, that's convenient.

It was a little fast paced though. While you're cooking the pork, you're prepping cabbage. While you're cooking the cabbage, you're prepping the sauce.
The Taste:
The flavors were all over the place. There was sweetness, acidity, sourness, but they didn't balance.

It makes sense that the dish tasted the way it did. Afterall, agrodolce translates to sour and sweet. However, this sauce mostly just tasted like syrupy vinegar over pork chops over licorice cabbage. It was all very off putting. In fact, our second taste tester opted not to finish this meal.
We do like the ability to choose oven-ready or pre-prepped meals. You know there's always that one day a week that you just don't feel like making dinner for the family. It's nice to have the option to just throw something directly in the oven.
Sun Basket was emphatically okay with distinct pros and cons. It does offer a few benefits that most other meal plans don't. For instance, they use primarily organic ingredients. Plus, they have oven-ready meals and meals that you can prepare and cook start to finish. Sun Basket can even be suitable for those with a variety of diet restrictions.
Conversely, we found that the flavor of the meals didn't really align with the price tag on the service. The meals seemed to be one extreme or the other. Either they were bland or pungent. Plus, a majority of the produce was on the verge of or actually rotting.
Grill Cook Bake readers get $35 off their first order + 4 free gifts.
This is a service you should use with some weariness. Don't discredit them completely because they do bring some unique features to the table. However, if you experience the same things we did, we'd recommend trying another meal kit service we reviewed with a higher rating.
Other meal delivery services to check out:
Does Sun Basket ship to my area?
They ship to most zip codes in the United States, excluding AK, HI, and parts of MT, NM and ND.
What if I have food allergies or intolerances?
Sun Basket recipes are packed in a facility that handles gluten as well as all major food allergens: milk, eggs, fish, crustacean shellfish, tree nuts, peanuts, wheat and soybeans. Their Gluten-Free recipes are prepared in the same facility as our other meals, and may not be suitable for those diagnosed with celiac disease. If you have a very serious food allergy or intolerance, they recommend that you do not order from Sun Basket.
Can I choose recipes from more than one diet type each week?
You can always mix and match recipes from the full menu no matter your meal plan or diet preferences.
What does healthy mean to Sun Basket?
All recipes are approved by their in-house dietitians to comply with the latest USDA dietary guidelines and most recent science-based nutritional recommendations. Their meals are typically between 500-800 calories. Balanced meals emphasize organic produce, whole grains, high-quality protein, and good fats, with minimal added sugar and processed foods.