Purple Carrot is a plant-based meal delivery service that aims to make vegan cooking delicious and easy. But does it live up to that? Read our full Purple Carrot review to find out!
We chose two servings per meal, with three meals per week.

It costs about $11.99 per serving.
If you have an interest in trying out a vegan diet or are already vegan, Purple Carrot is worth a try. It's one of the few vegan meal kit delivery services available and takes the guesswork out of veganism because everything to create a delicious vegan dinner is sent right to your door.
Unlike other services, Purple Carrot is completely vegan so you don't have to worry about label reading to check for animal products/by-products or trying to meal plan a dinner menu that fits your lifestyle. And, as an added bonus, dinners aren't the only food available from Purple Carrot. We'll discuss this more later!
However, it should be noted that this meal kit service is a bit pricey which doesn't help the stigma that eating healthy as a vegan or vegetarian is expensive. Read on for all the details!
Who is Purple Carrot Best For?
Vegans

Vegetarians

People looking for healthy, well balanced dinners
People on a budget

People with specific allergies (though they do accommodate gluten free individuals)
Purple Carrot In-Depth Review
In the "old days," vegan and plant based food was synonymous with rabbit food. It conjured up the image of hippies chowing down on dry lettuce and chia seeds. However, that's just not the case anymore. Thankfully, your plant-based snacks can be nutritious and delicious.
Furthermore, following a plant-based diet is more prevalent than ever before. So common, in fact, that there are a handful of meal kit delivery services that accommodate such dietary preferences. One of those services is the entirely plant-based service Purple Carrot.
If you aren't familiar with meal kit delivery services most of them work similarly. You go online, place your order and then food is delivered right to your doorstep each week.
In the case of Purple Carrot, your weekly box will include all the ingredients you need to prepare your dinners (and breakfasts and lunches, if you so choose).
Your ingredients will be labeled for easy use. Plus, you also get the weekly recipe booklet that will contain all your recipes for the week.
Purple Carrot Plans and Costs
Purple Carrot currently offers two different meal plans.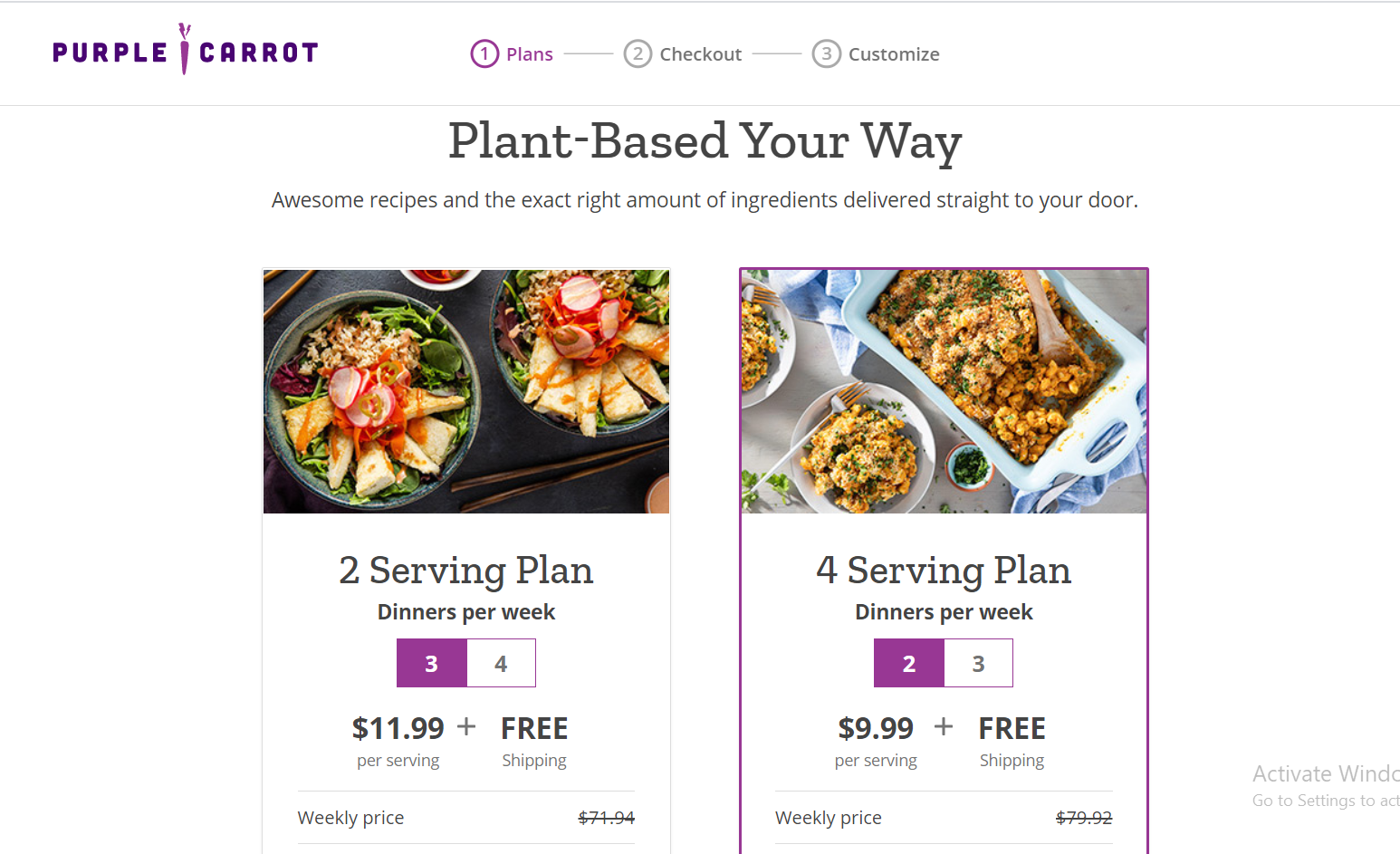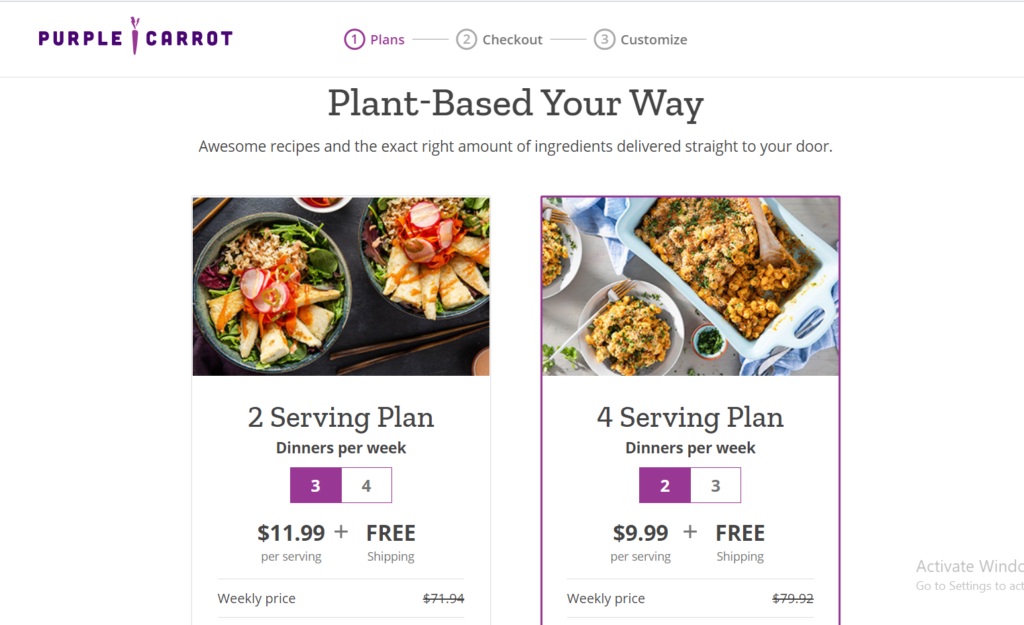 The first is the 2-Serving Plan, which is ideal for singles and small families and starts at $71.94 per week. This plan contains 3 dinners, each serving 2 people, for a total of 6 weekly servings. Each serving under this plan costs $11.99.
The second plan is the 4-Serving Plan, which is perfect for families and meal preppers and starts at $79.92 per week. This plan contains your choice of 2 or 3 dinners, each serving 4 people, for a total of 8 or 12 weekly servings. Each serving under this plan costs $9.99.
Both of our plans offer complete flexibility, so you can always change your meal plan, skip a delivery, or pause your account at any time. There are also no additional shipping costs. The majority of meal kit delivery services charge for shipping, so this perk definitely shouldn't go unnoticed.
Like most meal kit subscription services, you go online to order. Purple Carrot is no different. Once you land on their website and sign up, you can immediately begin customizing your order. You pick your plan from the options discussed in the section above. Then you fill out a questionnaire where Purple Carrot quizzes you on your preferences.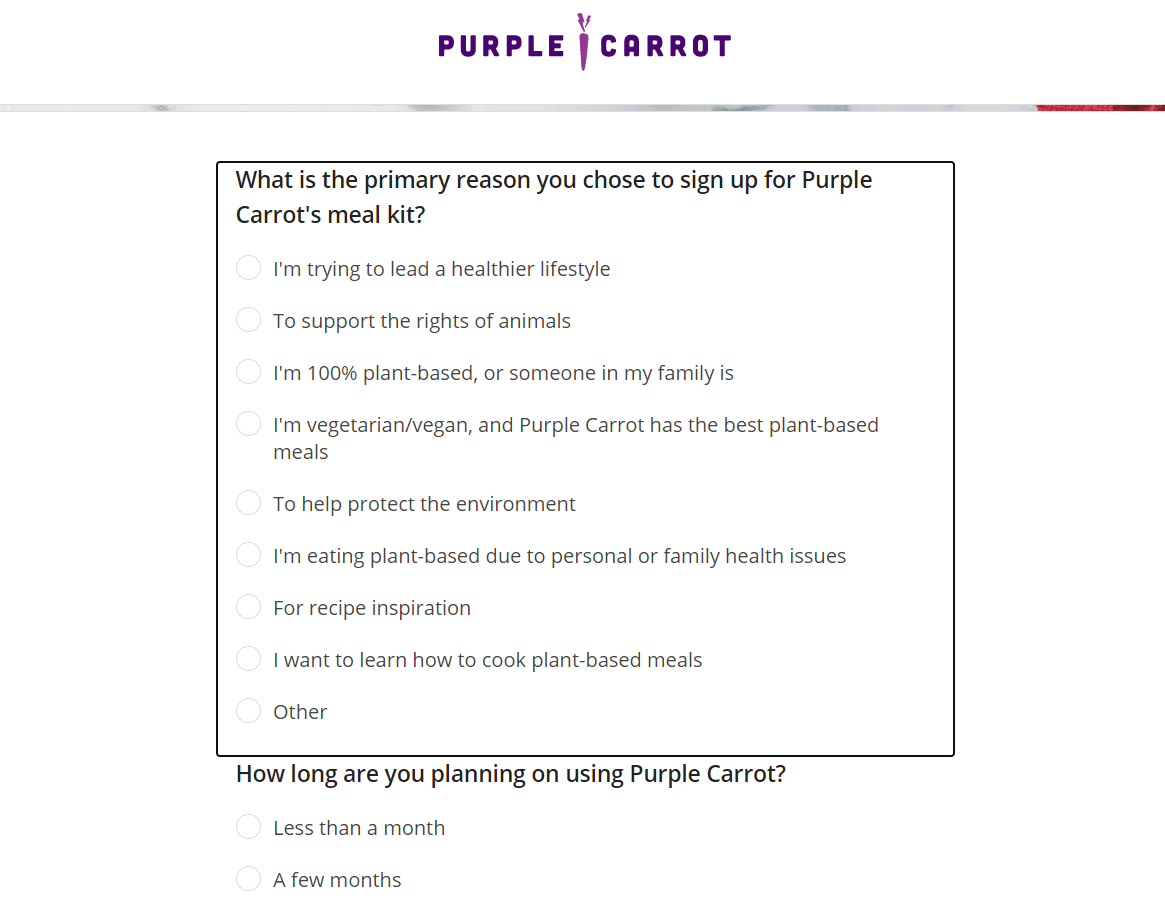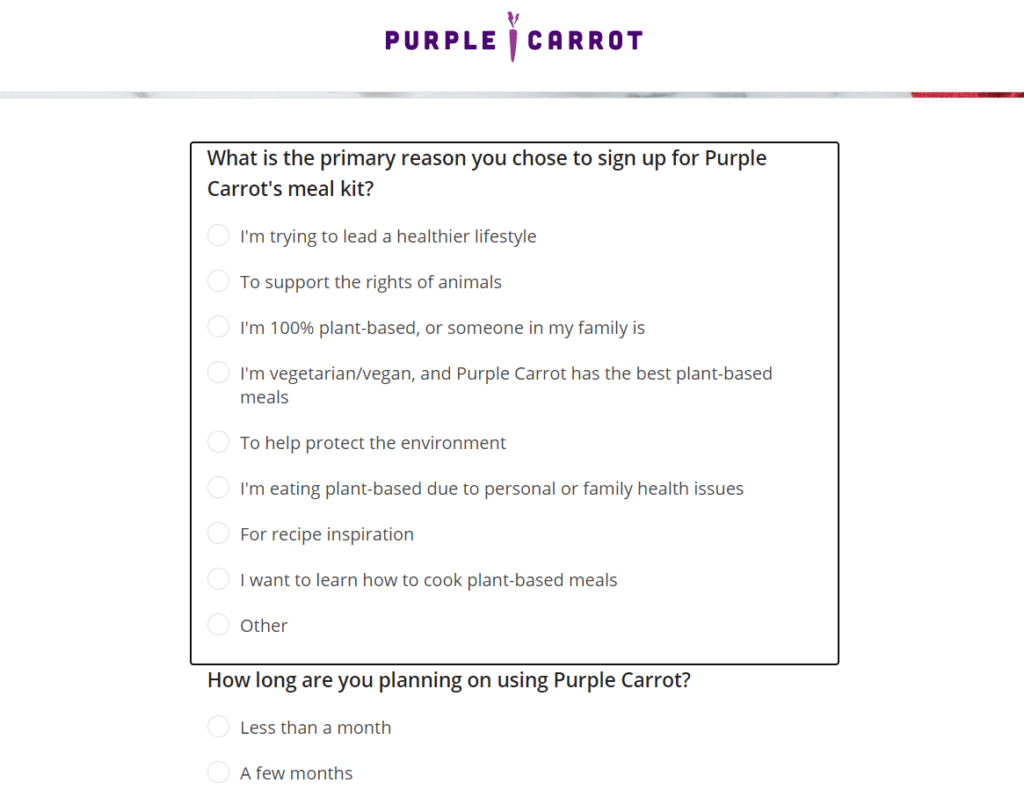 Specifically speaking, Purple Carrot has three different meal preferences. These are "Gluten-Free", "High Protein" and "Quick and Easy". Under the 2-Serving Plan, you'll be asked to select a meal preference which will be used to determine the kinds of meals you'll receive by default (meaning, if you neglect to customize your boxes each week).
The "Gluten-Free" preference will provide you with only gluten-free meals. To clarify, these meals are created to be 100% gluten free, however, Purple Carrot's facilities that process the meals are not certified to be gluten free. They recommend using your own discretion if you have a medically dictated gluten allergy.
The "High Protein" preference will provide you with meals that contain 20g+ of protein per serving, which is perfect for athletes or those with an active lifestyle.
The "Quick and Easy" preference will provide you with meals that take 30 minutes or less to prepare, great for those with a busy lifestyle.
Alternatively, you can elect to select "No Preference," in which case you'll receive the "Chef's Choice" meals. "Chef's Choice" meals are hand-picked by their culinary team to tickle your tastebuds with bold, exciting flavors from across the world.
This preference is a great place to start if you're new to Purple Carrot and unsure of which of the other preferences you may want just yet.
The website is easy to use, you shouldn't run into any issues. Purple Carrot's website is intuitive so it naturally walks you through the sign up and customization process. However, note that this process can only be done from a browser window. Unlike other subscription services, Purple Carrot does not have a mobile app for their customers.
Our delivery was par for the course. Our box arrived intact and insulated to the nines. There were no missing ingredients and everything looked fresh.
With Purple Carrot, the produce is pretty much the star of the show since it's a vegan meal kit and while we were unboxing everything, we immediately noticed the freshness of the ingredients.
Plus, Purple Carrot also sends along a booklet with all the recipes for the week, tips and other information on eating more of a plant-based diet.
Purple Carrot delivers on Mondays, Tuesdays and Wednesdays each week. The day of your delivery is based on your regional location and proximity to their packing facilities. At this time, you aren't able to customize a specific delivery day.
When we signed up, there was only about a week delay until we received our first kit. However, each week, they provide you with a tracking link via email, which will contain detailed, real-time shipping information for your specific order.
We had a lovely experience with Purple Carrot. This kit is on the pricier side, overall. However, it's pretty on par with the other services that offer vegan/plant-based meals, like Sun Basket and Green Chef.
What was surprising was how tasty these plant based meals are and they're easier to cook than you might think. Now, if you're picky or a complete novice, you might love Purple Carrot. However, if you're someone open to trying new foods, then you'll more than likely enjoy this service.
Let's get into specifics.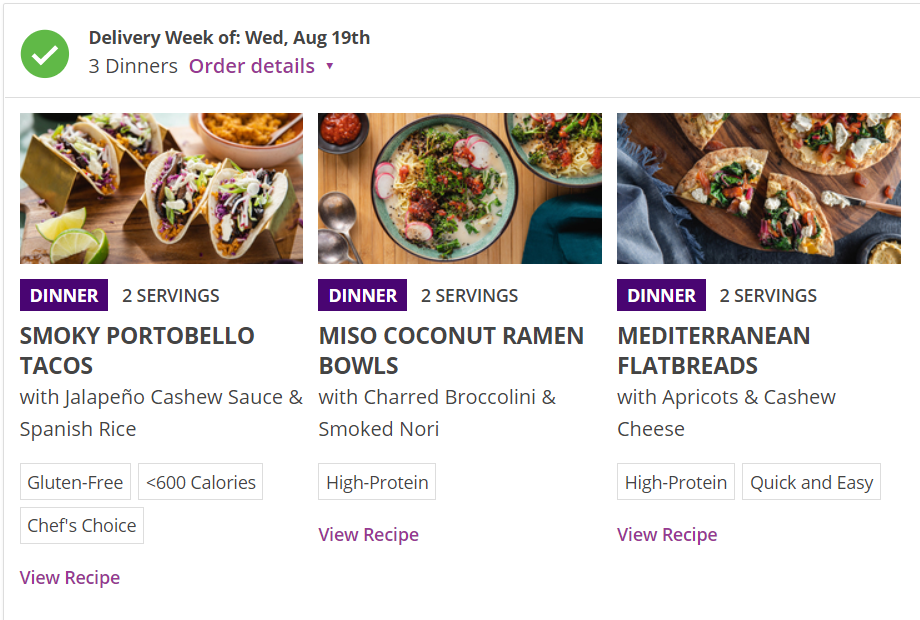 Normally, we break down this section into the categories "Produce," "Meat" and "Spices/Toppings," but since this is a fully vegan meal kit service, there's obviously no meat to discuss.
However, we're still going to discuss the produce and the spices/topping so you know exactly what to expect if you order Purple Carrot.
Produce
The produce was high quality. It was fresh, not wilted, and didn't have any bruising or mushiness.
Spices/Toppings
The recipes call for your own salt and pepper and they appear to rely more on sauces and whole ingredients for flavor, rather than packaged seasoning blends. For instance, we were given raw ginger for our ramen instead of ground ginger.

They seem to have even taken texture into consideration too. For instance, they use nuts and seeds in dishes, or will have a crispy fruit or veggie on top.
Everything that's in the dish creates a depth of flavor and texture. Overall, the food itself was "restaurant quality" and the portion sizes were right where they should be.
As far as cooking goes, this is where Purple Carrot loses a point. The recipes weren't hard to follow. However, they tended to call for special equipment. One recipe we received called for the use of a blender and another called for the use of a food processor. We feel like not everyone is going to have access to this type of equipment, especially younger customers.
Blenders and food processors can be expensive. Plus, you need access to a fairly powerful blend when you consider the fact that we had to blend nuts with water and jalapeno to make a smooth sauce.
Other than this, the recipes aren't too complicated. Most of the recipe comes down to prep work because the recipes are almost entirely composed of vegetables, and where there's vegetables, there's usually the need for slicing and dicing. However, given the fact that there's no meat that needs to be thoroughly cooked to a specific temperature, these plant-based meals tend to cook a bit quicker than the average dinner.
Have you ever had a mushroom taste kind of like bacon? No? You should try it sometime because it's good. This lovely flavor profile was created by a coating of tamari and liquid smoke while cooking.
Weaved throughout the dishes you'll find ingredients like cashew cheese, coconut milk and other vegan staples that make this kind of food unique and delicious.
As long as you're not a really picky eater, you'll enjoy Purple Carrot meals. The recipes feel fancy and have layers of intensely tasty flavor. Purple Carrot has a way with vegetables. They're definitely never boring.
Purple Carrot is perfect for individuals or families looking to incorporate plant based meals into their diet, if they're not already completely vegan. If you have the need for a more restrictive vegan diet, such as low carb, Purple Carrot cannot accommodate this. However, if you eat gluten free, you'll find some options.
Here are the meals we received in our first box.
Mediterranean Flatbreads with Apricots & Cashew Cheese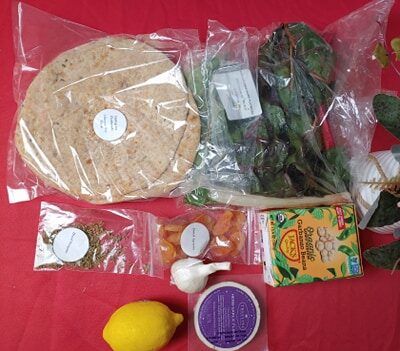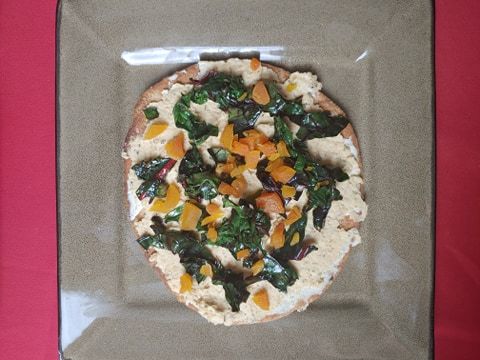 Ingredients:
Garlic cloves, rainbow Swiss chard, dried apricots, chickpeas, lemon, dried oregano, multigrain flatbreads, Treeline Cashew Cheese

The produce was all very ripe and that Cashew Cheese did bear a remarkable resemblance to dairy cheese in look and flavor. It had a creamy tanginess.
How It Cooked:
This recipe was the easiest to cook. You had to warm the flatbreads and cook the swiss chard. The rest of the meal is prep work and assembly.
The Taste:
Who knew dried apricot with chickpeas and cashew cheese would be so tasty? It was sweet, salty and sour all at once. We just kind of rolled this bad boy up and ate it like a Mediterranean taco.
Miso Coconut Ramen Bowls with Charred Broccolini & Smoked Nori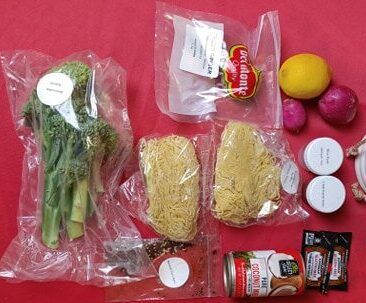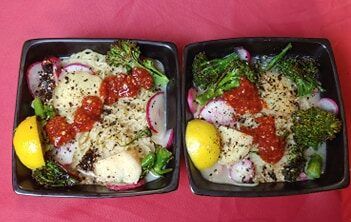 Ingredients:
Ginger, white miso paste, coconut milk, tamari, broccolini, Swiss chard, lemon, radishes, fresh ramen noodles, chili garlic sauce, smoked nori spice.

The produce was all very ripe. The coconut milk was canned, but it's our go-to coconut milk for our usual home cooking anyway, so no big deal.
How It Cooked:
This recipe was easy to cook, but there's a fair amount of prep work. Ginger and radishes can be a bit tough to slice through. After that, there's still the broccolini and lemon to contend with too.

It caused two dirtied sauce pans and a baking sheet, utensils and dinnerware, so the clean up was a little more than we'd like.
The Taste:
We forgot about the raw ginger and took a bite of it initially thinking it was a radish slice (you know, similar textures). We'd strongly recommend not doing this, it's startling. Aside from that, this is like grown up ramen and it's awesome! So many textures and flavors.
Smoky Portobello Tacos with Jalapeño Cashew Sauce & Spanish Rice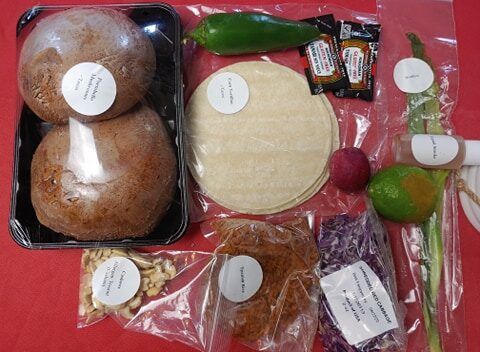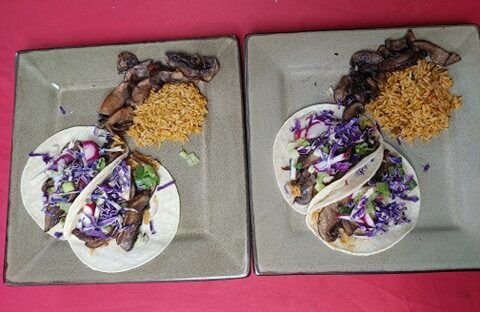 Ingredients:
Spanish rice, cashews, portobello mushrooms, garlic clove, lime, radish, scallion, jalapeno, tamari, liquid smoke, corn tortillas, shredded red cabbage

The produce was very ripe when we received it, but we made this meal last (and a little late) so in the photo the scallion looks a little wilty. However, take our word for it that it was fresh when it arrived.
How It Cooked:
This recipe was also simple to cook, but you'll have a hard time if you don't have a fairly powerful blender. This recipe requires the blending of nuts, water and a jalapeno to make a smooth sauce.

This recipe also dirtied a fair amount of dishes. Taking apart a blender is never that fun.
The Taste:
We found that this recipe came with a lot of cabbage, mushrooms and rice. It was only supposed to make two tacos each, so we ended up with a side of mushrooms and rice. The excess cabbage didn't make the dish.

While this dish was tasty, it was

impossible

to eat as a taco. Even without stuffing it with the excess ingredients, the filling still shredded the corn tortilla as you lifted it. But, if you mash everything together, it creates a really lovely bite that is slightly sweet, slightly spicy and slightly smoky.

The treatment of the mushrooms made them sort of resemble the soft, fatty part of a piece of bacon in flavor and texture. It was enjoyable.
All in all, the food was "restaurant quality" in flavor. We'd be up for ordering from and eating Purple Carrot meals again. As long as you're comfortable eating a variety of vegetables, you should give this kit a shot.
Purple Carrot is on the pricier side of the spectrum for meal kit services. However, it falls in line with the other services that offer vegan dinner, so we're not mad about this. In fact, we'd recommend Purple Carrot over these other services because Purple Carrot is entirely vegan, from their dinners to their snacks. This takes the guesswork out of incorporating plant based meals into your life.
Our only true qualm with this whole service was the fact that we received two recipes that required the use of a blender and a food processor. Sure, these are fairly common kitchen appliances, but we just don't think everyone has these. Yet, they're vital to the dishes.
Conversely, it's pretty standard fare for someone who follows an entirely vegan to own a high powered blender because purees and sauces with nuts are usually prevalent in a vegan diet. Meaning, if you're actually vegan and looking for a meal kit to fit your lifestyle, you'll probably have everything you need to make these meals.
But, if you're the average person and just want to add some plant based meals to your diet, keep in mind that you may need a blender or food processor, if you don't already have one.
At any rate, we'd recommend Purple Carrot to our friends, family and readers alike.
Here are some Frequently Asked Questions about Purple Carrot:
Which kitchen tools do I need to prepare Purple Carrot?
Most of your ingredients come pre-portioned and measured, however, the recipes do require a bit of prep work, as previously mentioned! Purple Carrot's Culinary team recommends having the following kitchen tools accessible:
Small/medium saucepan

Large pot

Large non-stick skillet

Large oven-safe skillet

Baking dish/baking sheet

Cutting board/set of knives

Strainer

Blender/food processor

General kitchen tools (spatula, spoons, whisk, etc.)

A heat safe mixing bowl set.
You can always view the specific tools needed for any recipe by reading the recipe cards located in the Recipes section of the site.
What are Extras?
Purple Carrot Extras are plant-based breakfasts and lunches that take just five minutes to prepare and are perfect to take on-the-go. Each breakfast Extras contains 4 servings, and each lunch Extras contains 2 servings.
Extras cost around $18 each. Breakfast Extras include 4 servings (at $4.49 per serving) and lunch Extras include 2 servings (at $8.99 per serving).
What are Snacks?
Purple Carrot is now offering outrageously tasty snacks from vegan brands you know and love! Snacks vary in price from $3.99 – $15.99, depending on the item. Individual prices can be found on the Menus page under "Snacks" as well as on the Upcoming Deliveries page when customizing your box.
How many calories are in each meal?
On average, the meals contain between 500 and 800 calories per serving.
All of the meals they offer are delicious and nutritious, in our opinion.
The meals include complex carbohydrates from vegetables, nuts, seeds, legumes, and fruits as well as healthy fats and lean proteins.
Together, these carbs, fats, and proteins combine to form the best calories to energize both body and mind.
Still not sure this is the right meal kit for you? Check out some of our other in-depth reviews: